One fun and enriching way to see the world is by travelling solo. Solo travel is the best way to indulge in yourself fully. There is a certain sense of freedom and vivification that a solo trip invokes among all travellers.
Solo travel is the essence of self-indulgence. During your trip you can do whatever you want, go wherever you wish to, pick your own activities and challenges and achieve a feeling of happiness through it all.
Travelling solo is also gaining popularity. India has some amazing destinations which are perfect and safe for solo travel. India is blessed with a huge array of beautiful places, boundless attractions, history, culture, nature, forts and ancient temples.
Here are the top 5 destinations in India that you may love to visit on your solo trip.
Varanasi
Varanasi, a city that dates back to eternity and an ultimate pilgrimage spot for Hindus for ages.  Nestled on the banks of the holy Ganges River, Varanasi is among the seven sacred cities in the country. Varanasi is famous for the bathing ghats along the banks of river Ganga and these ghats are the highlight of the spiritual scene of Varanasi.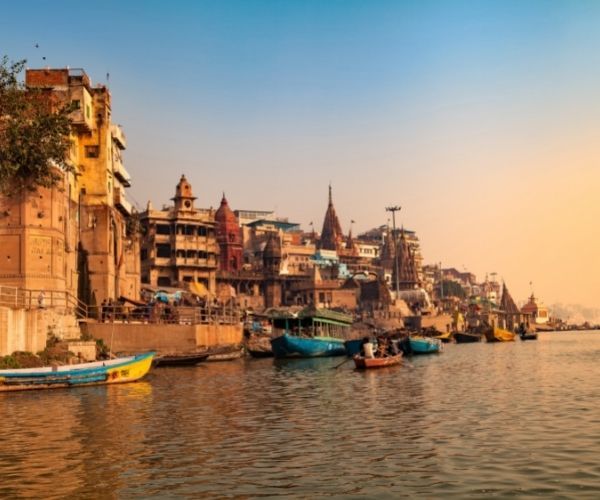 On your solo trip, walk around the tapering narrow lanes and experience the culture that overflows and is soaked on these streets. Take early morning sunrise boat ride on the River Ganges which is a captivating experience. See the beautiful morning sun rays touching the Ganges River. Immerse yourself in the ambience as you hear the spiritual chanting of morning prayers on the ghats. To enhance your soul and mind you may also indulge in Ganga aarti performed at the break of dawn followed by a community yoga. Do you know Varanasi is also one of the holiest sites of Buddhism? Sarnath is a cradle of Buddhism and Jainism, located merely 12 km away, where Lord Buddha preached his first sermon. While on your tour in Varanasi, be sure that you dress moderately, stay in the old city so that you can experience the local people and flavours up close, and also the splendid view of Ganges.
Khajuraho
Most popular tourist place in Madhya Pradesh (Central India) and a UNESCO World Heritage Site, famous for its ancient temples, Khajuraho is a heritage city. Khajuraho was earlier the cultural capital of Chandela Rajputs who ruled this part of India during 10th to 12th centuries. The temples of Khajuraho are categorised into three sections including western, eastern and southern temples.
Highlighting several facts of Indian life a thousand years ago, the unique temple carvings will definitely astonish you. The temples are perfect example of Indo-Aryan architecture. Depicting the erotic form of love, the carvings display passion in the most sensuous yet aesthetic ways. During the Chandela rule, total of 85 temples were built of which only 22 survived over time as some were destroyed by Mughals and some remained neglected over centuries. The Khajuraho temples are open from sunrise to sunset. It mesmerises every traveller, viewing the intricate work of carving done on the stone that too a thousand years back.  Don't miss the popular evening event of light and sound show to understand the history, facts and myths of these  temples.
Dharamshala
Located in the state of Himachal Pradesh, in the district of Kangra, Dharamshala is a hill town where the culture of India and Tibet meets. Dharamshala is one of the most desirable travel destinations when it comes to solo travellers. Many travellers do not know that Dharamshala is divided into two parts the upper and lower respectively. Lower Dharamshala is a commercial centre where you may visit famous markets, Bazaars and court.
The upper Dharamshala is home to Mcleodganj which takes you to the colonial past. The massive snow dressed peaks of Dhauladhar Range overlook Dharamsala at all times. Experience the serenity and ambience at the Namgyal Monastery which is often referred to as "Dalai Lama's Temple" as it is the personal monastery of the 14th Dalai Lama. You may also embark on an easy trek  that offers you an escape into the majestic Himalayas. Dharamshala is also home to several temples and the two most famous among them are the Chamunda Devi Temple and Kunal Pathri Temple. Also explore the rich past of the place at Kangra Art Museum or compliment the beauty of Bhagsunag Falls- the enchanting waterfall in Dharamshala.
Shimla
Popularly known as "Queen of Hills" Shimla is the capital of Himachal Pradesh. Situated at the height of 2200m, the weather in Shimla is pleasant for most of the months. Shimla is surrounded by pine, deodar and oak forests and also forms a base for treks to surrounding hills. Shimla has always lured nature lovers with its verdant scenery, wholesome weather, old-world charm and snow-clad hills.
One of the best places for solo trips in Himachal Pradesh is Chail which is located close to Shimla. You may go for hiking or spot Himalayan wildlife at Chail Wildlife Sanctuary or see the world's highest cricket ground named Chail Cricket Ground. Also, visit the Jakhu temple – Dedicated to Lord Hanuman.  This temple houses a 108-foot-tall idol of Lord Hanuman. The temple offers a far-reaching view of Shivalik Ranges as it is located on the highest point of Shimla. Shopping in Shimla revolves around the heart of the town. The Mall Road is the main street that is lined up with countless restaurant, clubs, banks, shops, post offices and tourist offices. You may shop for local handicrafts, shawls, woolens, exquisite jewelry etc. Shimla was once the favourite summer retreat of the British due to its natural beauty. Don't miss out on the Kalka Shimla toy train ride – a UNESCO listed World Heritage site which will definitely add wonderful memories to your solo trip.
Udaipur
The city of lakes is often referred to as "Venice of the East". Surrounded by lush green hills of Aravallis Udaipur is the crown jewel of the state of Rajasthan. A city of romance, Udaipur is the oasis in the desert. While your solo trip to Udaipur you will see a glimpse of its glorious past, luxurious accommodations, the beautiful lake Pichola and much more.
Hop on a boat ride at Lake Pichola which takes you to the famous island palace built in the lake and enjoy the sunset. The blend of Rajasthani and Mughal architecture, the city palace houses a Palace of Pearls (Moti Mahal), a Palace of Mirrors and Glass (Sheesh Mahal) and a Residence of Little Pictures (Chhoti Chitrashali), with its glass peacock designs. Also, visit one of the most popular temples of Rajasthan, the Eklingji temple which is located approximately 22 km from Udaipur. This double-storied temple is dedicated to Lord Shiva. Udaipur also houses a fairly large vintage car collection, where you may get a chance to see the Rolls Royce and Mercedes models, which were custom-made and owned by the royal members of the Mewar family.  Spend your evening enjoying a traditional Rajasthani folk dance at Bagore ki Haveli showcasing the culture and tradition. You may also stay at a palace that have been converted to a luxury heritage hotel and relish the Rajasthani hospitality.
Jay Kajaria is Founder of Bespoke India Holidays. Bespoke India Holidays is an award-winning company that specialises in creating luxury trips to India and the subcontinent.
If you would like to be a guest blogger on A Luxury Travel Blog in order to raise your profile, please contact us.