5 best hotels to stay in Paris this Fall
Paris, the City of Light, is one of the world's most charming and romantic destinations. This fall, Paris is reopening to all the joys of this time of year in France's beautiful capital city. The cool misty mornings and balmy evenings invite walks along the Seine or in the fall colors of the parks and gardens surrounding the gracious center of the city. New hotels are also opening amid old favorites.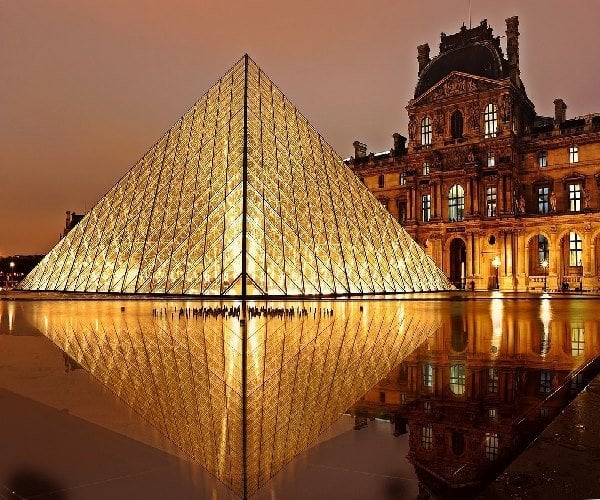 Here are 5 of the best hotels to stay in to enjoy Paris this fall.
Cheval Blanc Paris
This beautiful hotel newly opened on September 7th, 2021. It has a prime position close to the Louvre and the fashionable Marais district. Cheval Blanc is a boutique hotel with only 72 rooms and suites. It nestles attractively in a historic art deco building overlooking the Pont Neuf. Soothing and sophisticated styling blending contemporary with heritage chic is by renowned New York architect Peter Marino.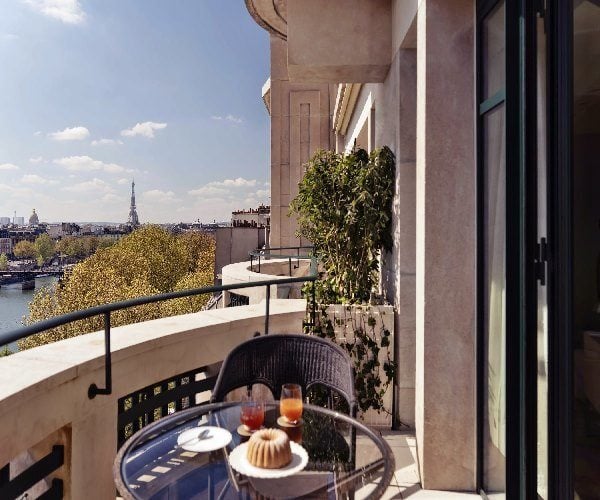 This quintessentially French haven along the Rive Gauche makes a statement as a new, more reserved, and exclusive hub of Parisian life. Set apart from the glitzy Golden Triangle of 5-star hotels and fashion boutiques, the Cheval Blanc offers elegant and plush décor amid bright modern art pieces. Moreover, the hotel is also on the verge of becoming a gourmet's paradise. This is possible with four superb restaurants/bars under the direction of Michelin-starred chef Arnaud Donckele. Inspired by regional classics, the bounty of nature, and supported by renowned pastry chef Maxime Frederic, dining at Cheval Blanc is top-notch. Rooms and suites are uncluttered but gorgeously appointed and comfortable in soft creamy colors with every modern amenity needed. Additionally, balconies and floor-to-ceiling windows let in natural light and lovely views. Large bathrooms are also sleek luxury. The underground Dior Spa is equally lavish.
Airelles Chateau de Versaille Le Grand Controle
Newly opened in the summer of 2021, this world-famous royal chateau offers a chance for guests to experience the grandeur and style of another age. Once the opulent building accommodating visiting dignitaries to this stately home of Maire Antoinette and Louis XV1, Airelles Chateau de Versailles has 14 regal suites. Each one is conceived, furnished, and decorated to match the luxury and beauty of the main chateau. This goes along with stunning views across the lake and orangery.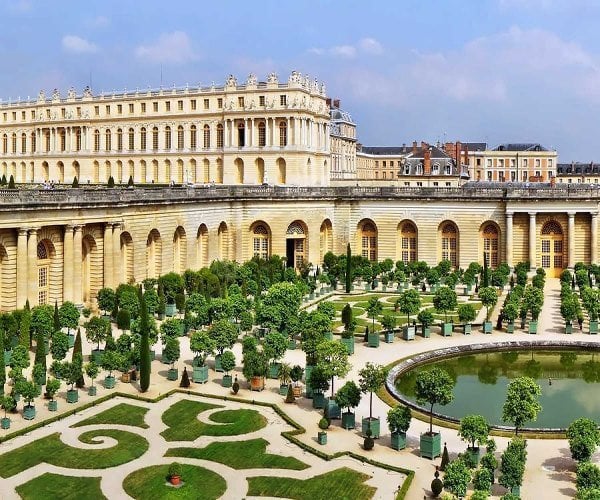 The resort has been fully renovated to its 18th-century glory. Plus, it added a pool, Alain Ducasse restaurant, Valmont spa, and modern amenities. Named after notable visitors, each suite features gorgeous décor with period furniture and lavish bathrooms. There are also exquisite fabrics, chandeliers, parquet flooring, fine art, and historical artifacts. Guests also get the highest personal service in this truly luxurious and beautiful new hotel.
Hotel Plaza Athenee
Parisian haute couture and the Plaza Athenee complement each other on the tree-lined Avenue Montaigne in the 8th arrondissement, part of the ultra-chic Golden Triangle. Hotel Plaza Athenee has been famous since its opening in 1913. Moreover, it is now part of the Dorchester Collection of 5-star deluxe hotels. 208 luxurious rooms/suites offer fabulous views of the Eiffel Tower and Champs Elysee.
The resort is a palace hotel remodeled in recent years to include all modern amenities while retaining its historic character. Rooms have beautiful décor. They also feature sumptuous silk/brocade fabrics and fine and linens. Besides, each has drapes and plush seating, chandeliers, lavish marble bathrooms, Wi-Fi, flat-screen TVs, and mini-bars. Some rooms/suites have balconies/terraces displaying the famed red geraniums. There are also bathrooms with steam baths, whirlpools, additional living space, and amenities. The hotel also has several top-notch restaurants with al fresco dining in summer. Besides, there is a winter courtyard and skating rink.  Additionally, a Christian Dior Spa offers every kind of luxury face and body treatment and a modern exercise studio. Furthermore, in keeping with the street's character, the hotel regularly hosts cultural and fashion events.
Hotel Lutetia
This is another unique historic hotel along the Rive Gauche. It is associated with names like author Earnest Hemmingway and artist Matisse. Hotel Lutetia retains the ambiance of the jazz age and the cultural scene of the Left Bank. However, it is famous today for having the most spectacular penthouse suite with input from Francis Ford Coppola. This iconic building is light-filled. It is also beautifully decorated with shades of blue, giving a relaxed and elegant tone.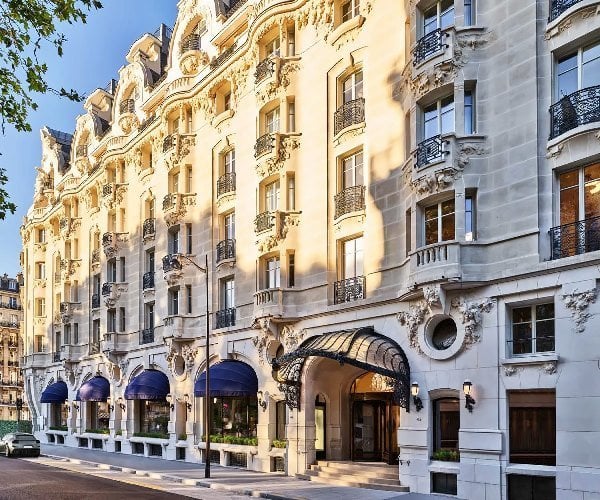 There are 184 luxury rooms and suites in a mix of contemporary and classic styles. Some come with balconies, but all feature a raft of amenities. These include Bang and Olufsen TVs and entertainments systems, Wi-Fi, and air conditioning. Fine Murano glass lighting, oak floors, deeply comfortable beds, mini-bars, and marble bathrooms. Top-class dining includes the restored and upscaled Lutetia Bistro and lavish teas in the glass-roofed Le Saint-Germain. Additionally, wellness here embraces the huge Holistic Akasha Spa. There is also a 17 ft. swimming pool and a well-equipped gym.
The Ritz-Paris Hotel
The beautiful classical façade of The Ritz-Paris Hotel is famous worldwide as the frontage of this iconic hotel, the epitome of Parisian elegance and luxury. Opened over a century ago, the Ritz-Paris Hotel has hosted global royalty, nobility, presidents, and diplomats, as well as cultural icons and celebrities. In recent times, it has been refurbished and modernized and still attracts visitors worldwide.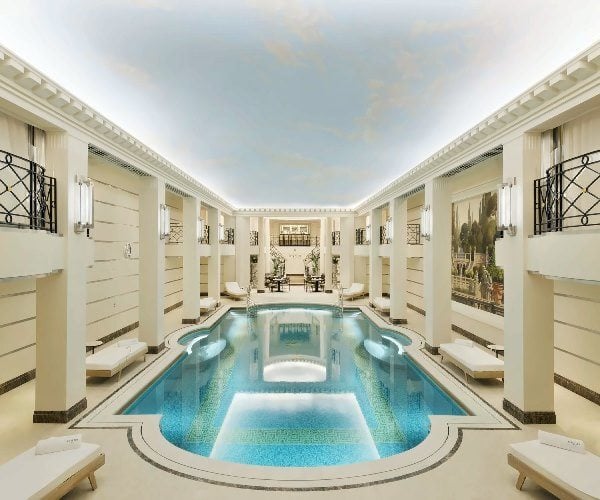 Situated overlooking the Place Vendome, The Ritz-Paris Hotel is within easy distance of all the famed sites in the capital. Moreover, the décor is ultra-lavish/chic in the public rooms and 157 guest rooms and suites. It mostly echoes the sumptuous Louis Quatorze and Louis Quinz style. Gorgeous fabrics and linens, gilt-edged mirrors, period furniture, ornate features, and lavish marble bathrooms are also standard. Furthermore, the fame of Chef Escoffier still resounds in the Michelin- starred and gourmet restaurants. Moreover, the Ritz Club is home to the luxurious Chanel Spa with a substantial azure-tiled pool and luxury treatments. Everything at this famous hotel is deluxe and top-notch. Paris will be as alive and romantic as ever this fall with street cafes and great food. You can also expect festivals of performing and visual arts and beautiful walks by the Seine. These fabulous hotels are ready to welcome guests to the city.
Guido Graf is Founder of Privateupgrades. Privateupgrades is a global luxury travel club with over 20 years of experience in luxury hotels, ensuring exclusive VIP privileges like upgrades, free breakfast, free nights, rate discounts, free airport transfers, free massages and much more.
If you would like to be a guest blogger on A Luxury Travel Blog in order to raise your profile, please contact us.
Did you enjoy this article?
Receive similar content direct to your inbox.