The city of Seattle is a prime destination on the Pacific West Coast in Washington State, USA. With a beautiful waterfront setting, rich cultural and recreational facilities, and historical interest, Seattle attracts many visitors from around the globe. Below are 5 of the best hotels to stay in and enjoy in Seattle.
Thomson Seattle
This hotel is ideally situated in Downtown Seattle. It has fabulous views overlooking Puget Sound and the historic Pike Place Market. From the innovative glass-fronted building to the refined mid-century design of the interiors, this boutique hotel offers luxury accommodation and every modern amenity.
Arising from a concept of Seattle's award-winning architect Olson Kundig, the Thompson Seattle is one of the most exciting hotels in the district. Moreover, all the main cultural sites, chic restaurants, and high-end shops are within easy reach of the hotel. Rooms all have fine views from floor-to-ceiling windows. Plus, they have king beds and fine linens, custom mid-century furniture, and free Wi-Fi. Other amenities include a flatscreen TV, mini-bar, and local art pieces.
Additionally, suites add extra living space, plush sofas, sitting and dining areas, and panoramic views. Bathrooms are luxurious and feature rainfall showers and complimentary robes, slippers, and bath toiletries. There is also a gourmet restaurant with inspired menus using fresh local and regional produce.
The iconic rooftop cocktail bar also offers upscale snacks and a jaw-dropping Pacific vista. Furthermore, Thompson Seattle caters for business meetings, private dining, and celebrations in 6 top-class event spaces.
Four Seasons Seattle
Positioned on the ten lower floors of a 21-story luxury tower block, this luxury hotel is in the heart of Downtown Seattle. Cultural sites like the Seattle Art Museum and Benaroya Concert Hall are moments away. Moreover, shops, restaurants, and the eccentric fish purveyors in the historic Pike Place Market are also nearby.
Additionally, the Space Needle and Observation Deck is about 1 mile further on. The surrounding scenery is nothing short of spectacular, with snowy mountain peaks and pine forests. Plus, there are the shimmering waters of Elliot Bay and Lake Union. Craft breweries abound, and hiking or kayaking draws many visitors. The hotel décor is also welcoming, bright, colorful, and contemporary, with local artists well represented.
Accommodation is in 147 spacious rooms and suites featuring ergonomic furniture and working areas. There is also plush sofa seating, plasma TVs, DVD players, and free Wi-Fi. Views are glorious across Puget Sound, Elliot Bay, and the city. Marble bathrooms are also lavish with many deluxe extras.
Dining at the Four Seasons Hotel Seattle includes an upscale tavern with innovative Pacific Northwest menus. There is also an infinity pool at rooftop level, a full-service spa, and a 24/7 fitness center.
W Hotel Seattle
This is another Downtown Seattle hotel. W Seattle is close by many cultural and entertainment sites, historic buildings, classy eateries, and shops. Family-friendly and pet-friendly, this is a very welcoming hotel with beautiful parkland a stroll away to enjoy with children and pets.
Considered an urban retreat, the W hotel offers supremely comfortable accommodation and all modern amenities throughout. There is also a lively bar with music and DJs. and 'Trace,' a signature restaurant with market-to-table menus beloved by locals and hotel guests. Moreover, crafted cocktails, regional drinks, wines, and microbrews offer attractive surroundings with themed evenings throughout the year.
Additionally, spacious rooms feature floor-to-ceiling windows with lovely views, especially dramatic from the higher floors. There are also signature pillow-top beds, fine furnishings, many amenities, and luxury bathrooms.
FIT is the hotel's state-of-the-art fitness center. It has plenty of techno equipment plus exercise lessons and yoga sessions. W Seattle is at the heart of all this dynamic city has to offer.
Loews 1000 Seattle
Loews Hotel sits at 1000 First Avenue in the heart of Downtown Seattle. Although Loews Hotel 1000 offers quiet and peaceful accommodation, controlled by modern technologies, the hotel is surrounded by the throbbing life of this vibrant city. Famous cultural sites, entertainments, parks, shops, and restaurants also lie within walking distance.
Moreover, the décor is contemporary and top-class luxury with staff, amenities, and equally high-quality service. Dining here has several classy options. The Library offers guests a quiet coffee, reading, rest area, and a warming fire in the colder months. A Studio is also a place for coffees, pastries, light meals, and drinks. Boka Kitchen and Bar serves upscale American menus in a social atmosphere.
Additionally, Loews Hotel 1000 has a Golf Club with championship playing facilities. There is also a serene spa/beauty area with many treatments for the face and body using the most proper preparations. Furthermore, rooms and suites give optimum rest and peace. They have fine amenities touch-controlled by the newest technologies, supremely comfortable beds, soothing décor, and luxurious bathrooms. The hotel also offers state-of-the-art conference, business, and private event facilities.
Fairmont Olympic Seattle
The Fairmont Olympic is a lavish hotel built in extravagant Italianate style in the 1920s. With recent updates, it has remained a fashionable iconic Seattle building. Besides, many famous names have stayed here in the Fairmont global brand of luxury hotels. The hotel has also been honored with a listing on the National Register of Historic Places.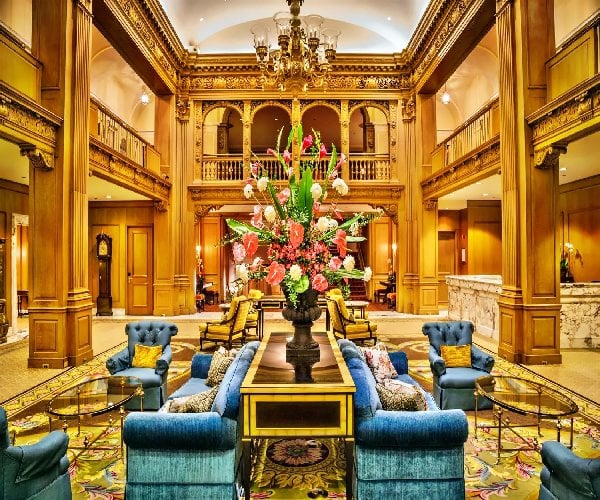 The Fairmont Olympic sits in Downtown Seattle with all the cultural and historical sites nearby. There are also cafes, restaurants, nightclubs, and upscale shopping close by. The waterfront is beautiful here and has ferry connections to many destinations. Moreover, transport in Seattle is good, and the city is served by King County International Airport (Boeing Field) and Seattle-Tacoma International.
This U-shaped hotel is grand, with marble, chandeliers, wood paneling, crown molding, period furnishings, a dramatic spiral staircase, and fabulous oversized floral arrangements. The rooms and suites are similarly opulent and plush. They blend with every modern amenity and lavish marble bathroom. Service is old-world courtesy and efficiency.
The resort also has a shopping mall, pastry shop, and several award-winning dining/drinking options. These include ornate chintzy spaces for traditional teas or morning coffee. Honey comes from a rooftop apiary. Other features include an oyster bar, a classy health club, and fitness rooms. There is even a heated swimming pool, spa, beauty bar, and in-room business facilities.
Seattle is a vibrant destination city. These five hotels offer some of the finest places to stay during the trip.
Guido Graf is Founder of Privateupgrades. Privateupgrades is a global luxury travel club with over 20 years of experience in luxury hotels, ensuring exclusive VIP privileges like upgrades, free breakfast, free nights, rate discounts, free airport transfers, free massages and much more.
If you would like to be a guest blogger on A Luxury Travel Blog in order to raise your profile, please contact us.