By
Kristof Eyckmans
on Nov 17, 2021 in
Accommodation
,
Africa
,
Asia
,
Hotels
,
Indonesia
,
Maldives
,
Middle East
,
Regions
,
Resorts
,
Tanzania
,
Thailand
,
United Arab Emirates
Occasionally we all browse the internet to soak up some travel inspiration and dream about those amazing places which are still on our endless bucket list. Often these destinations are among the most sought after holiday spots in the world, resulting in increased prices and the need to book way ahead. And while most of the well know resorts in these iconic places have a well oiled marketing machine that is also in full swing on social media (one of the biggest sources for travel inspiration these days), there are still plenty of well known brands in those locations that offer amazing value without having to sell one of your organs. Here are some of my favourites.
Holiday Inn resort Kandooma, Maldives
Aaaah, the Maldives, without a doubt one of the most desirable destinations on this planet and known to be a favourite among honeymooners, HNWIs… but this has changed in recent times and resorts like the Holiday Inn Kandooma are the perfect example why you don't need to spend a fortune to experience and more importantly enjoy this island nation.  The resort is located on its own island a mere 40 minute speedboat ride away fro Malé, saving you an expensive transfer on a water plane. Rooms and suites are either on the island or overwater (we all know you prefer the latter) and have ample space to accommodate a couple or even a small family. Talking about families, the resort has a wonderful kids club where they entertain the young ones while the adults are having their own play time in the sea or on the beach.
And there is no shortage when it comes to activities. Those who like to explore the underwater world will be happy to know there's a great dive centre which organises everything for you and if you come in the right season you might spot the whale shark or manta rays. Rather stay on the island, then you'll be happy to know there's a massive pool which is often too inviting when the sun is out, or if you prefer to be more active the gym, tennis court and so on will surely keep you busy for a while. Of course, the usual jetski's, catamaran's and many other water toys are equally available and will guarantee you'll have some serious fun on the water. Whatever you do as a family, couple or just friends, don't forget to make your way to the sunset bar when the golden hour sets in. It's truly a beautiful rooftop terrace, surrounded by palmtrees and an endless view over the ocean. What more could you ask for, besides the obvious cocktail? It's the perfect way to end a day in The Maldives.
Sofitel Bali Nusa Dua Beach Resort, Indonesia
When you think about Sofitel, you think about world-class service with a French accent woven into every detail of the overall experience. Often this comes at a price, yet the one in Nusa Dua on the beautiful island of Bali is anything but while still getting the same perfection when it comes to design, service, food.. Bali is known for its temples, rich culture, yummy food and amazing beaches but it's also one of those destinations where you can find luxury resorts for a reasonable price. And Nusa Dua is the perfect location as it's still close to the hustle and bustle of Kuta, but far enough not to have any of the nuisance. The rooms are well laid out and many of them offer sea views. The suites are even better of course, but believe me when I say any room will make you go all giggly when you enter for the first time.
No shortage on food and drinks, and one of the stand-outs for me is the brunch which was chosen among the best in the world by none other than Condé Nast which we all know isn't an institution that like to cut corners when it comes to overall quality. The kids can play at the kids club, making sure you can enjoy a refreshing drink near the pool, or go for a massage for which Bali is known across the globe. Being located at the beach you might just want to save that luxurious body treatment for later and enjoy the warm waters of the ocean first. The pool is equally inviting and by saving on your accommodation you can spend some more at the pool bar which is ideal on those sunny tropical days to keep hydrated. Of course, there's also a gym, but who wants to spend their time on that when there are so many more fun activities to be enjoyed?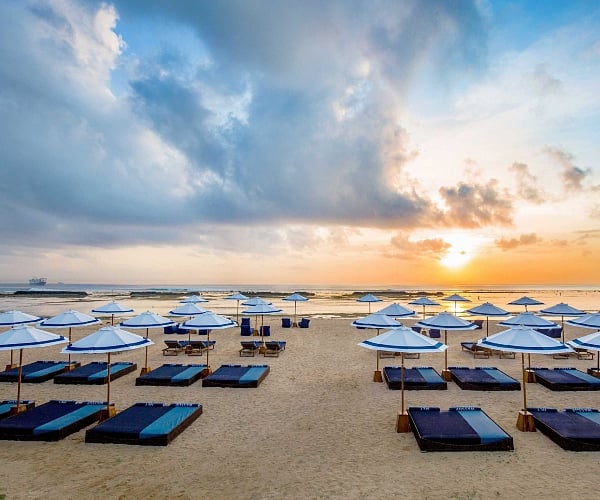 DoubleTree Resort Zanzibar, Tanzania
Africa has always been known as a safari destination (let's forget the Seychelles and Mauritius for a minute) but African beach destinations are becoming increasingly popular like Mombasa in Kenya, Vilankulos and Pemba in Mozambique and of course Zanzibar in Tanzania. This jewel in the Indian Ocean has drawn famous guests in the past and continues to do so. The Double Tree resort might not have the most fancy rooms but who spends time in it anyways when there's so much to explore and discover in this colourful destination. Built in the traditional style, the hotel instantly makes you feel right at home on this spice island. Perfectly located at the northernmost point of the island, you'll not only have some of the best sunset views but also the opportunity to visit the nearby fishing town which is always a bonus.
This place is all about feeling the local vibe and the countless seating areas near the beach and around the pool lend themselves perfectly to do just that. Palm leave covered cabanas where you can have a drink while listening to some local musicians, or for those who rather cool off at the same time there's a great pool bar with some amazing local drinks. The food is also superb, think local fish on the grill, lobster with hints of coconut and tamarind… But the stand-out feature for me is the shisha bar on the beach where you can reflect on life and what it has in store for you. Add to that a refreshing dawa, one of the iconic cocktails you can find in this region of Africa, and you'll be feeling like royalty.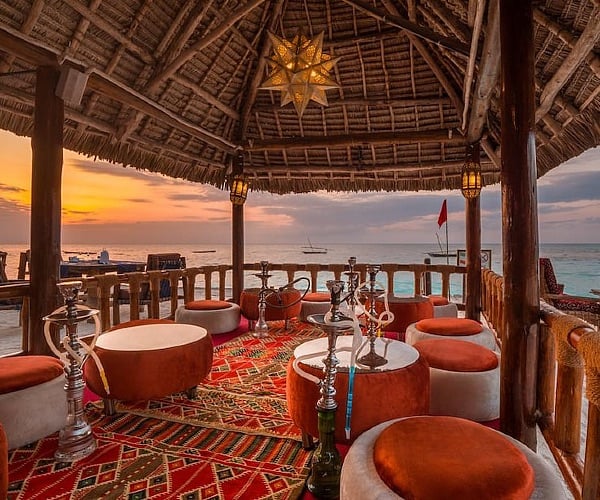 Renaissance Phuket Resort & Spa, Thailand
Like Bali, Phuket is one of those destinations where you'll be able to stay in a luxurious 5-star hotel without having to take an extra mortgage on your house. Ever since it became hugely popular, top tier hotel chains have ushered their best men to the island to look for the most amazing spots where they can pamper their guests in ways rarely experienced. One of the most affordable ones, located in the northwest and more quieter area of the island is Renaissance Phuket resort & spa. The very stylish property has everything you could wish for when visiting a tropical island, going from airy rooms and lush gardens to clean architectural lines and spherical f&b outlets. The soft colours are perfect to ease your mind and body into the holiday mode and the villas (my personal favourites) ooze peace and quietness which is all you need in times like these.
The name itself mostly gives it away, but the spa is certainly one of the highlights of the resort and being located in a country that eat, sleeps and breaths massages and therapeutic treatments, it's going to be hard not to fully immerse yourself into it. But there's still plenty to see and do outside the spa so don't stay too long on that massage table or in the therapy baths. Complimentary bikes for example are the perfect way to soak up some local atmosphere, or if you rather just enjoy the riding you'll be happy to know that the location between a beautiful beach and a stunning lake means you'll have plenty of options to choose a different route and enjoy all the different sceneries.
Radisson Blu hotel & resort Abu Dhabi Corniche, UAE
Of course the crown jewel of the Arabian peninsula, the United Arab Emirates, couldn't be left out of this list. With an abundance of resorts and hotels it's hard to find the one that suits your needs and preferences best. But if affordable luxury is high up your wish-list then this resort will certainly be one to look out for. Cozy rooms with great view will welcome you, while the beach is inevitably inviting you to sit back and soak it all up. The resort has a massive private beach that is adorned with comfortable sun loungers in which you can spend a whole day without needing a chiropractor at the end.
Food is equally important and having several dining outlets going from Mediterranean fusion all the way to tapas and the never missing Italian, you'll surely find something that is going to tickle your fancy. If you want to exercise a bit after all those additional calories which you just can't refuse at the restaurants, you can easily walk to some of the major tourist attractions in Abu Dhabi thanks to the central location of the resort. The Heritage Village for example or the Marina Mall (in Abu Dhabi you're never really far from any mall but still….) are just a quick stroll away. No matter how you decide to spend your time at this resort, it will surely be too short for whatever purpose you had in mind before coming over to this amazing place.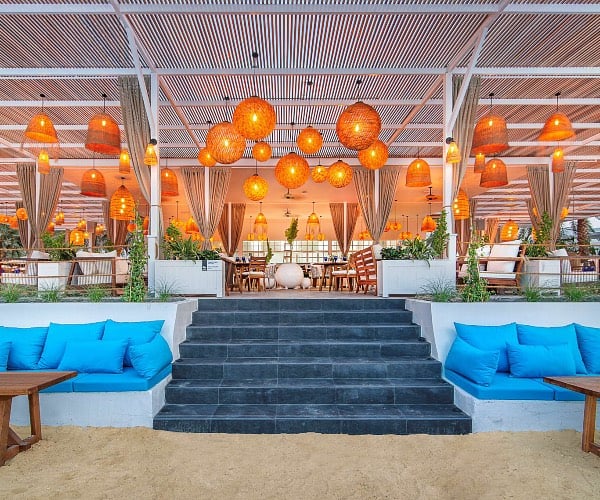 Have you know any other resort that offers great value while being located in one of the most amazing places in the world?