While most of us may think of the Maldives as an archipelago created by a higher force with the sole purpose to entertain newlyweds, HNWI's and wealthy retired couples, it is actually one of the best family destinations out there. Great weather year-round, incredible marine life, a plethora of luxurious resorts making sure everyones wishes are catered for and some of the most stunning beaches on the planet… it's all gathered in this small island nation in its own unique way. While some focus more on being the perfect adults-only resort, others go above and beyond to make sure the whole family will enjoy their time is this slice of paradise. The following 5 resorts are without a doubt the perfect place to take your family and it will be hard to convince your kids at the end of the trip there's a life outside of the Maldives too.
Finolhu resort
This place is all about fun, colour, design, space and good vibes. From the moment you arrive by seaplane you'll notice the huge size of the island which allows it to have some very unique features, but more on that later. Let's talk about the villas first as there's a wide variety of options to choose from. If you travel with kids, I suggest you consider one of the overwater villas as it allows the whole family to have ample space, but equally look for tropical fish that swim by on a very regular basis or just have the luxury to jump into the clear blue water straight from your terrace. No need to worry about food and drinks either for all the family members, cause there's so much choice you'll need several days to try it all out. My favourites (even though they're all really good) are Kanusan and the Crab Shack. The latter being located at the other side of the island, connected to the main resort area by an amazingly beautiful sand bank which is unique in the Maldives. It also allows you to have some insane food, like a delicious lobster sandwich with some truffle fries on the side while sitting barefoot in the soft white sand overlooking the lagoon… (trying not to get carried away here). This is also the location for the iconic white party which is held on a regular basis and is an absolute must-attend event when you are here.
The youngsters will without a doubt be hooked on the Milk LAB. Think of it as a cute little bar serving you all your personal delights from juices and pastries to the best shakes on the island! Another great feature is the Oceaneers club where toddlers all the way to teenagers can have fun doing all sorts of activities while the parents are enjoying their well deserved break at the spa, the gym or why not even the beach club where they can enjoy some amazing drinks while lounging on the beach or swim in the sea. Remember I told you about the massive size the island has and why it allows Finolhu to have some special features? Well, one of those is the beach bubble and it has become such a success that you need to make sure to book in advance to get any chance of experiencing it. There's literally no better way to sleep under the stars while enjoying all the modern comforts when staying in this transparent sphere. They even replaced the original with an even bigger one in order to create more space, have a more luxurious bathroom incorporated and it now also features a stunning outside bathtub. And while you enjoy that slice of heaven, let the kids play with the mermaid in the main swimming pool. No joke, it was by far one of the highlights for my kids when we visited and they're still raving about it! As you can see, there's so much going on for the whole family, you'll be kicking yourself afterwards for not booking a longer stay.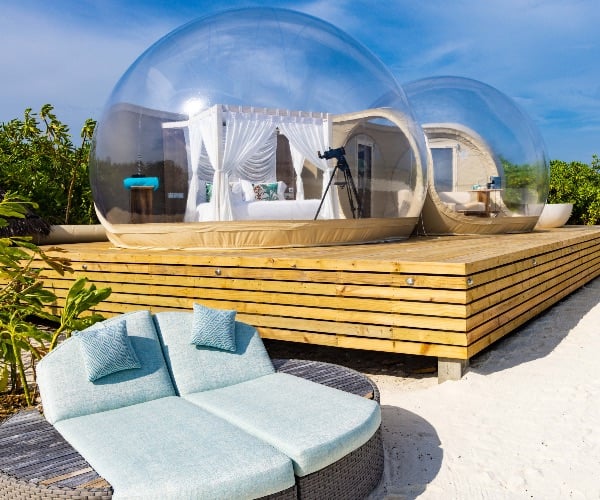 Intercontinental Maamunagau resort
We've mentioned the Intercontinental Maamunagau before and it pops up in this list again because of the fact that it's among the best resorts in the Maldives if you are looking for a fun-filled vacation as a family, but equally want to enjoy some time on your own while the youngsters are having their own enjoyment. There are plenty of villas and residences to choose from, starting with a one bedroom villa on the beach all the way to an amazing 3-bedroom overwater residence. Being located on a rather large island gives the resort the opportunity not to hold back too much when it comes to space and as a result all the villas have enough space to house a small football team. The kids will be thrilled when they walk into the Planet Trekkers club, which is a Valhalla for both toddlers and teenagers. Besides the entertainment at the club they also organise some amazing activities like going to the beach at sunset and paint the colours of the sky while enjoying the moment. Or learn about the Maldivian culture and how locals use local resources to make all sorts of things. I promise you, you'll hear all about it even when you're already back home.
While the kids are taken care for, I suggest you go to the Retreat which is best described as an adults only mini-club where you can enjoy everything from breakfast to more importantly evening cocktails. There's also a library, bar, private loungers, a massive infinity pool and even it's own little slice of beach that gives direct access to the lagoon. They even serve afternoon tea in case you get bored of relaxing in the sun while drinking yet another cocktail. What's unique at the Intercontinental Maamunagau is the lighthouse that is standing at the far end of the island. Good luck finding something similar in the Maldives! It's gives you the perfect vantage point from which you can observe the surrounding waters but equally get a beautiful view over the whole resort. Below you'll find one of the restaurants on the island, and if you liked what you saw on top of the lighthouse, you'll surely going to love what you see on your plate down there. On top of that the open kitchen is a feast to watch for the whole family. The Intercontinental brand might not always be associated with family travel, but this resort certainly will make you think twice about that in the future.
Soneva Fushi
A name that rings a bell for many, yet few ever had the chance to indulge in the wonders of Soneva. While they have several resorts, the one that stands out the most for families is Soneva Fushi. There's literally nothing you can think of which isn't available or feasible at this resort when it comes to creating the perfect family getaway. Let's start with the rooms or should I say villas, cause the smallest being around 300 sqm isn't exactly what I call small, irrelevant of how you look at it. For those who are planning to bring the extended family along you'll be glad to know the accommodation goes all the way up to the 3.000 sqm, 9 bedroom Villa 11, which even houses its own spa suite and gym! Now that you know there's a suitable villa for any circumstance and family size, we'll focus on some of the other aspects which can be found on the island. The Den is a great place to start. It's the perfect playground for the children and a place where they can transfer their energy into all sorts of entertainment. Lego rooms, dress-up area's, music rooms, cinema, pools,….you name it, the Den has it. There's even a Soneva Academy. where children aged 12 and older can learn so much more about different topics like marine life and the night sky, but equally about plastic pollution and the birdlife that is omnipresent. There's even the chance to search for an ancient ship that sunk here in 1602.
One of the things I like most about a stay at Soneva is the fact that they have a complimentary ice cream parlour with an abundance of different ice creams and sorbets where the whole family can walk in at any given time and spoil themselves with some yummy treats. But Soneva wouldn't be Soneva if they didn't have a similar chocolate parlour where all the chocoholics can go to feast their eyes and tastebuds on organic chocolates, cakes and macarons, all daily made thanks to the on site chocolatiers and pâtissiers. On this island it is all about having a good time as a family and trying to find fun ways to spice up everyday activities. One of my favourites must be having dinner at the Flying Sauces. Imagine an elevated dining platform, situated in the jungle canopy, where you can enjoy a mouthwatering gourmet menu while overlooking a green oasis on one side and the ocean on the other. Now, to add some fun to it you have to take a 200-metre zipline to get there. Trust me, going out for diner was never so much fun for the whole family.
Per Aquum Niyama
This little slice of paradise can be found in the southern part of the Maldives, spread across 2 islands suitably called Play and Chill. Both islands are connected by a bridge so you don't have to worry on which island you prefer to stay. All villas and pavilions have tons of space and can accommodate a minimum of 2 adults and 2 kids, something that isn' a given in many other resorts in the Maldives. Of course, there's a vast array of different villa types but if you prefer to stay overwater then you'll have to be on Chill island. Rather look for something truly unique and utterly luxurious, then you might want to look into the Crescent, which are 5 overwater pavilions and villas that are connected and can accommodate a family of up to 22 persons. Or in my case use each one for 1 family member and keep a spare one for whoever feels like joining us.
The Explorers kids club which obviously can be found on Play island is designed to entertain the younger VIP's as that's how they refer to the children. And to be honest, if I were a kid and walked into this kids club, I would also feel like I was living the high-life. Depending on their age, the kids can join 4 different tribes, each of which have age-specific activities planned every day. The club itself is the perfect place to do all sorts of fun activities and my absolute favourite must be the splash park. Water shoots out of the ground without any given warning, massive flowers spray gently over anyone that even comes close to them and so on. An absolute hit with the kids and in this tropical climate it's one of the best ways to entertain those little vip's. When it come to food there are so many options I can't even count them on one hand, but the one that will not only blow you away, but also the whole family is without a doubt Subsix. The name might already give it away but this restaurant is located under the water and can only be reached by speedboat. Thanks to the massive glass walls you'll be able to admire the wonders of the underwater world while your tastebuds are feasting on the amazing food that is served in front of you. Truly a unique experience of which every family member will have fond memories for years to come.
Hard Rock Hotel
Yes, you're reading this correctly, the famous Hard Rock brand has a property at the Maldives and it's much more than just a room next to a bar serving some massive burgers. To start off with let's talk about location. A mere 20-minute speedboat ride away from the international airport of Malé makes it one of the easiest and quickest resorts to reach once you've landed. But there's more, its location is next to The Marina @ Crossroads Maldives, the first multi-island concept in the Maldives where 2 resorts (SAii Lagoon and Hard Rock hotel) are connected with a third island upon which you will find shops and dining outlets, an event hall, a marine and Maldives discovery centre and so on! This allows the guests to explore more than just their own resort which is perfect for families who like to stroll around at a leisurely pace while stopping regularly for drinks and some food. But let's focus back on the Hard Rock hotel cause there's plenty of fun activities for the whole family here too. The rooms for example, of which there is a wide variety. For families there are even specific family suites which is actually a duplex where the parents have all the space and luxury they need downstairs while the kids have a fun play area and bunk beds upstairs.
But there will be little time spent inside the rooms when you see all the other facilities at the hotel. The Roxity kids club for example is like a kids real-life rockstar dream. Besides all the standard bells and whistles there are also all sorts of instruments to play and even a stage where they can bring their act. While the younger family members are living their dream, the older ones can head out to have some drinks and delicious food, and what better place to do so than at the one and only Hard Rock Cafe Maldives. I mean, it's always nice to see and experience new cultures and destinations, but it's equally fun to find a home away from home and it doesn't get much closer to home than this. Not to worry though if you prefer something else, there's plenty of choice when it comes to food and beverage, after all…this is where you live like a Maldivian rockstar.