It's fascinating to see how a nation like Singapore came to be in the heart of Southeast Asia. Thanks to the goals and aspirations of its people. New experiences emerge daily, and foodies, explorers, and socializers all come together in this world of infinite possibilities.
Last year, Singapore drew more than 17 million foreign visitors. That's more than three times the population of the city-state. Like Singapore, the city's hotels combine cutting-edge innovation and reverence for heritage. Moreover, there is something for everyone with the mix of luxury hotels.
Capella Singapore
On Sentosa Island, Capella Singapore hotel provides one of the most memorable hotel stays in Singapore. It is a private road that ascends to the splendor of a Capella masterpiece. In addition to the 112 guest rooms, there are also two suites and two villas. Every wonderfully and tastefully designed bed, suite, villa, and manor are spread out in over 30 acres of tranquil and lush planted grounds. Moreover, it is home to some incredible custom-built modern amenities.
As a result of its roots in history, the Sentosa Island lodgings blend nature and modernity. The balconies of the sea view, the Premier Garden, and Constellation Rooms all include Jacuzzis. Additionally, you'll get to enjoy views of the ocean. Besides, meals here are not just to relieve your hunger but also to take you on a sensory voyage.
Discovering Sentosa Island's massive array of culinary options is an exhilarating gourmet adventure. It then introduces a new range of exquisite flavors with a nod to traditional cuisine. Furthermore, it's not simply conventional spa treatments this location has to offer. Instead, you may find spa vacations and specialty treatments using organic ingredients.
Four Seasons Hotel Singapore
Conde Nast named it one of the best hotels in Southeast Asia. Plus, while Travel & Leisure named it one of the best hotels in Singapore. The Four Seasons Hotel Singapore sits on Orchard Boulevard. This is a peaceful, tree-lined street in the middle of the city's bustle. Moreover, the hotel is short of Singapore's first UNESCO World Heritage site, the Singapore Botanic Gardens. However, this is just 25 minutes from the airport.
Additionally, room service is available, but you may also dine at One-Ninety Wood-Fired Steaks and Seafood or Michelin-starred Jiang-Nan Chun for a really memorable dining experience. The One-Ninety Bar and Terraza by Joseph Haywood is only a short walk from shopping, attractions, and public transportation. This makes it an ideal location for a night out on the town.
Following your tourist adventures, unwind in the award-winning Four Seasons Spa. Or refuel at the tennis courts, 24-hour gym, and two outdoor pools. One of the pools is on the 20th floor, replete with a bar and breathtaking views of Singapore's city skyline.
Raffles Singapore
Thanks to various factors, the Raffles Hotel in Singapore has a classic appearance and an expensive reputation. There is an elegant Louis Vuitton shop and beautiful public gardens. Besides, there is also an outlet mall with second-hand goods in the area. As a bonus, there's a fitness facility and a wide variety of restaurants, bars, and pubs.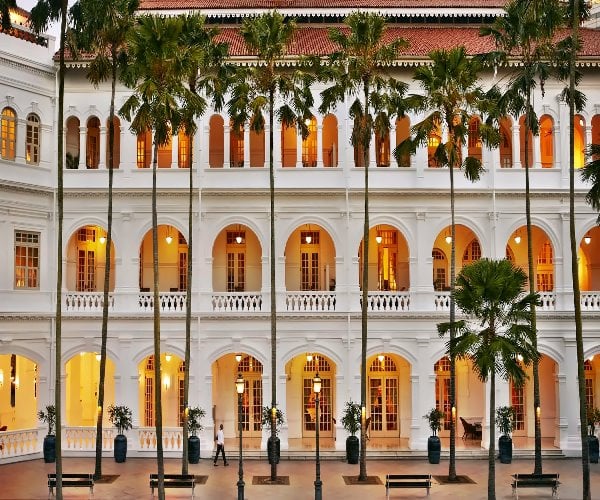 Additionally, there are a total of 115 stunning suites. These suites include state-of-the-art technology and bathrooms with the most up-to-date fixtures. Aside from that, each room has lavish traditional furnishings and antique carpets. Travelers who choose a basic, historic hotel for both work and pleasure will like this choice.
Furthermore, it's an excellent place for a couple's honeymoon. There is no better place to be at this luxurious getaway than right now! You may also find antique furniture in the hotel's 200-year-old antique furnishings, such as the grandfather clock. Their status as a National Monument is symbolized by this fact.
Ritz Carlton Millenia
Located in Singapore's Marina Bay, the Ritz Carlton Millenia is famous for visitors. But, if you're looking for a place to get away from it all, this luxurious hotel is the place for you. Each of the hotel's 608 rooms and suites is a work of art in its own right. Moreover, the rooms are the utmost in elegance and comfort for visitors alike, making them ideal for business or pleasure travel.
Additionally, every dish served in the hotel's restaurants is accompanied by live showmanship that enhances the dining experience. However, the cuisine is a stark reminder of Singapore's history and current culture. Chefs from all around the world show off their culinary skills in live kitchens. Besides, Asia's first La Mer Hotel Spa is available at the Ritz Carlton Millenia. There are a variety of massages to select from at the spa, all of which are infused with the ocean's essence. In addition, ESPA body treatments and facials will leave you feeling pampered and rejuvenated.
Furthermore, the 24-hour gym is open to guests who don't want to miss out on their workouts. Their workouts will be aided by top-notch gym equipment and trainers who can assist them.
Fullerton Bay Hotel
The hotel is one of Singapore's Marina Bay waterfront's crown jewels. The outcome is a highly sought-after location for business meetings and other special occasions. In addition, you'll be within walking distance to commercial areas like Orchard Road and City Hall. There are also gorgeous parks and local museums if you're looking for a more relaxed experience.
In addition to the five-star amenities, there are more than 100 guest rooms at the hotel. Guests staying at Singapore's Fullerton Bay Hotel will have their pick of a variety of delectable dining choices. Malay and Peranakan cuisines are in many of the establishments. Guests may also enjoy a wide variety of cuisines, from Chinese to Western, at the hotel.
Furthermore, guests may make use of the spa's services while on-site. From deep muscle and scalp massages to facials tailored to the needs of males, there is something for everyone. The 25-meter rooftop pool and the glass-framed Jacuzzis are also available to use during their spa visit. There's also a gym in the fitness section. Besides, TechnoGym equipment is all up-to-date and cutting-edge.
Finally, hotels in Singapore are beginning a new age after years of stagnation. There are more than a few famous hotel renovations that demand notice. Plus, fascinating initiatives by both local and foreign talent. As a result, Singapore hotels have never been more engaging. These are some of the best currently available in the city-state.
Guido Graf is Founder of Privateupgrades. Privateupgrades is a global luxury travel club with over 20 years of experience in luxury hotels, ensuring exclusive VIP privileges like upgrades, free breakfast, free nights, rate discounts, free airport transfers, free massages and much more.
If you would like to be a guest blogger on A Luxury Travel Blog in order to raise your profile, please contact us.