Whilst COVID has, without doubt, been a huge detriment to the travel industry, there are some businesses that have worked tirelessly during successive lockdowns to improve the quality of their existing offering. One such business is Mallinson's Woodland Retreat, a luxurious adults-only resort with a difference.
Mallinson's in fact already lends itself extremely well to these new times we find ourselves in. Not only does it offer a rural, woodland location close to Lyme Regis and the Jurassic Coast, the luxury of space and privacy, and the ability to self-cater, but it's also the perfect getaway for UK staycationers.
Lockdowns enabled the owners to upgrade all shared facilities for their five existing glamping spaces so that they now not only each have their own kitchens and tree showers, but also offer self-check-in for an entirely contact-free luxury escape to the woods.  They also allowed them to build on the success of their Woodsman's Treehouse that they had opened more than five years ago, by designing and building two brand new luxury treehouses – Dazzle and Pinwheel. With Woodsman's already booked a year in advance thanks to extensive TV and press coverage, this is a great opportunity to secure a luxury stay whilst we remain in uncertain times.
Read on to learn more about two of the most luxurious treehouses in the UK:
Dazzle
Dazzle has a unique external experience – hidden by a distinctive camouflage design that was inspired by patterns used to conceal World War I ships and confuse the enemy, it is hidden away in woodland and reached via a raised gangplank walkway.
Once inside, a wood-burning stove takes a central position between the sitting room and bedroom, ensuring the property can be kept warm throughout the cooler months, while an en suite shower room (with proper flushing loo) completes the luxury treetop hideout.
The bedroom houses a king size bed, whilst the ship theme continues throughout with rooftop funnels, yacht deck floors and a central glass spine, that leads guests who are lucky enough to stay here out towards a prow-shaped deck and a slender alder tree.
The fully-equipped kitchen, complete with Nespresso machine, opens onto the rear deck, where you'll also find a stunning hot tub.
In addition, a cargo net daybed, suspended above the stream and beneath an oak canopy, provides the ultimate space in which to relax.
With your own hot tub, barbecue and pizza oven, you really can embrace all things al fresco.
The design for both Dazzle and Pinwheel was a collaboration between Guy Mallinson and Keith Brownlie of BEaM, and built entirely by Guy and his team of highly-skilled wood craftsmen.
Price for 2 adults: £990 for two weeknights, £1485 for weekends (Fri 4pm-Mon 10am).
Pinwheel
The Pinwheel Treehouse is set in a clearing between a ring of mature oak trees in a secluded corner of Mallinson's Woodland Retreat's very own bluebell wood.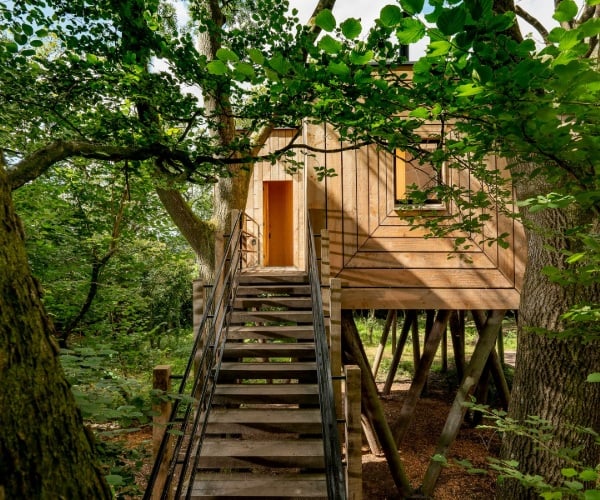 Inside, a central, glass-topped living space is set beneath the tree canopy, with the surrounding spaces spinning outwards from it'. Full-height, one-way glass windows (facing the four points of the compass), provide stunning views, whilst at the same time still maintaining a perfect sense of seclusion.
The treehouse's rooms are arranged in a cross-shape, shifted off-centre to mimic the shape of a child's pinwheel windmill. Concentric rings of timber decrease towards the centre, giving the illusion of three-dimensional facades, each sloping towards and framing a single window, while one-way mirror glass reflects the trunks of the surrounding trees.
There is an en suite flushing loo, plus a separate shower and dressing room, but perhaps the most special part of the treehouses is the outside space.
On the outside deck, you'll not only get to enjoy sunset views, but there's also a wood-fired pizza oven, barbecue, hot tub, fire pit and even a two-person swing.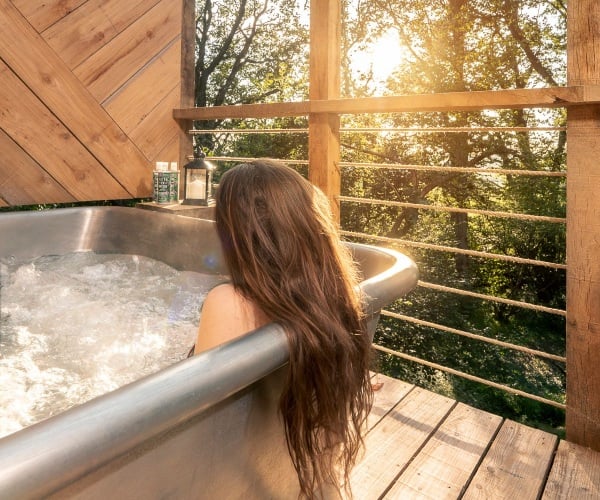 Rates for 2 adults are the same as for Dazzle: £990 for two weeknights, £1485 for weekends (Fri 4pm-Mon 10am).
We think the photos speak for themselves.  The design, build quality, facilties, attention to detail and sheer style are what set these treehouses apart, and are why we think they might just be the most luxurious treehouses in the UK…
Disclosure: This post is sponsored by Mallinson's Woodland Retreat.