High on Broadstairs' Eastern Esplanade, looking down on Stone Bay's white cliffs and golden beach, The Bay Tree Hotel has stunning views.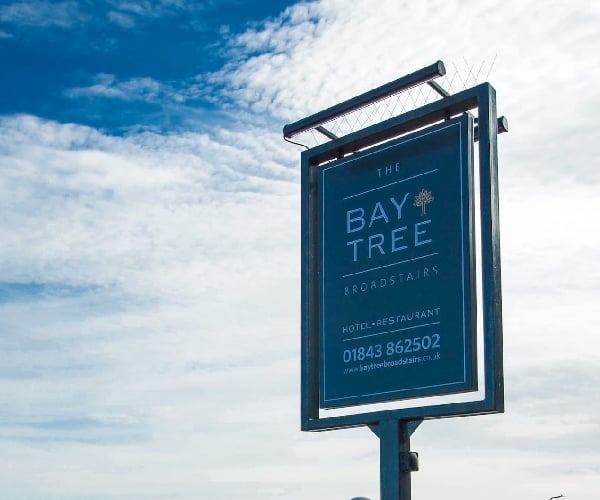 The name comes from a bay tree flourishing in the back garden that is probably Kent's oldest and largest specimen. After a lengthy £1 million renovation this 10 room boutique red brick hotel, constructed as a family home in 1896, is in immaculate condition. Sensitive refurbishment makes the most of the house's Victorian heritage features.
Sash windows, Minton floor tiles and fireplaces are back to their elegant best.
The welcome
Co-owners Alistair and Robert, London escapees, welcome us, checking our temperature as these are still COVID times. Alastair takes our luggage and leads us to our room on the second floor.
The room
Number 10, named Alder, is a dual aspect room. One long panoramic window has views north across Stone Bay towards Botany Bay. The bay window looks south towards crescent-shaped Viking Bay and the heart of Broadstairs. Local interior designer Suzy Nina helped Alistair and Robert to refurbish with suggestions for antique furniture and a light palate of soft-furnishings.
Design makes the most of the grand house's original contours. The eaves host a case stand and hanging rail whilst a secret cupboard is large enough to hide away another case. A Moroccan style lampshade casts gentle shadows over the double bed and wall-mounted television. Warm peach walls deepen to a light terracotta shade as daylight evaporates.
The bathroom
Light flowing in from a pine dormer window above the shower falls a neat wet room. Scandinavian tones rise from the light wooden flooring and sleek stainless steel plumbing.
Full-size Bay Tree toiletries, with soothing aromas of Honey and Mango are bespoke creations. Blue towels are luxuriantly thick.
Facilities
For a 10 room boutique hotel the restaurant offers an impressively diverse menu. The Chef makes the most of local sourcing offering scampi, whitebait and calamari amongst five options for starters.
More favourites for locavores are cod and Kentish fish pie alongside other seasonal and vegan options. At the front of the house, outdoor seating provides an idyllic location for afternoon tea or an early evening drink.
Location
A five minute downhill stroll leads into Broadstairs, a quaint seaside town with cute fisherman's cottages, quaint pubs and meandering roads originally designed for two-legged and four legged traffic.
Shops are independent, quirky and small. If you really need national chains you'll find them out of town at Westwood Cross.
Charles Dickens adored Broadstairs. The Dickens Museum chronicles the time he spent by the sea, notably writing portions of Bleak House. Hopefully, 2022 will see the return of the annual Dickens Festival usually hosted in June.
Amongst Broadstairs' collection of cafes and restaurants is the unique Morelli's ice-cream parlour. Pink banquettes and Lloyd Loom chairs capturing the essence of a 1950s gelato emporium.
Below is the Viking Trail, a 32 mile route for cyclists revealing the best of Thanet: spectacular coastline and picturesque inland lanes too. Walkers can tackle shorter themed routes such as the 4 mile trek from Dickens House to the Turner Contemporary in Margate which takes in the white cliffs of Botany Bay.
Make time for a visit, free admission, to the Spitfire and Hurricane Museum at Manston.
Other nice touches
The Library Bar is cosy and enticing, small enough for exclusive use by groups of friends. Ring the bell if you need top ups of local beers, gins and wines.
Kentish breakfasts with locally sourced bacon, black pudding and sausages are taken very seriously. There are even options for the scrambled egg, "Soft or dry?" asks the waitresses. Home-made hash browns of lightly crisped shards of potato are a highlight.
The cost
Rooms begin from £65 in low season including breakfast (if booking is made direct or via the hotel's website).
The best bit
Corridors and stairs are lined by a remarkable collection of Harry Potter artwork, though as Robert explains, "We are not a Harry Potter hotel, it just makes for interesting displays."
In all there are 132 pieces from Miraphora Mina and Eduardo Lima who created scene for the films. Subtly, the theme is extended with each of the 10 rooms named after British trees providing wood suitable for creating magic wands. Perhaps the most wizard of the rooms is English Oak with its sea view balcony and stand-alone bath. Simply magical.
The final verdict
Location, location, location. Bay Tree Hotel's elevation provides one of Broadstairs' best views across sandy beaches, headland and ocean. All set off by tasteful and inspirational interior design that makes the most of the ocean light.
Disclosure: Our stay was sponsored by The Bay Tree Hotel and Visit Thanet.