In days gone by bands used to trash hotels. Now, The Libertines are more concerned with curating soft furnishings, paint choices and wallpaper at this seafront townhouse on Eastern Esplanade.
Before The Libertines' purchase and revamp, this was one of Margate's worst reviewed B & Bs. Now it is the coolest of choices. Decor is unashamedly over the top. Exuberant romanticism with Gothic touches. Designer Rhiannon Sussex has fused red, gold and black from the band's famous tunics into vibrant colour palettes: all part of an extensive thee-year refurbishment. Gilded chandeliers, faux snakeskin and pop art make for eclectic mix.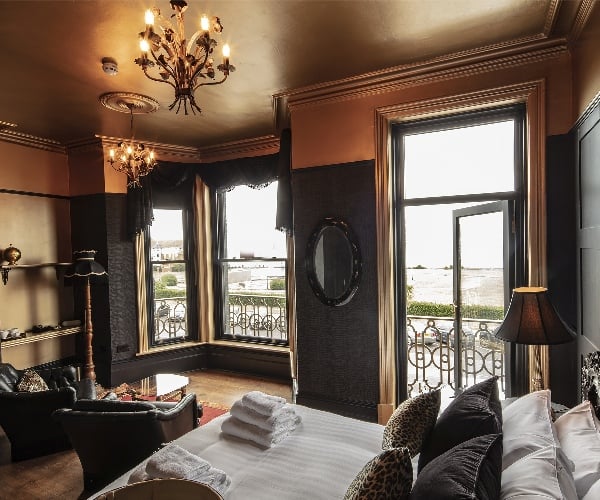 As the grandest suite is a tribute to William Blake there are clearly no limits on imagination. Victorian Gothic is name-checked with "Death" engraved in the staircase, a reference to the lyrics of The Libertines' "Death on the Stairs".
The welcome
Check-in is friendly and casual. Our bags are taken, and we are guided up the stairs past posters of David Bowie, The Sex Pistols and Andy Warhol. The place is a shrine to the band's heroes, both musical and creative.
The room
Our room, Delaney, with a town rather than sea view, recalls the title of one of The Libertines B sides. There's a dark seductive sheen to the colour palette of a rich chestnut brown on the walls which is accented by a gold feature wall and a gold satin blind. It's a bold aesthetic. A white wide duvet contrasts with the dark wooden flooring.
But no television. Artistic types who stay at The Albion are more likely to make their own entertainment. They are also more likely to spend narcissistic time looking into the many mirrors. By reception there's an eclectic library. Co-owner Pete Doherty is renowned as a voracious reader.
The bathroom
Running with the theme of black from The Libertines tunic, the bathroom has black tiling, taps and shower. Barat and Doherty, longing for Albion's days of yore, clearly opted for a deep, chunky, solidly reliable British Empire sink.
Luxurious Haeckel toiletries – "From the ocean for the ocean" – have fragrances based on seaweed, herbs and grasses. If the aromas appeal, you can check out their shop and Sea Bathing Machine Sauna opposite The Lido. Add in robes, slippers and GHD hairdryers for luxurious touches.
The facilities
How many hotels list a recording studio as one of their facilities? Primarily, intended as a venue for The Libertines' future albums, The Albion Rooms also provide a creative hub for Margate.
The Waste Land is a restaurant that pays tribute to T.S. Eliot's greatest poem, published a century ago in 1922. Appropriately, Eliot stayed just two doors down the road. When COVID subsides, executive chef Tim Ross-Watson has plans to serve British dishes with an Asian twist. Obviously, it will become a hangout for live music and comedy and poetry.
In the bar, The Waste Land, this time a beer rather than a modernist poem or a restaurant is popular with local drinkers.
Location
Once a grand Georgian and Victorian seaside resort, Margate will forever have the sunsets that revolutionary painter JMW Turner rated as some of the best in the world.
When the Turner Contemporary Gallery opened in 2011, with an ever-changing roster of exhibitions, it breathed new life into the Kent coastal town.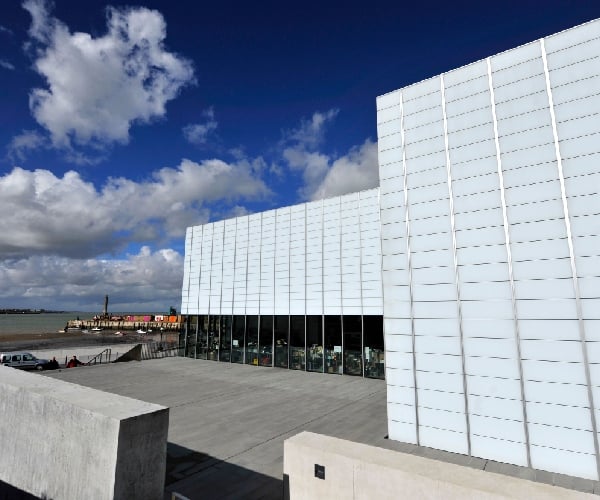 Similarly, investment in revamping Dreamland's fairground attractions has also brought trickle-down wealth to a town that is now on the up. Now cafes, galleries, restaurants and vintage shops are springing up.
Cliffs epitomises the creative spirit: multi-tasking as a cafe, record shop, yoga studio, hair salon and coffee roastery.
Other nice touches
There's a tongue-in-cheek sense of humour to the Albion Rooms. Pete Doherty has designed a Margate Bingo card that epitomises the contradictions of a town escaping from its recent past. Tick off Turner sunsets, Tracey Emin artwork but overflowing bins too. Listen out for laughter seagulls and police sirens.
In a case of poacher turned gamekeeper, there's a catalogue of prices in case you feel the need to trash your room. Prices of artwork are available on application.
The cost
Rooms begin at £115, including breakfast, rising to £230 for the larger suites: The Loft, The Emily Dickinson and The William Blake.
The best bit
On the rock-star living clock, breakfast begins at 9am, at the very earliest and tends towards brunch. Whether you go for The Works, aka The Fullest English, or the Veggie Load Up, breakfast is taken very seriously. Sourcing is immaculate. Quantities make lunch redundant.
All served in a room that stylishly swerves between Victorian coaching inn chic and hints of a recording studio with spotlights and more pop art.
The final verdict
There's a poster on the stairs which proclaims, "I'm an artist. Normal rules don't apply". And The Albion Rooms provide personal service for those who want to be treated as an individual.
This is a unique boutique hotel. Though rockstar excesses are reined in by a sense of humour that doesn't take itself too seriously. The Albion Rooms meshes in perfectly with Margate's creative persona.
Disclosure: Our stay was sponsored by The Albion Rooms and Visit Thanet.