Whether you're looking for a short, or a relaxing escape in the sun, Gibraltar has everything you need with much more to offer than you can possibly imagine. However you arrive – by air, foot, car or sea – you will soon experience Gibraltar's intricate layers of history all around you. Here's an idea for how to spend 24 hours in this unique place.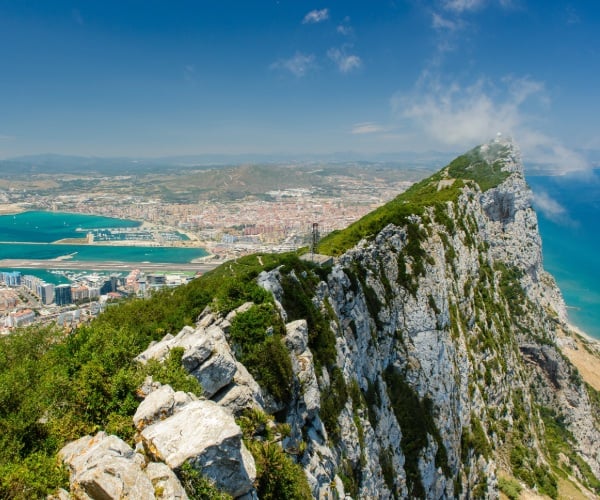 09:00
An immediate talking point is the runway, constructed during the Second World War. As it crosses the main road into the city, visitors are amazed as traffic and pedestrians are stopped to allow aircraft to take off and land.
The best way to familiarise yourself with Gibraltar's diverse heritage, as well as witnessing some of its natural beauty, is to take a Rock Tour to the Gibraltar Nature Reserve, Upper Rock. A tour can be experienced in a number of ways, by official taxi, pre-arranged with a coach tour company, on foot or alternatively, you can take the Cable Car from Grand Parade. Alternatively, rent an e-bike or take an e-bike guided tour.
A basic tour lasts around an hour and a half and takes in thousands of years of Rock evolution, including the famous Apes' Den, habitat to the Barbary Macaques, Europe's only free roaming monkeys and St Michael's Cave with its stunning stalagmites and stalactites. The Upper and Middle galleries form part of the honeycombed interior of the limestone Rock and illustrate the defence of Gibraltar during the Great Siege of 1779 – 83, when the forerunners to the Royal Engineers dug out the tunnel systems to position guns to fight off the enemy. Other highlights include a stop at Europa Point, the southernmost tip of Europe, with its breathtaking views across the Strait to North Africa. Learn too about the importance of Gibraltar as a home to the Neanderthals.
Try to make a stop at the Skywalk and take in the amazing views from a glass balcony at the top of the Rock.
11:30
Gibraltar's town centre is largely protected by the Gibraltar Heritage Trust and is undergoing a continual restoration programme. Its original city walls and fortifications date back to the 1800s and include Casemates Gates, Charles V Wall and King's Bastion.
Join a walking tour in the town area to introduce you to some of Gibraltar's unique architecture reflecting its blend of Genoese, Portuguese, Spanish, Moorish and British Regency style buildings.
The Catholic Cathedral of St. Mary the Crowned in the centre of Main Street is part of the walking tour. It was one of the earliest Spanish churches, built on the site of the medieval mosque shortly after 1462. It was damaged during the Great Siegeof 1779-83, and its façade was modified in 1810 to create the existing Main Street. The church was later elevated to a Cathedral Church in 1910.
Gibraltar's National Museumsituated on the original site of a Moorish bath house is a short walk from Main Street.
Main Street is recognised today as Gibraltar's main commercial and shopping district. After a morning of looking around its intricate lanes and streets, you may now be tempted to stop and look at some of the VAT free bargains to be had. Gibraltar offers exceptional value added shopping. Popular purchases include, cosmetics, perfumery, tobacco, spirits, electronic goods and jewellery. It's the perfect pre-Christmas weekend shoppers' destination with everything in close proximity.
13:00
Feeling peckish now? Head towards one of Gibraltar's stylish marinas, Queensway Quay or Ocean Village. Enjoy a meal by the many luxury apartments and look out at the large yachts that are moored there, while taking a break before the afternoon's activities.
15:00
The Bay of Gibraltar is home to several species of dolphin. Visitors are able to go out into the Bay in one of the many dolphin watching tour boats to see pods of dolphin at play. The tour takes approximately 1.5 hours.
17:00… and into the evening
Casemates Square at the end of Main Street was once the centre of public executions. Today it is the thriving hub of Gibraltar's nightlife, filled with numerous lively bars and cafes that stay open into the early hours. Nearby Chatham Counterguard is also a popular hotspot for dining out. There is a wide selection of eateries to suit all palates.
Alternatively, take dinner at the elegant Queensway Quay Marina or head round to the east side of the Rock at Catalan Bay, evolved from a Genoese fishing village. Dine at a local restaurant and enjoy a pleasant atmosphere in this historic community.
After dinner stop off at any one of the trendy bars, many offering live music, for a late night drink. Alternatively, if you fancy a little more glamour and sophistication, head out of town to one of the two Casinos at Ocean Village for a flutter at the tables and take in the breathtaking evening views across the Bay of Gibraltar.
As you retire for the night, you'll be wishing you had one day more, there's still so much to explore.