By
Kristof Eyckmans
on Jan 23, 2022 in
Accommodation
,
Africa
,
Asia
,
British Virgin Islands
,
Caribbean
,
Fiji
,
Indonesia
,
Maldives
,
Oceania
,
Regions
,
Resorts
,
Tanzania
By now I'm positive we all have the Lenny Kravitz feeling where we sing to ourselves "I wanna fly awaaaay….". With Fiji opening up again, Maldives being a solid option throughout the whole Covid crisis and many other destinations looking for ways to welcome visitors again, it's time to find out where you need to be if you really want to enjoy some proper sun, sea and fun. Remember, some destinations might still be off the table for people coming from certain areas, but this works both ways and globally the local tourism has seen a surge so always check before booking that next holiday. But if you get a green light and the travel gods are in your favour, you really want to consider one of the below destinations.
COMO Laucala Island resort, Fiji
While many of you have heard about Laucala island, some might have missed the news (where have you been??) that COMO has taken over very recently. This may bring fear to those who've been to Laucala before, however COMO isn't just a fancy brand with a cool name but no expertise. On the contrary, it's been chosen consistently among the best hotel chains in the world and continues to do so. With all of that put aside, we can focus on the resort itself and why you need to consider this tropical walhalla if Fiji is on your shortlist.
Let's start by the obvious… the location. It's situated on a private island large enough to house several massive residences, some even sitting on plots of land measuring in the thousands of square meters. Of course, if you have the luxury of building each residence further apart than the average distance between a European capital, it's only a given that a private airstrip is also part of the island. This allows guests to fly in directly from Nadi and limit the transfer time which is often involved when visiting these remote tropical gems. Each residence has its own private pool, golf buggies, indoor and outdoor bathtubs, daybeds… the list is endless. Some even have access to a private and secluded beach.
While the residences might tick every box, you still want to venture out and explore what else Laucala has to offer. Besides several amazing restaurants and bars, there's also an 18-hole championship golf course on the island (did I mention space wasn't an issue here?) which by my knowledge is the only one on a private island resort. The luxury doesn't stop there cause besides all the regular water sports there's also a vast array of boats up for charter making sure you spend your time in luxury on land and on water. Fiji might be a dream but Laucala is as real as it gets!
Finolhu Baa Atoll, Maldives
You can't say sun, sea and fun without thinking about the Maldives. And if there's one resort where they master the art of making sure you enjoy all three of them, it's Finolhu! This beautiful resort is located in the Baa atoll, a UNESCO Biosphere Reserve, giving you the guarantee to experience the most amazing underwater scenes. After a quick 40 minute hop on the sea plane you step into the tranquil world of this unique resort. Finolhu has the luxury of having a rather large island with a massive sandbank stretching almost a kilometer into the sea, allowing the resort to really utilise all the space and giving its guests the chance to feel like they are on a deserted island. Different colours, textures and vibes can be found across the whole island yet they all blend in together creating an elegant property where you'll be happy to stay much longer than first anticipated.
And you won't be roughing it either, with the massive overwater villas as the lowest room type. Most resorts in the Maldives will charge you an arm and a leg to sleep in one of these, yet at Finolhu they want you to enjoy your time to the fullest and having the sea not only under but also around you is just one of their ways to make you relax and settle into the rhythm of the island. Of course, there are many room types, both on land and overwater, but the one place that really stands out is the Beach Bubble which is located at the very end of the sandbank, making sure you will not be disturbed by anything or anyone, and can fully focus on the sea, beach, stars and each other.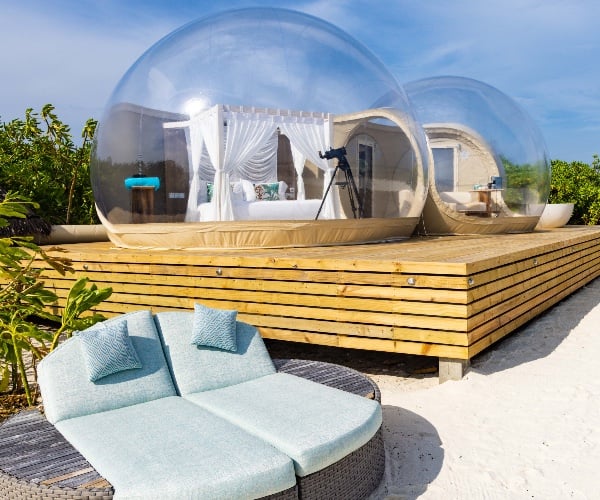 To put the fun into the fun-factor the resort not only serves some of the best food and drinks, but they also provide some spectacular entertainment all across the resort. One evening you might enjoy a few drinks with some relaxed beats on the background while enjoying the last rays of sunlight at the white party, the other time there will be a fire show right in front of the restaurant which would make every arsonist envious. It's just non stop fun for every guest at Finolhu, irrelevant of the age. If all of this isn't enough yet, they even have a mermaid who's a regular at the beach club pool. Once again proof this place is magical.
Rosewood Little Dix Bay, British Virgin Islands
Rosewood as a brand has become much more publicly known in recent times, partly due to the expansion it has made, partly because of the positive criticism it gets from well-traveled guests and press. So they're clearly doing something right which is always reassuring when looking for a holiday that needs to be fun but equally relaxing at the same time.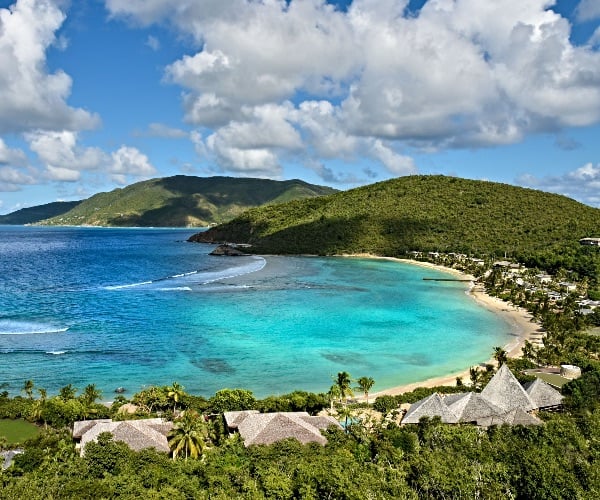 Their property at Little Dix Bay which is the perfect example of a resort delivering sustainable luxury, sits on a half-mile white sandy beach overlooking the clear blue waters of the Caribbean. This recipe alone would be enough to persuade guests to come over yet we're talking about Rosewood and not just a highway motel. Hence why they offer accommodation going from the stylish standard cottages all the way to beautifully designed villas with stunning ocean views of even direct beach access if that's what you are looking for.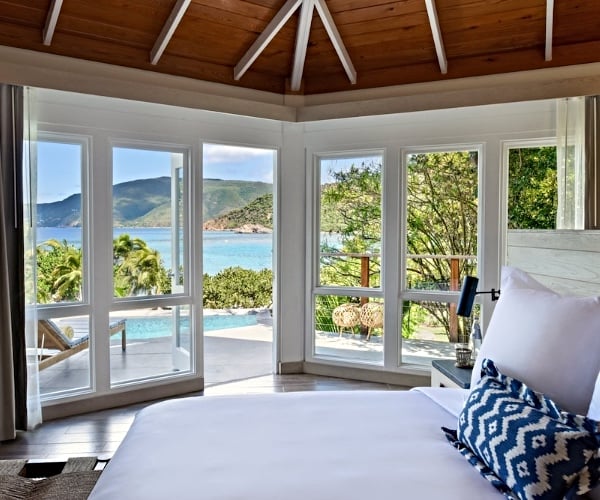 Some might be surprised when they notice the Rosewood explorers program, or in other words the cool and playful kids club and activities which the resort organises to keep the younger guests amused at al time. Meanwhile the adults can enjoy some of the other amenities which are on offer like the wonderful spa, cruising to one of the secluded beaches around the island which are only accessible by boat, or just enjoy some of the fantastic food that is served in the several restaurants around the resort. No matter what you do, this place will guarantee you'll have the best time and it's going to be hard to fly back home afterwards.
andBeyond Mnemba island, Tanzania
Aaah….Africa! For some a continent that has too many unknowns to feel comfortable, for others a place that gets under your skin and makes you want to explore more of this incredibly versatile destination. And don't think you'll be roughing it, cause there are countless options to spend your time while living the best life ever. Tanzania is one of those destinations that makes luxury travel the norm and while it has countless sights to visit, you really need to make sure to include a stay at &Beyond Mnemba Island. Why? Well, first of all it's a private island which is located nearby Zanzibar, allowing for easy international access. But that's just the practical side of it. &Beyond is one of the best hospitality brands in Africa, offering everything from amazing safari experiences all the way to the most insane beach properties.
And with Mnemba Island they once again show why they have so many repeat customers who enjoy the amazing service, attention to detail, personalised itineraries and so on. Zanzibar is a wonderful place and has become very popular the last decade with new resorts and lodges constantly opening up, limiting the space for every visitor on the island even more. Mnemba Island has none of those problems as it is close enough to Zanzibar to do day trips in case you want to experience some of the cultural heritage, but far enough to be out of sight of any other guests except those who also found the way to this slice of paradise. Being surrounded by some of the most amazing coral reefs in Africa it is also surrounded by the best dive sites on this side of the continent!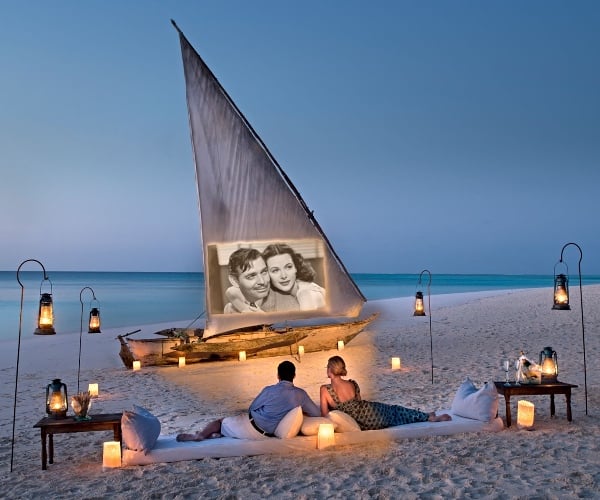 It might only have 12 villas, still they don't cut back on any of their signature features like the Wildchild programme to name just one, which is specifically designed for the kids and will make sure they'll make lifelong memories. The villas in itself are a beautiful example of understated beach luxury, combined with some of the most amazing sea views. And of course you can count on some of the most amazing food and drinks (being a South African brand they know a thing or two about wines) to be enjoyed in all different kinds of settings. End your day with a dhow cruise and you'll be soon becoming one of the those repeat guests.
Bawah reserve, Indonesia
While Indonesia might still be off the chart for most of us, if there's one thing we learned in recent times it's the fact that change is real and sometimes imminent, so let's hope we can all visit this slice of tropical yumminess very soon. What will be waiting is more than just a lush green paradise with some of the most friendly people in the world. There's a whole bunch of amazing resorts impatiently counting down till the moment they can provide the best service and experience possible for their guests.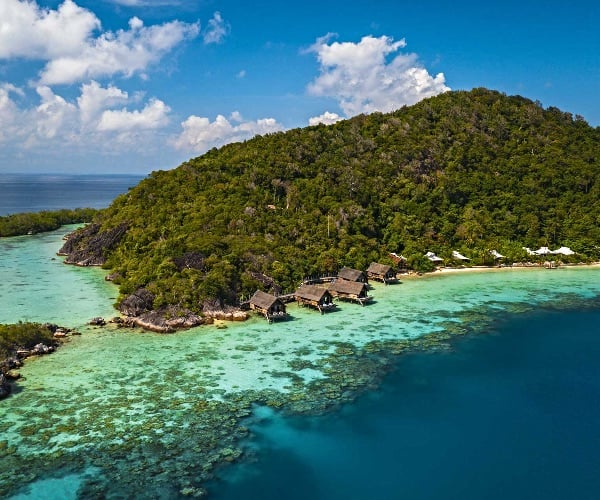 Bawah reserve is no different, on the contrary, they are one of the best you'll find in the industry and as they are reopening in August it's the perfect time to start planning now cause all the suites and villas will sell out like hot cakes. While you can't go wrong when it comes to accommodation, I do have a favourite which is the two bedroom deluxe pool villa. True…it doesn't allow you to jump into the crystal clear lagoon from your terrace like the overwater bungalows do, but it does come with the advantage of having 2 separate bedrooms, endless amount of space, a private pool and so on. Pure perfection for a family who wants to have the time of their lives while being surrounded by panoramic views over the most pristine islands in Indonesia.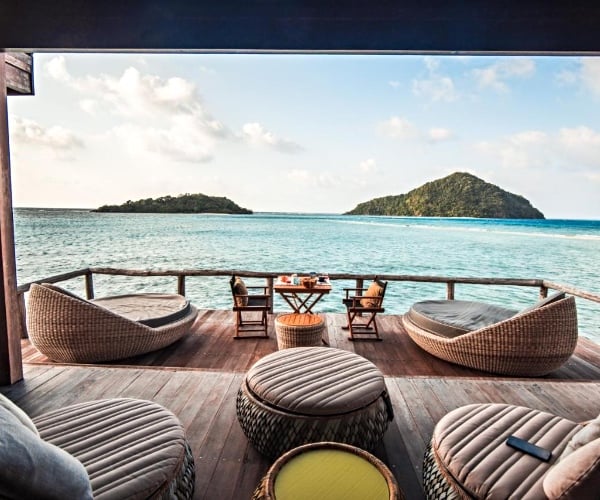 With sustainability and conservation being one of the important pillars at Bawah reserve, you'll get plenty of chances to experience the efforts they've made and those that are still ongoing. Equally important is the fact it's done in such way that it blends in with all the other activities which you can indulge in. This is the resort in Indonesia where you leave knowing you helped not only its nature but also its communities in a luxurious yet very relaxed atmosphere. A real barefoot paradise!