By
Rachael Thomas
on May 18, 2022 in
Attractions
,
Europe
,
Events
,
Going Out
,
Leisure Travel
,
Regions
,
Speciality Travel
,
Travel Miscellany
,
United Kingdom
,
Western Europe
In just a few weeks' time, thousands of swimmers will be heading to the Lake District to take part in the Great North Swim. Taking place from 10 – 12 June, there's something for everyone, from the seasoned open water swimmer to the absolute beginner.
Open water swimming has grown hugely in popularity over the last few years, and while it's not everyone's cup of tea (certainly not mine!), the sheer amount of water in the Lake District means it's one of the best places in the world to experience wild swimming. It's also widely reported to be a mood booster and a stress reducer. Maybe I will give it a go.
So, where are the best places to go? Here's our Top 10 – just to whet the appetite (pardon the pun).
Lake Windermere
Let's start with the home of the Great North Swim, Lake Windermere. There are any number of places you can go, especially if you hire a boat to explore the hidden beaches and coves, but we'll stick to what we know, starting with Miller Ground. This is a very popular destination just up the road from the centre of Bowness-on-Windermere, especially when the weather warms up.
If you're staying in Ambleside, Borrans Park at Waterhead is perfect for your first dip; or pop down to the southern end of the lake to Fell Foot, forty-three acres of beautiful parkland perfect for paddling, wild-swimming and picnicking.
Coniston Water
Coniston Water is a wonderful place for a swim. It's often less busy than some of the other major lakes and has plenty of small bays and beaches. The eastern shore in particular has a number of parking spots and the water remains relatively shallow close to the shoreline.
To make it a day to remember, why not take a boat across to Peel Island, the inspiration behind Wild Cat Island in Swallows and Amazons?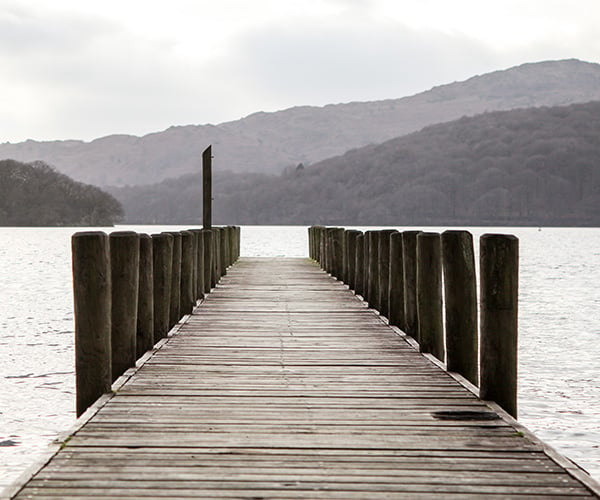 Blea Tarn
We love Blea Tarn. It's definitely one of the most picturesque spots in the Lake District. With the Langdale Pikes framing the horizon, it's a go to spot for photographer as try to capture them perfectly reflected in the cool, still water (not something we managed to do). The stony beach on the southern shore is the place to go.
Loughrigg Tarn
Like Blea Tarn, Loughrigg Tarn boasts spectacular views of the Langdale Pikes, so for many it's one of the loveliest places to swim in the Lake District. What makes Loughrigg Tarn all the more appealing is that there are no rivers feeding directly into it, meaning the water is relatively warm. Okay, it's no hot tub, but on a summer's day it's the perfect wind down after a hard day's walking.
Stickle Tarn
Staying in the Langdales, our next stop is Stickle Tarn which sits below the steep eastern side of Harrison Stickle, with the huge crag of Pavey Ark looming above.
It's quite a walk to reach Stickle Tarn, a walk which takes you up the side of Stickle Ghyll, but on a warm day you'll be glad you persevered. The view is amazing and the water welcoming. What a beautiful spot for a swim.
Rydal Water
Another spot where you might be mildly surprised by the temperatures is Rydal Water, thanks to its lower altitude. It's also pretty calm, surrounded on all sides by Lake District fells.
If you're a novice, this is a great place to start your wild swimming adventure. There's a shallow beach on the far side of the water from the road, twenty minutes or so on foot, which means that despite the lake's proximity to the road, swimming here still feels like you're slightly off the beaten track.
Buckstones Jum
On the other side of the road from Rydal Water, and a little over a mile on foot from the road, is Buckstones Jum. If you're with the children, they may complain. But we can assure you it's worth the effort. The views across Windermere are amazing, and the spot itself it pretty special. There's a large pebble beach, as well as large rocky slabs, perfect for jumping into the plunge pool below. Pack a picnic and make a day of it.
Buttermere
Buttermere is considered by many to be the most beautiful scenery in the Lake District. And it is stunning – those reflections. It's also a fantastic place to go wild swimming, although the steep drop offs near the edge of the lake means it's better for those with more experience. To be honest, it's worth the trip just for its breathtaking beauty.
Wastwater
No Lake District wild swimming list would be complete without mention of Wastwater, England's deepest lake. This is wild swimming with added drama – on the eastern shore, the screes tumble down towards the deep, dark water and to the north some of the highest mountains in England, including Scafell Pike, Great Gable and Lingmell.
There are several small beaches which lie just off from the remote road on the western shore, providing easy access to the water. And there are no powered craft allowed on the lake, making it the perfect wild swimming spot. Just be warned, its depth does mean it will feel a little chilly (to say the least).
---
IMPORTANT NOTICE:
If you are reading this article anywhere other than on A Luxury Travel Blog, then the chances are that this content has been stolen without permission.
Please make a note of the web address above and contact A Luxury Travel Blog to advise them of this issue.
Thank you for your help in combatting content theft.
---
Tongue Pot, Upper Eskdale
We'll finish our list in the Eskdale Valley, another must visit place if you're in the Lake District (even if you're not wild swimming). It's pretty remote, so if you're looking for somewhere quiet, this is the place (although we can't guarantee you'll be alone). There are quite a few pools here, but Tongue Pot is our pick – the deep pool and high walls make it perfect for leaping in. This is another one for the more experienced and adventurous wild swimmer.
That's it. Our ten favourite wild swimming spots. To be honest, we could go on. There are so many amazing places to take a dip in the Lake District. But please be careful. As the name suggests, wild swimming is not without its risks. Below is a list of wild swimming tips.
Enter the water slowly at first to acclimatise and avoid shock – the water may be cold, especially in deeper areas
Never jump in before you have become acclimatised and you know the depth of the water and what's below the surface
Be aware of your limits
Avoid swimming alone
Always check the weather forecast
Take warm clothes and hot drinks for after your swim – a hot water bottle in your bag is a great idea
A wetsuit can help prevent your suffering from cold water shock – and it can also act as a buoyancy aid
Avoid swimming in rivers where there is a strong current as you will be at risk of being swept downstream
Don't swim anywhere where there's blue-green algae
Keep an eye out for boats
Make sure you're visible – a brightly coloured hat or tow float would be ideal – especially if there are boats on the water
If you do get in to trouble, try to float on your back with your arms and legs out
Always clean your clothing and equipment to help keep water free from non-native species
Take a picnic and make a day of it
Rachael Thomas is Managing Director of Matson Ground Estate Company Limited, which has a number of Lake District holiday cottages, including Birkdale House. Birkdale House is a luxury Victorian residence at the heart of a privately owned estate in the English Lake District.
If you would like to be a guest blogger on A Luxury Travel Blog in order to raise your profile, please contact us.