From sparkling, silent waterways, papyrus swamps and lagoons carpeted with waterlilies, to the mythology and mystery of ancient rock paintings, Botswana's Okavango Panhandle is a magical place to visit.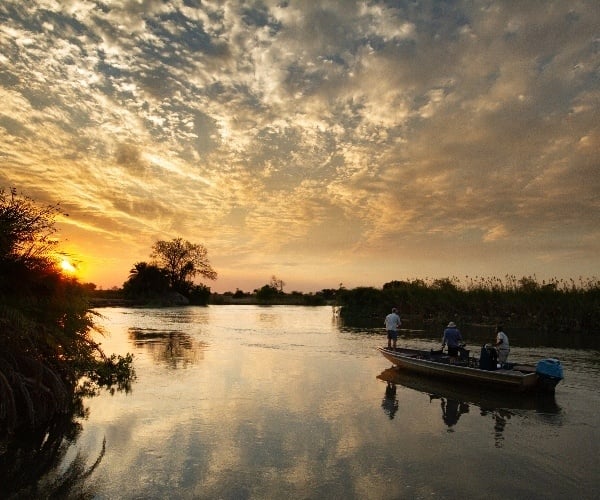 Having spent some time in Chobe National Park, going for boat cruises and game drives, with lions, elephants and more, it was time for a change of pace and an opportunity to experience a place that's really off the beaten track. Leaving the lovely Chobe Game Lodge behind, we flew from Kasane Airport to Nxamaseri.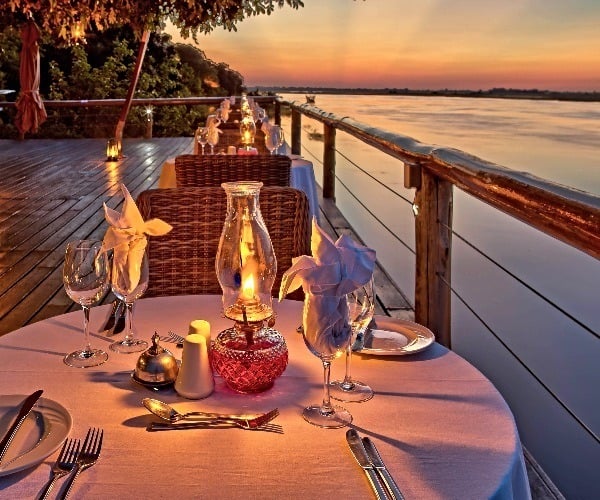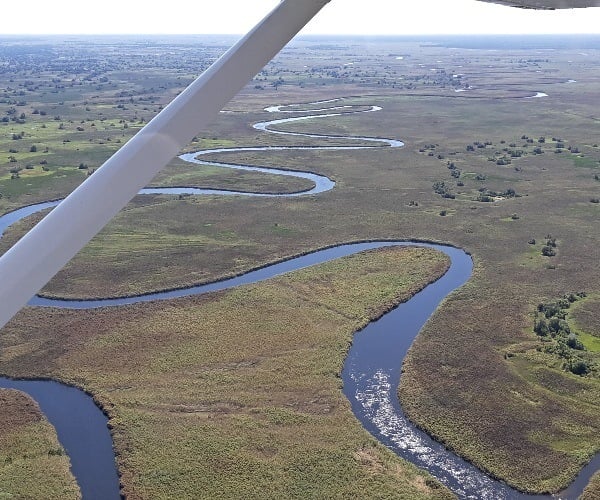 A patchwork of greens and browns and yellow and beige spread out beneath us, cut through by animal 'highways' and game trails. Scrub and bushes, sand and grass, water holes glistening silver in the sunlight. The plane's shadow seemed to be racing us, and tiny dots below revealed themselves to be giraffes, kudus, elephants and buffalos. A Bateleur Eagle soared over the vast expanses of space. As we got closer to camp the land beneath us turned to a vibrant green, cut through by the indigo and blue channels of water. We touched down on a tiny airstrip a stone's throw from the water, and leaving our tiny 6-seater Cessna behind, travelled by boat, weaving our way through the channels, to Nxamaseri Island Lodge.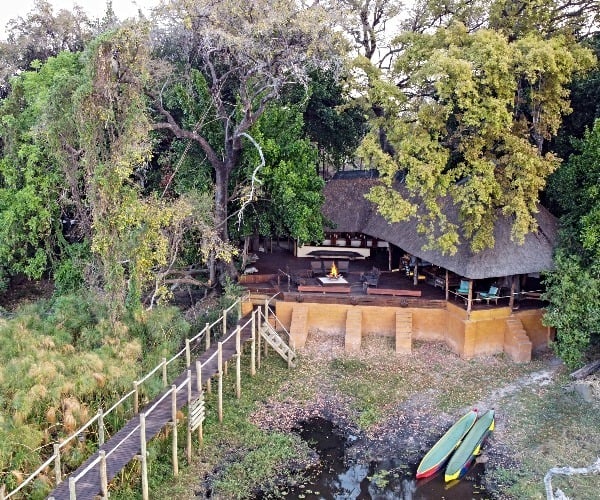 Located on a tiny private island, between two UNESCO World Heritage Sites of the Tsodilo Hills and the Okavango Delta, Nxamaseri Island Lodge, nestled under huge Jackalberry trees and wild date palms, is perched on an edge of an ancient fossil river that once flowed from the Kavango River to the Tsodilo Hills. The perfect place for exploring this amazing part of the world. The rooms are quiet havens, elevated above the water and interconnected with raised wooden walkways. The lodge showcases the beauty of the permanent swamps, but without doing away with any creature comforts. My room had a secluded verandah suspended over the water, perfect for some quiet time alone. I had a spacious bathroom with seemingly endless hot water, and a sublimely comfortable bed. I felt immersed in my surroundings as I lay in bed at night listening to the sound of hippos splashing and grunting in the darkness nearby.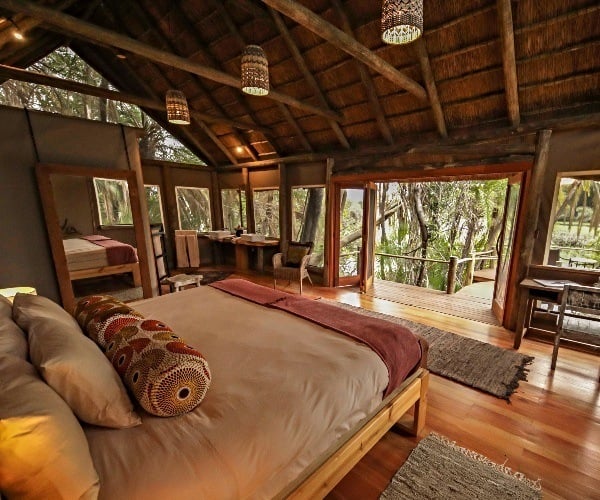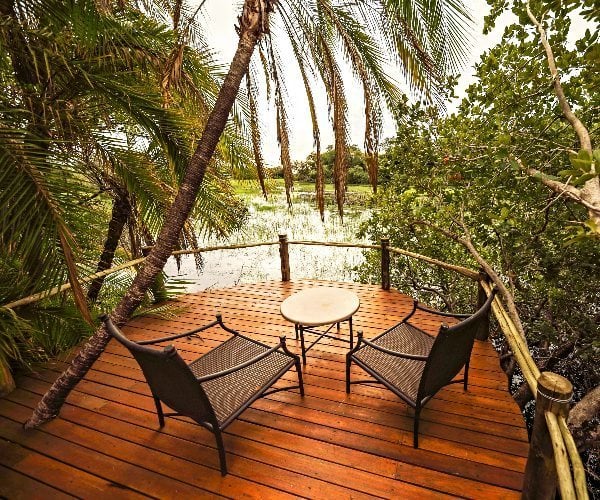 Life revolves around the water in this part of the world. If you're not out on the water, then you're by the water, soaking up the beauty of this calm and peaceful environment. We headed out on the river to enjoy sunset, with a sundowner in hand. There was a gentle breeze blowing and the sun was warm on our skin. Papyrus and reeds towered above us and brilliantly coloured birds flitted amongst the greenery. The Okavango Delta is fed by the Okavango River, which flows southeast from Angola, through Namibia's Zambezi Region, before entering Botswana at the small village of Mohembo. Here it spreads out into a strip roughly 11km wide, full of floating islands of vegetation, calm lagoons and a myriad of twisting channels whose courses are constantly changing. Viewed from above, the Okavango Delta looks somewhat like a frying pan, with the main river flowing down the roughly 70km 'handle', before fanning out into the Delta, the 'pan'; hence the name 'Panhandle'. It was in this 'handle' where we were boating now, under the watchful eye of a Fish Eagle, perched high in a tree.
For an even more immersive experience you can take a journey in a traditional mokoro (dug-out canoe), and glide silently through the clear water, at eye level with water lilies, dragon flies, reed frogs and brilliantly coloured malachite kingfishers.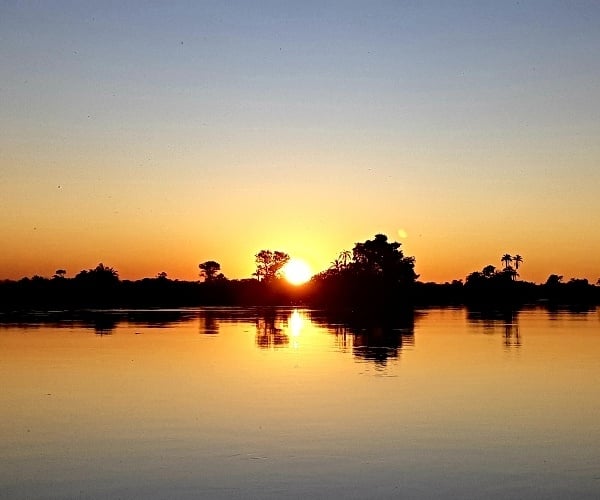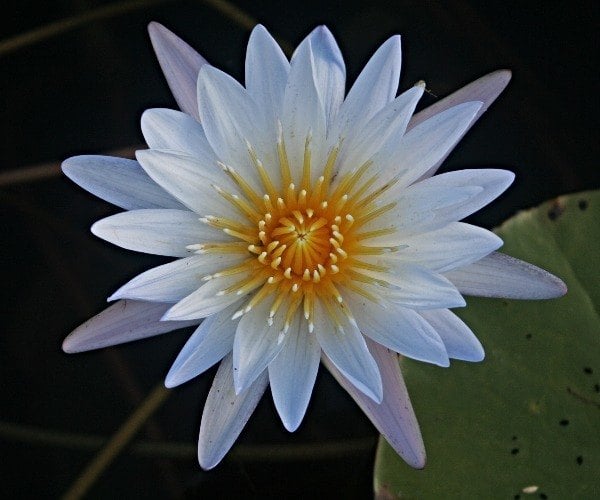 The area is renowned for its excellent bird watching. The river bank vegetation is thick, but a little patience is soon rewarded. The tall, shady, riverine forests are home to numerous resident and migratory birds, and the channels are home to an array of waterbirds. My personal favourites are the Painted Snipes, Rufus Bellied Herons, Red Winged Pratincoles and Swamp BouBous. The rare Pel's Fishing Owl is regularly seen here, and in fact a pair live on a tiny island just downstream of Nxamaseri Island Lodge. Something else spectacular on the bird watching calendar, are the migrant Carmine Bee-Eaters that gather to nest in the dry banks of the Okavango River in the low water season.
---
IMPORTANT NOTICE:
If you are reading this article anywhere other than on A Luxury Travel Blog, then the chances are that this content has been stolen without permission.
Please make a note of the web address above and contact A Luxury Travel Blog to advise them of this issue.
Thank you for your help in combatting content theft.
---
The Okavango Panhandle is not part of a reserve or protected area, this is not the place to come for a traditional game viewing safari, but there are still huge areas of unspoilt wetlands here, waiting to be explored. There are plenty of crocodiles and hippos, as well as elephants and, my personal favourites, the otters. If you are fortunate, you might catch sight of the shy and secretive swamp dwelling Sitatunga antelope hiding in the dense reeds.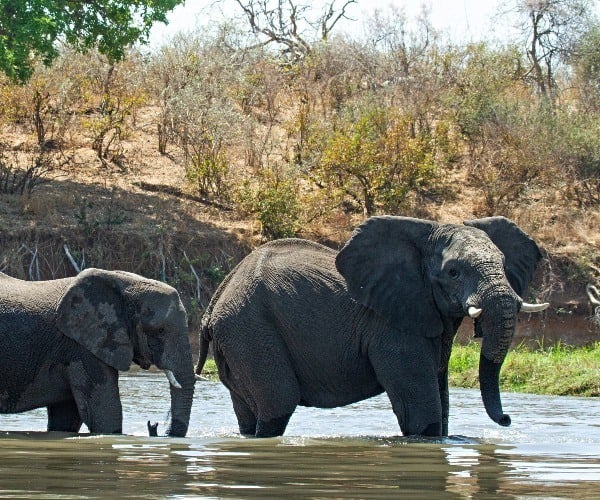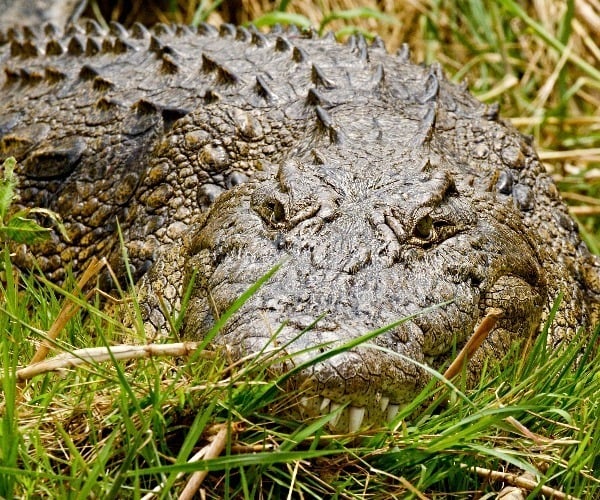 This is a prime destination for keen fishermen.  The water is deep and fast flowing, ideal for catching both bream and the highly prized Tigerfish. During September and October smaller bait fish are forced into the Panhandle system, attracting thousands of Barbel (Catfish), some over 4ft long, these in turn attract 'the Tigers'; and an incredible feeding frenzy ensues. A sight to behold and definitely one that will rank high in any fisherman's memories. For those who enjoy a quieter fishing experience, the area offers fantastic fly-fishing for the famous (and delicious) Okavango bream. In all 17 species of fish can be caught here.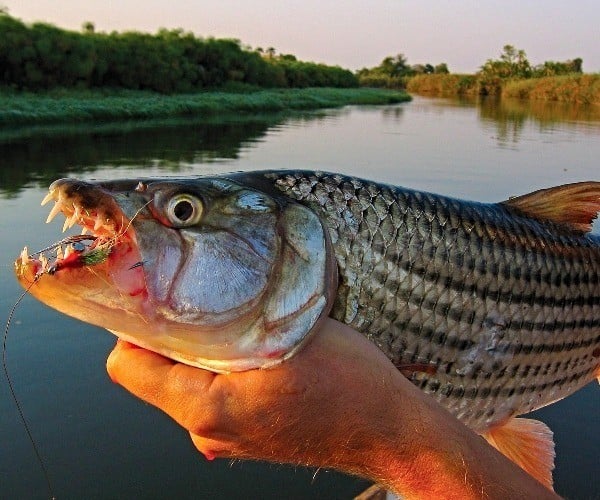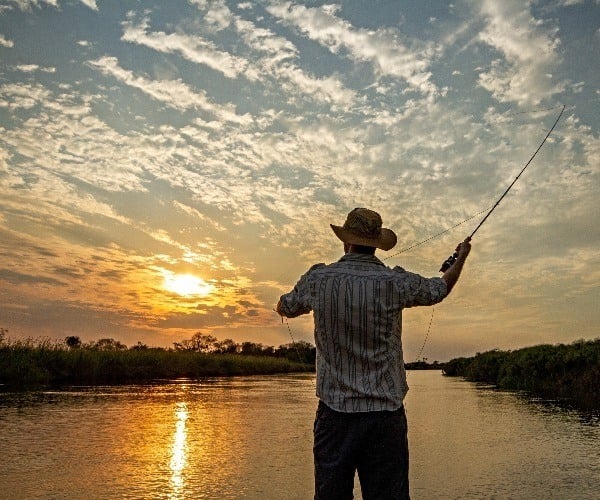 Just 40km from Nxamaseri Island Lodge lies the Tsodilo Hills, a UNESCO World Heritage Site and home to one of Africa's most impressive collections of ancient rock art, with over 4,500 paintings located around 500 different sites. Waking early one morning, we watched as the sun rose over the tall reeds and papyrus, in a crimson ball of fire, lighting up the sky in shades of orange and scarlet. Coffee by the fire, followed by a light breakfast, and then it was time to set off in the boat. Winding our way through the misty, chilly channels, we headed back to the airstrip, where a helicopter awaited. Taking off, whisps of white mist rose off the water. As we rose into the sky, the soft morning light grew brighter, and the early colours melted away. The closer we got to our destination, the drier the earth beneath us grew. Botswana is one of the flattest countries in the world, but there ahead of us, rising dramatically, 400m out of the arid landscape, were four lonely chunks of quartzite; the Tsodilo Hills. We flew around them, seeing the brilliant streaks of mauve, turquoise and lavender in the rocks, before landing nearby.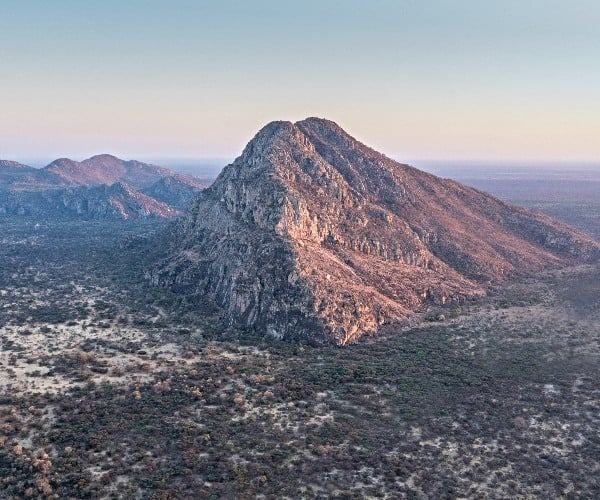 The largest rock is known as the Male, the next size down is the Female, then the Child, a fourth rock is referred to in different myths, as either an earlier wife, another child or occasionally as a grandchild. Spread over roughly 8km, these hills are the spiritual home of the Basarwa (sometimes called San or Bushmen) and Bantu people. The hills are woven with spiritual meaning and symbolism, and show signs of early life from as far back as 100,000 years. The best rock art sites are on the north end of the Female, and we spent some hours here, with a local guide, observing, learning and experiencing this fascinating place.
With incredible natural beauty, fantastic birdlife, amazing fishing, and fascinating culture and history, the Okavango Panhandle is an off the beaten track destination, but a real gem, a special place and one that definitely deserves a visit.
A Tip To Enhance Your Trip: With 482 species of bird, 130 species of mammal and 64 reptiles all calling the Okavango home, it's sometimes tricky to identify precisely what you are looking at. Help is at hand, in the form of the fabulous Botswana Wildlife App. Download it to your phone and take it on safari with you, not just in the Okavango, but everywhere on your Botswana travels. Grant Reed private safari guide, guide trainer, photographer, passionate naturalist and cofounder of Letaka Safaris has put his years of knowledge and skill into creating this easy-to-use app, that will help you quickly identify all the animals, birds, fish, reptiles, flowers and trees that you encounter on your safari. It's available for Android  and Apple, and you can watch a quick introduction to the app on YouTube.