Uganda is known as the Pearl of Africa, but it's not this gemstone that brings people to the country. For many, it's the chance to see the endangered mountain gorillas in the remote Mgahinga Gorilla National Park in the Virunga Mountains, or in the Bwindi Impenetrable Forest National Park. With only around one thousand of these majestic animals left in the wild today, gorilla trekking requires the expertise of a DMC such as Gorilla Walking Safaris.
The once-in-a-lifetime experience of seeing wild gorillas in their natural environment is something that is sure to live with you forever. It's an incredible opportunity to get up close and personal with these gentle giants and man's closest relatives, and one only afforded to adults above 15 years of age. And every day, the experience is a unique one since the gorillas move within their habitat, making the trek different each time. Tracking the gorillas will involve penetrating the forest with rangers and porters, often having to cut your way through trees and shrubs to make a path. And this is rainforest territory, so of course you'll need to be prepared for it being wet underfoot (hiking boots are recommended).
As you get close, you will be filled with a sense of excitement and trepidation. Thanks to the process of gorilla habituation, the gorillas you encounter will already have a degree of familiarity with the presence of humans. Your initial glimpse of these awesome creatures will be from a distance yet few wildlife experiences can match the thrill and excitement you'll feel when you first lock eyes on these adorable beasts. You'll be able to spend up to an hour with them and get as close as just 32 feet away (around 10 metres) – recently increased from 23 feet to give the gorillas added protection from any human diseases.
During your hour with these incredible animals, you could see them going about any of their daily activities during that time, be it feeding, breastfeeding, resting, mating or simply playing whilst still under the stern watch of the huge dominant silverback. A certain level of fitness is required with treks typically taking around 5 hours, including the one hour with the gorillas, in groups of up to 8 people. But the experience of being one of the privileged minority around the globe to witness gorillas in the wild is a luxury in itself, and one that will remain with you always.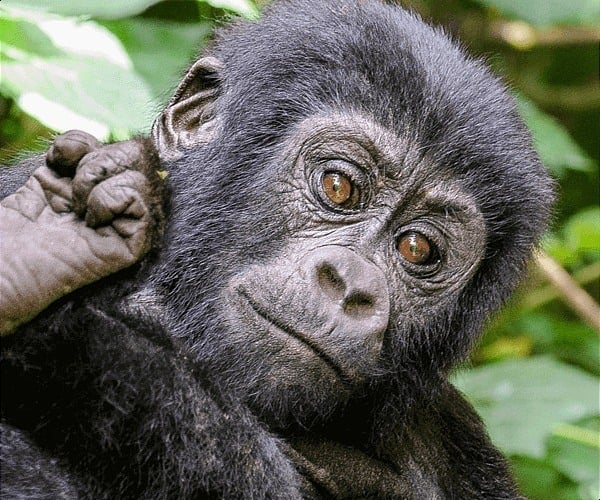 When going on a gorilla trek, you will need to factor in accommodation as well as a gorilla permit and transport to and from the start of the trek. There are a number of luxury accommodation options: Mount Gahinga Lodge is a great option for Mgahinga Gorilla National Park, whilst Trackers Safari Lodge, Sanctuary Gorilla Forest Camp and Buhoma Lodge are among the luxury accommodation options for Bwindi. Staying at a luxury property will ensure that you are well-rested before your gorilla trek and that you have a comfortable place to relax after what could prove to be a challenging – but ultimately enormously rewarding – trek.
Disclosure: This post is sponsored by Gorilla Walking Safaris.