Much more than a jumping-off point on your visit to the famed Galapagos Islands, the Ecuadorian capital city of Quito is undoubtedly one of the top up-and-coming travel destinations in South America.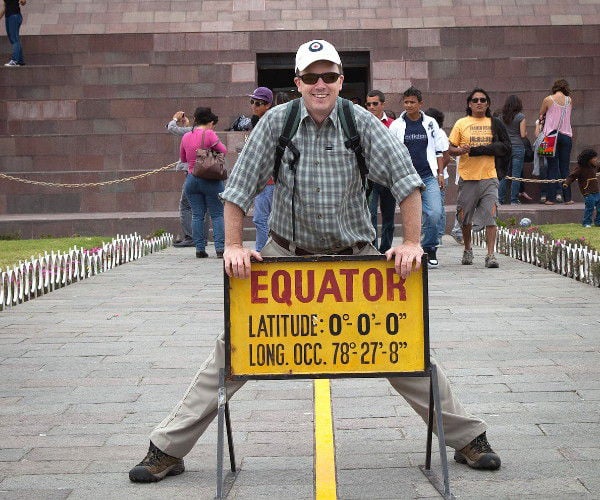 Flanked by snow-capped volcanoes and verdant peaks, Quito sits at over 9,000 feet (2,800 m) above sea level, making it one of the highest cities in South America. With a rich colonial past and connection with Ecuador's indigenous heritage, Quito is awash with ethnic markets, historical plazas, tight ancient streets and well-weathered buildings, many of which are now comfortable, luxury hotels. Keep reading to find out as we showcase our top 10 unique and fun things to do in Quito in a day.
1. Explore the culture of Quito's "Old Town"
The UNESCO World Heritage Site which is Quito's "Old Town" is certainly the jewel in the capital's crown, with many believing it to be the best-preserved historic center in Latin America as well as a fully thriving neighborhood to this day.
Here, you can find crowded thoroughfares, ethnic eateries and typically Ecuadorian market stands selling all manner of locally produced goods. Meanwhile, the monasteries of San Francisco, Santo Domingo, and the Church of La Compañía are just some of our favorite examples of the Spanish, Italian, Moorish, Flemish and indigenous artistic fusion which characterizes this city. With no end of places of interest, plazas, monuments, ancient churches and more, Quito's enviable backdrop of scenic mountains to all of this history makes for a truly unique setting for this experience.
2. Experience Quito's "Central Park"
While Quito possesses a surprising number of parks and green spaces, the mother of all these is Parque Carolina, a massive park towards the center of town. Known as the "Central Park of Quito," this massive 165-acre urban space is constantly filled with locals looking for some greenery, as well as for those looking for things to do.
Particularly on weekends, the park comes even more lively with concerts, kite flying, bicycle trails, playgrounds, impromptu futboll matches and so much more. There's even a man-made river, where those escaping the city bustle can rent paddle boats for a leisurely float around the park. Then too, don't be surprised to learn that Carolina Park is home to the Quito Botanical Garden, a vivarium, multiple greenhouses, the Quito Exhibition Center, and the Museum of Natural Sciences. Incredible!
3. Take a cable car up a volcano
For breathtaking views and a nail-biting ride that will leave you on the edge of your seat, stop by Quito's TeleferiQo. Starting at a height of 3,000m, and rising to over 4,000m above sea level, the TelefériQo cable cars are the highest of their type anywhere in South America. Quito and its surroundings are well-known as one of the most beautiful and perfectly located capitals anywhere in the world. So, what better way to enjoy the views offered by the city than from above, in the comfort of a gliding gondola?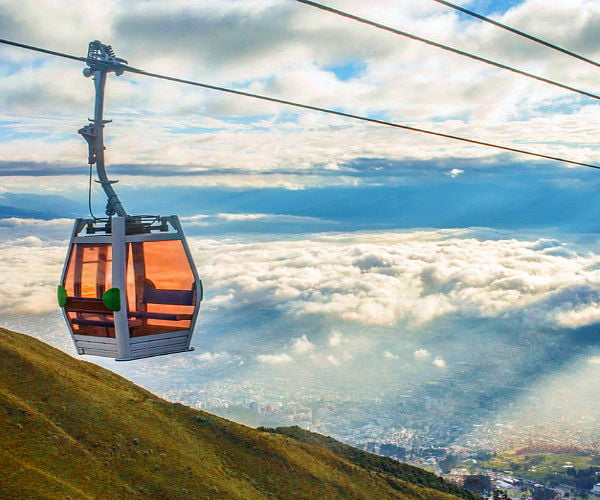 The ride is only 10 minutes, but you will marvel at the views over Quito as it climbs up the side of the dormant Pichincha Volcano. This is the gateway for more adventures. At the top, you can hike, cycle, or enjoy the rides at the Vulqano amusement park. There is also a swing at the top for the ultimate Facebook photo.
4. Straddle the equatorial line at Mitad del Mundo
No trip to Ecuador (which means "equator" in Spanish) would be complete without a visit to that imaginary line that divides the planet in two; and since Quito is less than an hour from the equatorial line, such a visit is especially easy. At this site located at 0° 0' 0" latitude, you can straddle the planet's two hemispheres – a great photo op..!!
On a quick morning or afternoon excursion, you'll experience the equatorial line that runs through the amazing Mitad del Mundo ("Middle of the World") complex. At the center of this park stands its centerpiece: a 30m-high, stone trapezoidal monument topped by a brass globe containing a viewing platform and a museum that provides a great introduction to the indigenous groups of Ecuador through dioramas, clothing displays, and photographs. In addition, you'll have a chance to participate in several experiments at the nearby Intiñan Museum, such as watching water go down a drain in a different direction only inches away from either side of the equator, or balancing an egg on a nail, or using an ancient sundial.
5. Party hardy at Plaza Foch (or perhaps just people-watch?)
The Mariscal section of Quito has come to be known as Gringolandia for the number of foreign travelers who are attracted to this quarter that's noted for its friendly hotels, colorful restaurants and vibrant nightlife. In the heart of the Mariscal is Plaza Foch, which is brimming with cafes, bars, and clubs. Here, young Quiteños and travelers alike converge in the area, each looking for the liveliest of time as they party the night away.
Though Plaza Foch is THE party place in Quito for younger travelers, this center is more than just loud clubs. You'll also find cozy bars, high-end restaurants and even a number of craft beer pubs in this area. Or just grab a table outside; Plaza Foch can be equally good for taking in the atmosphere and people-watching as it is for dining and drinking.
6. Go souvenir shopping at the Mariscal Artisan Market
One of the most popular excursions while in Quito is traveling a couple of hours north to the indigenous mountain town of Otavalo, which is the most famous crafts market in Ecuador and one of the most renowned in all of South America. For those short on time, though, Quito's own Mercado Artesanal de la Mariscal is a fantastic shopping experience.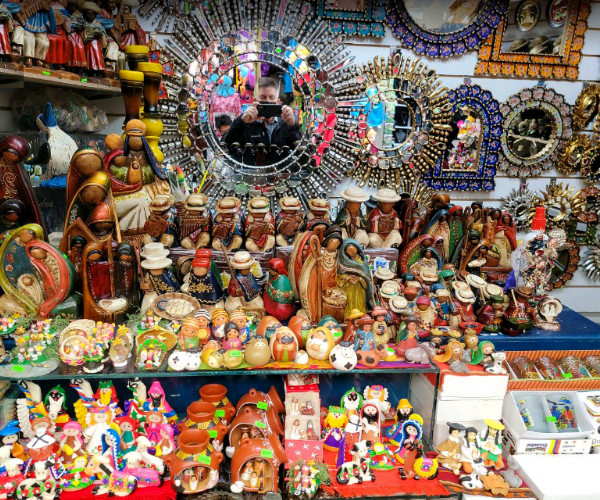 Though its sister market in Otavalo is even larger and more popular, this should not detract from the fact that the Mercado Artesanal also offers a huge array of traditional Ecuadorian handicrafts for all tastes and at comfortable prices, ensuring that the fabrics, embroidery, hats, leather bags, silver, among others are the most demanded crafts. The market also hosts stalls selling wonderful trinkets and souvenirs, such as llama rugs and beautiful – and often very affordable – jewelry. Currently, the Artisan Market has 194 stands in which visitors can find an infinity of handcrafted products with raw materials that are still prepared using ancestral indigenous techniques. You'll find that hours can be spent browsing the stalls in this market, and the atmosphere only serves to complement the shopping experience. This is the kind of place where you'll want to get lost.
7. Take a Quito bus tour for a compressed overview of Quito
For a great overview of the main attractions of Quito, touring the city aboard a double-decker tourist bus is an activity that you must do during your visit to the Ecuadorian capital. You're invited to discover the city by traveling from its modern financial center in the north, then through the largest and best-preserved historic district in South America, pausing at the awe-inspiring Guapulo viewpoint, and stopping through the Mariscal district's Plaza Foch, considered the heart of the city's nightlife.
A complete non-stop tour (without getting off the vehicle) lasts approximately three hours. However, Quito bus tours also operate under a system in which you can get on and off the bus ("Hop On – Hop Off") at established stops where tours buses pass through at one-hour intervals; this allows you to use your bus ticket all day as you stop off to explore for yourself the city's principal tourist attractions. In just an afternoon or over the course of only one day, you can take in many of the attractions that make the city of Quito an unmissable destination.
---
IMPORTANT NOTICE:
If you are reading this article anywhere other than on A Luxury Travel Blog, then the chances are that this content has been stolen without permission.
Please make a note of the web address above and contact A Luxury Travel Blog to advise them of this issue.
Thank you for your help in combatting content theft.
---
8. Savor both down-home traditional cooking and upscale dining
Like most cities in the world, Quito has its own traditional food, which is one of the best ways to experience the city through the eyes of a local. The Ecuadorian capital has always been a wonderful place for such comida típica. Savory dishes like locro de papas, humitas, and helados de paila ice cream are served up at character-filled spots like La Ronda, Heladeria Pomasqui, and Mercado Iñaquito.
However, over the past several years, Quito's palette has evolved. Today, traditional Ecuadorian restaurants are complemented by a throng of new kitchens that are pushing the envelope of Ecuadorian cuisine. Venues such as Chez Jerome, El Ventenal, and Casa Gangotena are embracing fresh flavors, new techniques, and modern attitudes as Ecuadorian chefs work with local ingredients in new and exciting ways.
9. Check out Cotopaxi National Park on the outskirts of the capital
A picturesque national park, Cotopaxi is home to one of the greatest natural wonders of the continent – Cotopaxi Volcano. With its snow-covered summit sitting at nearly 20,000 feet (6,000m) above sea level, the still-active peak dominates the landscape and the skyline. The national park which surrounds Cotopaxi is just as stunning, with expansive open plains, deep lakes, and mountain streams.
Though the park is only 30miles (48km) outside of Quito, you'll feel a world away while visiting this untamed wilderness, known for panoramic vistas at every turn, fantastic working haciendas, and of course the four major volcanoes which dot the landscape. Once here, you'll discover no end of hiking, biking and horse-riding opportunities on offer. All of this makes Cotopaxi National Park a perfect day trip from the capital; however, with so much to do and see, you may want to stay overnight at one of the area's several high-end lodges.
10. Drive up Panecillo Hill to the Virgen of Quito
A good city tour culminates with a visit to the monument atop Panecillo Hill, which appropriately translates to "little bread roll." The road to the statue winds around the hill to take you to the top.
From the hill top, which itself looms over the historic cobblestone streets of Quito's Old Town, you'll look up at the Virgin of Quito statue, one of the city's most recognizable landmarks. At 135 feet high, counting the base, it's the tallest statue in Ecuador, as well as the tallest aluminum statue on the planet. You can even ascend the statue for an even better birds-eye-view of the city below as well as the chance for a panoramic view of "Volcano Avenue" – two parallel mountain ranges that are home to eight of the country's ten highest peaks …a spectacular sight to behold. Then too, you can dine right there atop the hill at Pim's Restaurant for spectacular views of the city as well as a dinner to remember!
Conclusion: Keep Quito on your radar
Because Quito often takes a backseat to the country's more well-known Galapagos Islands, travelers to the islands are not always aware that the gateway city of Quito offers its own panoply of unique attractions. After all, there's a reason the entire city of Quito was crowned the very first UNESCO World Heritage site in the world.
Along with Quito's many amazing points of interest, throw in a spring-like equatorial climate that keeps the temperature comfortable and uniform all year round, and this enticing South American destination might just become your new favorite city.
Alfonso Tandazo is President and CEO at Surtrek Tour Operator. Surtrek Tour Operator is a well-established firm, specializing in custom-designed luxury tours in Ecuador, the Galapagos and throughout the rest of South America.
If you would like to be a guest blogger on A Luxury Travel Blog in order to raise your profile, please contact us.