Knowledge and culture passed on from one generation to another by hands. This is a way of presenting the female legacy of handicrafts that exemplify the authentic practice and knowledge across the different regions of Brazil. A history full of heritages of different settlers, combined with the local traditions of native peoples, results in a diverse sample of the creativity of Brazilian craft production.
In Ceará, for example, Carmel Charme Resort (in Aquiraz) and Carmel Taíba Exclusive Resort (in Taíba Beach), in order to promote artistry and value regionalism, spotlight the local cultural wealth through many crafts and decorative items scattered throughout the hotels, all hand-made by local artisans with outstanding care for detail and finish. Surprising ceramic, straw, and lace creations with their own identity add a touch of exclusivity and originality to the different spaces of both properties.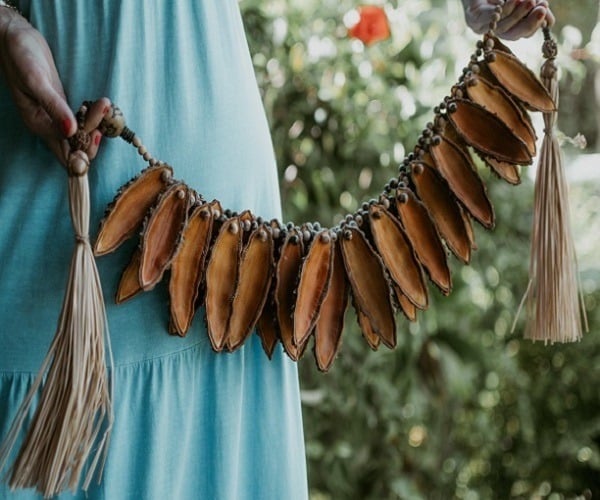 Also in the Northeast Region, Madero Beach Hotel, in Tibau do Sul, values the female heritage of handicrafts. The State of Rio Grande do Norte has a long tradition of craftsmanship, including embroidery, lacework, weaving, and pottery, with women as protagonists, who have always played a key role in developing and preserving these traditions by transmitting skills and knowledge from mother to daughter. Some of their artisanal techniques include bobbin lace, especially in Caicó; embroidery; pottery in Goianinha, with a large production of utensils, carvings, and decorative objects; handloom weaving of carpets, blankets, hammocks, and quilts; and basketry, using various techniques to make hats, bags, baskets, mats, and other objects out of straw and fibers.
Located in Porto de Pedras, Alagoas, Pedras do Patacho Hotel is committed to developing the local community and considers artisanship an extremely valuable activity. The town's association of artisans makes works that help strengthen Brazilian art and culture. Crochet garments, paintings, costume jewelry, woodcarvings, and items made of natural fabrics and materials, such as coir and licuri straw, are part of the repertoire of women artisans.
In Bahia, specifically in Trancoso, Pousada Estrela D'Água houses the store Também, which was created with the idea of "living on art". Artists Silvana Delalana, Naná Lavander, Pati Santilli, Andra Frotte, and Gal Gruman came together and designed the space, which features handmade pieces: items in macramé, crochet, and knitting, as well as necklaces, pottery, paintings, lamps, and educational toys made by artisans from many different materials, such as wood, iron, straw, and fabrics, most of them recycled.
Pousada Literária (Paraty), Tutabel (Trancoso), and Trijunção (Cocos, Bahia) are lodges committed to regenerative tourism, which values territories from a social, cultural, and environmental perspective. One means of doing so is through the gifts shops in each lodge, where all items sold are made by artisans from across Brazil and curated in partnership with NGO @artesol_aficial. A recognition that handicrafts help preserve the history and ancestry of Brazilian families, in addition to creating socioeconomic value. Examples include a quilombola family of women artisans living in Paraty, Rio de Janeiro, who make baskets and items in natural straw with the technique of braiding cattail straw (taboa), an ancestral know-how that spans generations. The work, which is the primary means of livelihood of the community, is done in the matriarch's house, in the Fibra & Arte studio, bringing together mother, daughter, and sisters, as well as cousins, sisters-in-law, and nieces, who also help according to their skills and demand.
Another inspiring example is the work of BioJoias Cores da Mata, created by Rodney Paiva Ramos, a woman artisan since 2004. Born in Amazonas, she has incorporated sustainability into her works by using reclaimed wood and seeds (such as jarina, açaí, and paxiubão), collected by forest residents, to make eco-friendly jewelry (necklaces, earrings, bracelets, and bags).
---
IMPORTANT NOTICE:
If you are reading this article anywhere other than on A Luxury Travel Blog, then the chances are that this content has been stolen without permission.
Please make a note of the web address above and contact A Luxury Travel Blog to advise them of this issue.
Thank you for your help in combatting content theft.
---
Lace tradition
Handmade lace is present in various regions of Brazil. Bobbin lace (a traditional technique of interlacing threads around wooden pins to create complex patterns) can be found in the Northeast, but the practice is also common in the South, notably in Santa Catarina, along with other techniques.
In the South, more precisely in Florianópolis, the practice remains to this day, keeping alive a tradition that dates back to the early settlers from the Azores Archipelago. When visiting the city, it is easy to find works done by the skillful hands of the so-called rendeiras (lace makers). The activity is so important for the locals that there is even a date to celebrate bobbin lace: October 21. To keep alive the craft that is typical to the region, LK Design Hotel makes room for lace makers to exhibit their work.
Also in the capital of Santa Catarina, specifically in the northern part of the island, a small community preserves the tradition. Worked on a grass-filled pillow, laces can be made in four stitch patterns: whole stitch, half stitch, footing, and plait, which is the most popular one. Artisan Marli skillfully handles the bobbins to make perfect laces manually. For her, who inherited her mother's talent and then taught her daughters, the practice incorporated women from her community into the labor market in the past and sometimes ensured the livelihood of so many families.
A few kilometers to the north of Florianópolis, a highlight in Governor Celso Ramos is punchwork embroidery (crivo). Unthreading, covering, and stitching are some of the steps that women artisans cultivate to keep alive this technique brought from the Azores more than two centuries ago and that has been passed on for several generations. At Ponta dos Ganchos Exclusive Resort, Ruth exhibits her creations weekly to guests, who can purchase her work at the hotel's boutique.
Simone Scorsato is Executive Director of Brazilian Luxury Travel Association. BLTA's main objective is to promote and strengthen Brazil as a travel destination to the global luxury market.
If you would like to be a guest blogger on A Luxury Travel Blog in order to raise your profile, please contact us.