At 2,538 meters above sea level, Cuenca, the provincial capital of Azuay in the south of Ecuador, is situated in a lovely valley surrounded by Andean mountains. It is unquestionably one of the most stunning cities in the entirety of South America, with one of the best preserved historic centers in the world, which led to its designation as an Ecuadorian cultural heritage on March 29, 1982. A magnificent city established in 1557 in accordance with the strict urban regulations ordered by the Spanish King Carlos V thirty years earlier. The eastern zone of this lovely city, which has a total area of almost 16,000 hectares, is located in the Andes Mountain range, while the western zone is on the coast. The temperature in this city is typically constant between 14 and 18 degrees Celsius. Do you want to discover a little more about this lovely city?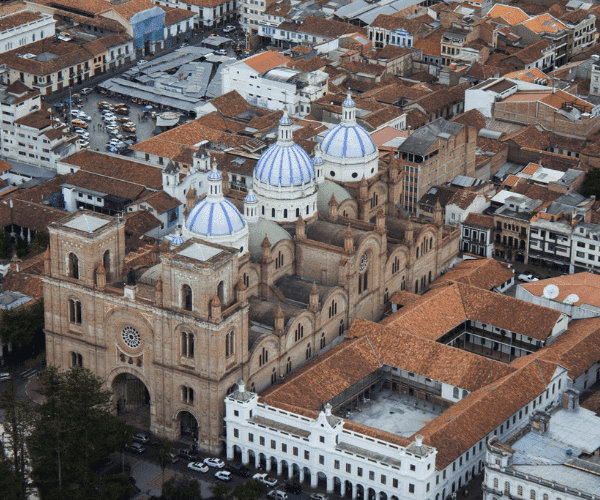 A unique historical center in the world.
On January 1st, 1999, the impressive Historic Centre of Cuenca, which covers 224 hectares, was declared a World Heritage Site by UNESCO, taking into account the presence of pre-Hispanic cultures and the Cañari people in the Tomebamba Valley, the authenticity and uniqueness of the colonial and republican architectural monuments, a beautiful place to visit where the richness of its colonial art, modern art, and contemporary art predominate.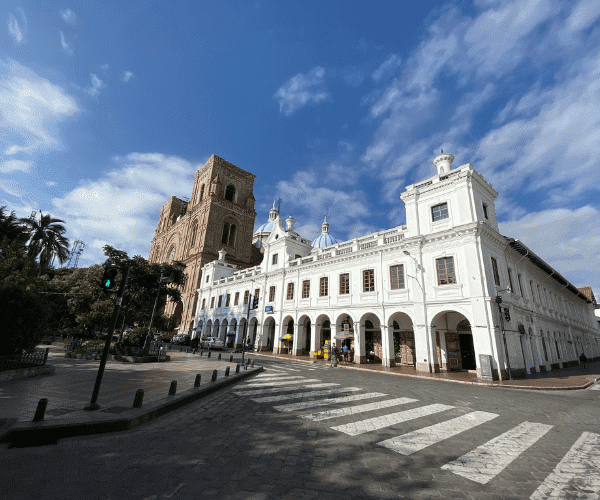 The Plaza Central and the Parque Calderón, where visitors can see examples of Spanish churches built in the colonial style, such as San Sebastián, San Francisco, Santo Domingo, Cristo Rey, and many others, are worth a visit.
Due to the abundance of handicraft shops, the historic center is the perfect place for tourists looking for handmade items or souvenirs. Here you can find true artisans and artists who have learned these traditional techniques and activities over several generations making toquilla straw hats, tinsmithing, jewelry, ceramics, leather, and various types of weavings.
Visit the New Cathedral, a special tourist attraction
It began construction in the year 1880 and was completed in 1975; it is also known as the Cathedral of the Immaculate Conception of Cuenca. This temple's representation of various architectural styles, such as Gothic, Roman, and Renaissance, is what makes it so impressive. In the heart of the historic district, Calderón Park, is situated in front of Plaza Grande.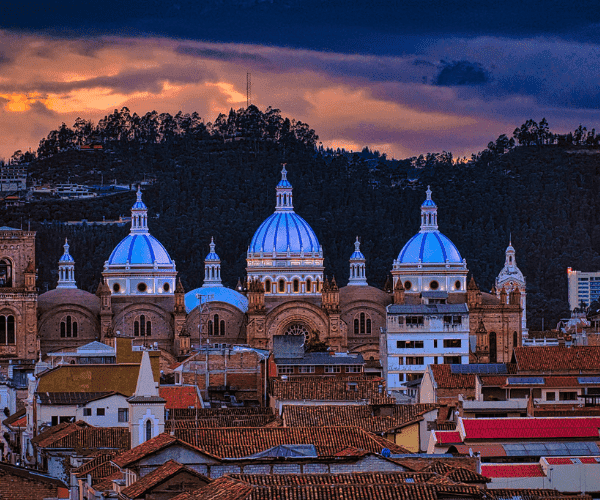 Its three magnificent celestial domes, which adorn the sky of Cuenca and make it a perfect point of reference for locals and visitors who want to head downtown, make it instantly recognizable from anywhere in the city, making the new cathedral the primary icon of Cuenca.
The main draw of the church is the canopy, which forms the four columns that cover the main altar and was inspired by the Basilica of San Pedro in El Vatican. Inside the church, you will find incredible artistic details and works of art created in marble and gold leaf.
¨Calle Larga¨, where does it take you?
Take advantage of your visit by exploring Calle Larga, a famous 2-kilometer street constructed in the 16th century, and other historical sites like the Toquilla Straw Museum and Municipal Remigio Crespo Toral, where you can find a number of the city's historical treasures, including books, crafts, and artwork that date back to 1557.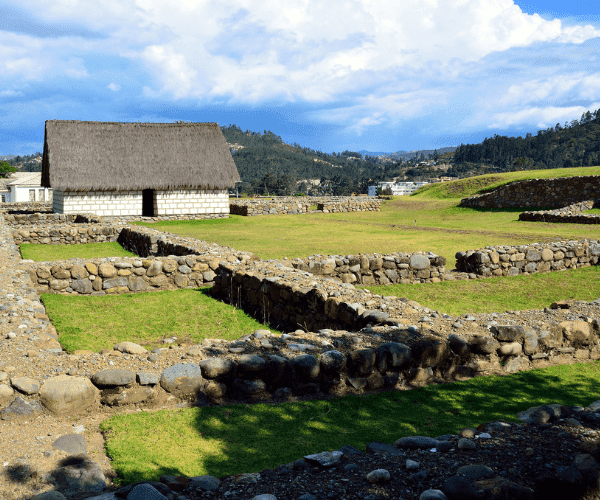 This street spans 15 blocks in the southwest of the city, where you can also visit the August 10 market, the Church of All Saints, the old and new cathedral, and the ruins of Pumapumgo, a wonderful place to visit because of its variety of attractions, including a museum, archaeological ruins, aqueducts, Inca-era gardens, and a botanical garden.
Cajas National Park, a nearby destination to visit
The 29,000 hectares of Andean paramo in the Cajas National Park, 20 kilometers from Cuenca, make it a true natural treasure. It integrates the western Andes Mountain range and is situated between 3,500 and 4,000 meters above sea level. It has 232 lagoons spread out over its entire area and is a part of Ecuador's National System of Protected Areas. You can engage in a variety of activities while there, including camping, sport fishing, hiking, and wildlife observation of different bird and mammal species.
Visitors will be able to see the significant presence of cloud forests, which are thought to be home to 156 different bird species, 43 different mammal species, and 17 amphibian species. Since there are still remnants of Inca-era roads connecting Cuenca and Guayaquil, the Cajas National Park is also the keeper of a number of historical features. only 40 minutes by car from the city center, making it the ideal place to visit.
---
IMPORTANT NOTICE:
If you are reading this article anywhere other than on A Luxury Travel Blog, then the chances are that this content has been stolen without permission.
Please make a note of the web address above and contact A Luxury Travel Blog to advise them of this issue.
Thank you for your help in combatting content theft.
---
Typical food you can't miss
Ecuador is renowned for its diverse cuisine because each of its regions has its own unique recipes, and each city has its own distinctive dishes. The following traditional foods and beverages are available in Cuenca.
¨Mote Pillo¨: This dish combines mote, or peeled and cooked corn, with white onion, garlic, achiote, eggs, milk, chives, and cilantro or parsley before being fried. Typically, it is offered with cheese slices and a cup of delicious coffee at breakfast.
¨Rosero¨: This beverage is made from fruit and corn. The corn is washed, ground finely, and cooked until it has the consistency of a colada. Cinnamon-flavored spices are used to enhance it.
¨Papas con cuero¨: this soup is served hot and made with small potatoes that have been peeled and boiled in milk until thick. After this, the pork leather is added to give the dish a unique flavor. Avocado and chili are typically served with this dish.
¨Horchata¨: This beverage is made with a variety of medicinal plants, including plantains, flaxseed, mint, ataco, lemon verbena, chamomile, escancel, horsetail, and borage, as well as flowers like roses, carnations, and hollyhocks.
Tomebamba River is the center of many activities
It begins at the top of Cajas National Park and flows through the city's historic district before connecting to the Amazon. Visitors are encouraged to stroll along the river's picturesque shoreline to enjoy the fresh air, the tranquillity, and the sound of the water flowing. Numerous small parks are perfect for planning an outdoor lunch. Renting a bike would be a great recreational activity that would allow you to observe homes and colonial structures while pedaling along the river's edge to locations like ¨Parque de la Madre¨, ¨Puente Roto¨ and ¨Puente Miguel León¨.
It is not surprising that the river flows through the city considering that the first settlers of the area sought out this location to establish their settlements since prehistoric times. For daily use, the Cañari and Inca peoples erected their structures along the axes of latitude and longitude.
However, the Tarqui, Machangara, and Yanuncay rivers make up a total of 4 rivers that can be found in the lovely city of Cuenca.
Turi viewpoint, a sight you will never forget
It is situated in the upper region of Cuenca, 10 minutes from the city's center, and provides breathtaking views of both the city and its surroundings. Viewing its avenues and churches is amazing. The word "Turi," which means "gold," is an indigenous word. situated at a height of 2700 meters above sea level. You can visit the lovely 1923-built church, ¨Nuestra Señora de la Merced de Turi¨, after taking in a panoramic view of the city. The mountain where the view is from was a place of worship for the gods according to Inca culture. You can also enjoy the Aventuri park, where visitors can find swings, tightropes, ¨tarabitas¨, and other fun things to do an ideal place for kids and families.
Now you know more information about this beautiful city, without a doubt a very special destination to visit, an Ecuadorian treasure located in the south of the country. A combination of culture and modernity, what do you think about Cuenca?
Marcel Perkins is CEO at Latin Trails. Latin Trails is an incoming destination management company specialized in bespoke tours, with a focus on offering unique experiences throughout Ecuador, the Galapagos Islands, and Peru.
If you would like to be a guest blogger on A Luxury Travel Blog in order to raise your profile, please contact us.