When Christopher Columbus set foot on an island he christened Hispaniola, "Little Spain", in December 1492, he must have thought that this New World was paradise.
Shimmering in the Caribbean, Columbus had discovered the richly fertile island that is now divided into Haiti and the Dominican Republic.
Today, ÀNI Private Resort awaits guests on the Dominican Republic's quieter and even greener north coast. Over guests' stay, ÀNI introduces guests to the tastes of the Caribbean.
1. Fruit and nuts
Although guests at this private resort create their own itinerary, it makes sense to begin with an early morning orientation walk through Rio San Juan's rural and hilly countryside.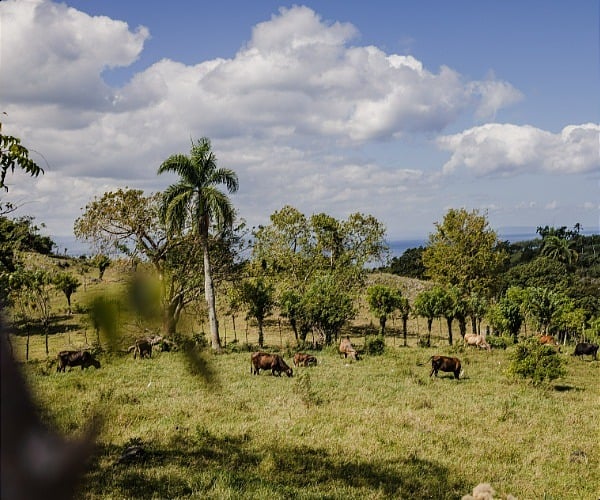 Guide Edison frequently stops to show how fertile this paradise is. Lemons glisten in the sunlight. Trees are laden with avocado, coconuts, mango, oranges and pineapples. Edison points out cashew nut trees and tall palm trees used to create the delicacy of a palm salad.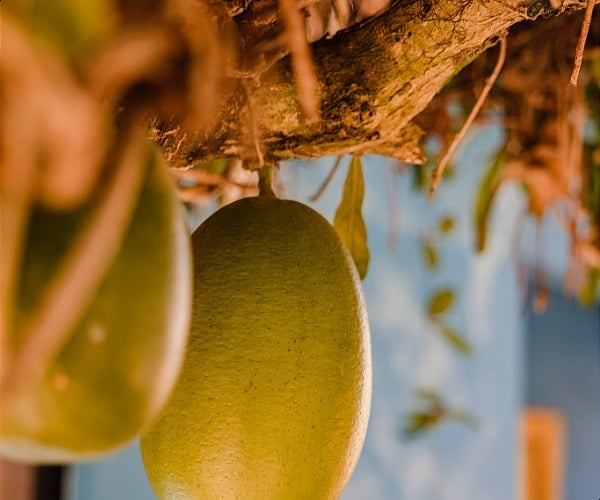 As the heat intensifies, cattle search for dark pools of shade under the trees. Locals have even constructed a ladder for chickens to climb into the trees to escape the heat.
2. The locals Robinson Crusoe diet
In this lush countryside, food is always at hand for the locals. Plantains freely picked from the trees, then boiled and mashed, make for a thrifty and nutritious breakfast. There is a Robinson Crusoe feel to their daily diet, especially as goat stew is a favourite.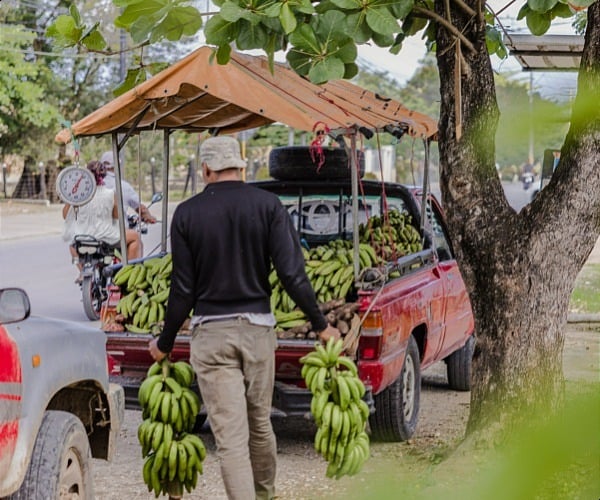 Breadfruit are also boiled and mashed as a vegetable for lunch or dinner. The mashing action is so integral to local cuisine that it is celebrated in the rhythms of one of the historic folklore dances, performed at the resort one evening.
3. A Dominican breakfast
Guests tend to use the cooler early mornings to go for a walk, take-up Edison's offer of a guided bike ride along the coast, play a few sets of tennis or swim in one of ÀNI's two infinity pools before breakfast.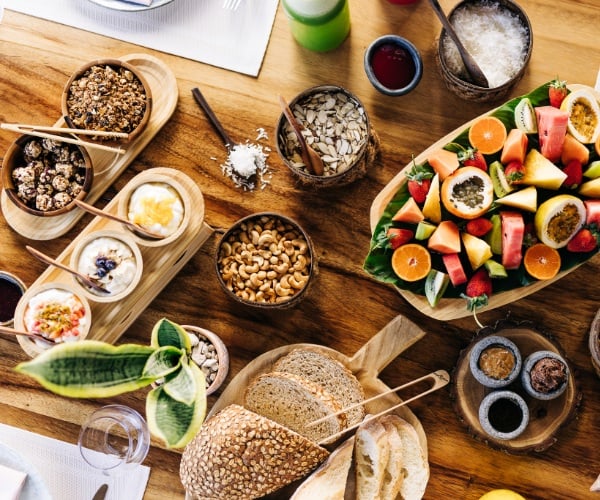 Breakfast, served in either the Amber or Larimar living villas, has a distinctly tropical flavour with a buffet of nuts, seeds and seasonal fruits. Opting local, guests can order a Dominican breakfast special of cornmeal bread topped with fried cheese, sautéed onion and scrambled egg. Alternatively, the kitchen will cook English or Mexican breakfasts to order.
4. Cocktail class
Every evening, as the sun begins to slip into the Caribbean, guests gather for a pre-dinner introduction to cocktail-making.
First-up on the curriculum is an old fashioned for cocktail connoisseurs, created in a dedicated old-fashioned glass for the dark rum, angostura bitters and a splash of soda. Served with sphere ice and topped with grated chocolate and orange peel, they do things properly at ÀNI.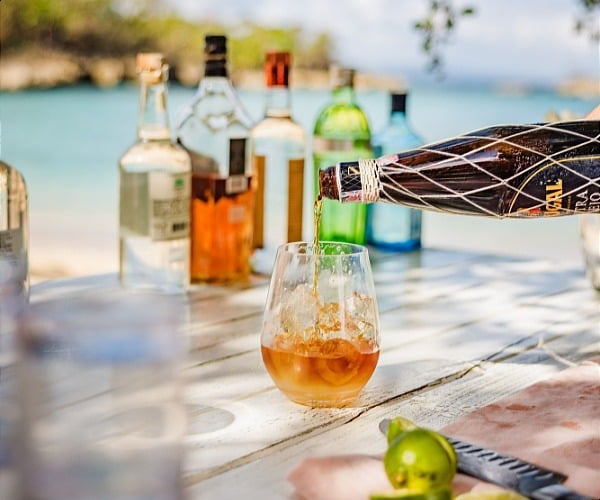 Second lesson in this cocktail course is a passion fruit margarita. Giving guests their Tom Cruise moment to vigorously but rhythmically shake the tequila, passion fruit juice, lime juice and sweet syrup.
5. Chocolate
Back to that grated blissful chocolate. ÀNI's chocolate is locally sourced from an organic cocoa bean plantation.
One dessert option for guests, who discuss their menus with the executive chef, is a DIY ice-cream. Provided with a mortar, holding the ice-cream, guests add organic chocolate, shards of bitter orange rind and salt, before pounding with the pestle to create their own designer ice-cream.
6. A beach BBQ
Relaxing on a sun lounger at ÀNI's impromptu pop-up beach club at Rio San Juan, guests watch fishing boats returning and smell the aroma of the BBQ.
Hotel waiters deliver grilled lobster with herb butter and skewered shrimp with chimichurri sauce to a table shaded from the midday sun by white chiffon curtains.
7. Cigar-rolling and rum-tasting
A pre-dinner masterclass of rum-tasting gives guests the chance to select from a range of 26 rums.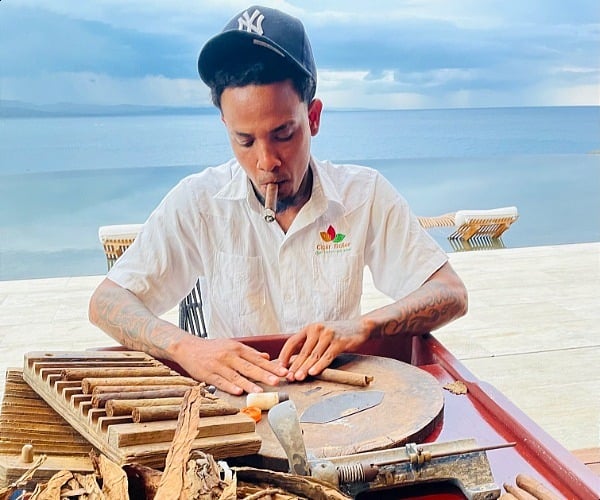 Alongside, guests try their hand at taking a tobacco leaf and rolling their own cigar. Their tutor warns that if a cigar is rolled too tightly it can not be smoked. Most guests take longer to roll their cigar than the 40 seconds it takes the maestro. Working with a partner, he can produce 800 cigars in a day.
---
IMPORTANT NOTICE:
If you are reading this article anywhere other than on A Luxury Travel Blog, then the chances are that this content has been stolen without permission.
Please make a note of the web address above and contact A Luxury Travel Blog to advise them of this issue.
Thank you for your help in combatting content theft.
---
8. A Dominican lunch
A lunch served in Larimar Villa, overlooking the ever changing colours of the Caribbean introduces, introduces guests to typical Dominican flavours.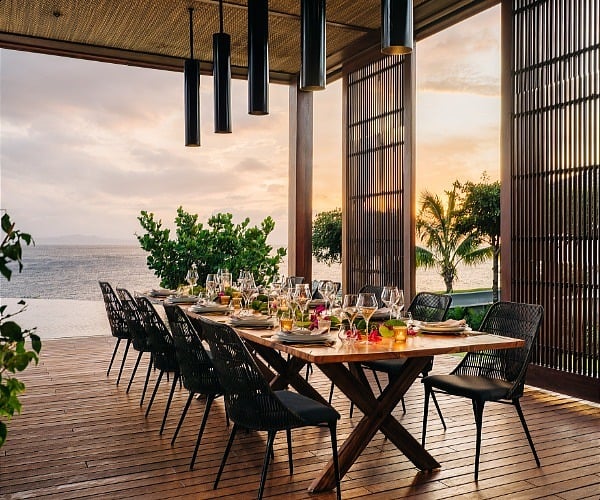 A chicken, vegetable and rice soup served with plantain chips leads into grilled red snapper with cilantro and coconut sauce. As the lunch is served family style, guests also help themselves to grilled pork chop with a pineapple glaze.
9. A cookery class
Juan, the executive chef, takes a class teaching how to create a zingy lightning-fast fish ceviche.
Thinly sliced red mullet and plenty of lime juice for the acidic cooking are the secrets with each chef adding chilli and coriander to taste.
10. A seven-course tasting menu
For a last-night farewell to the Dominican Republic, many guests choose a seven-course tasting menu with paired wines, served in a fairy-light lit pavilion.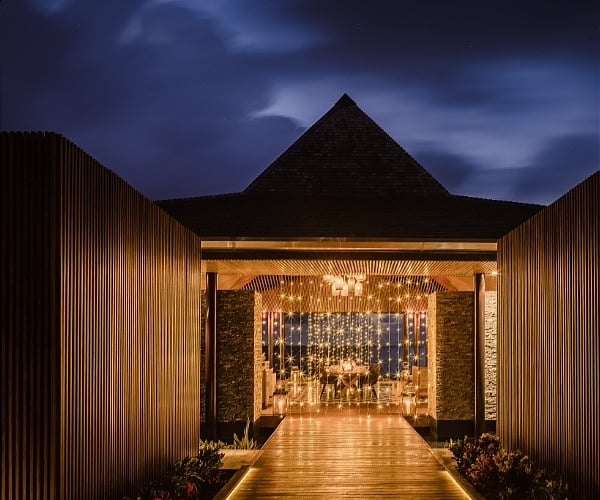 Beginning with a salmon gravalax taste of the sea, the menu takes in a 24-hour filtered Pomodoro soup from the land, vegetables by the garden, shellfish on the rock and tenderloin by the pasture.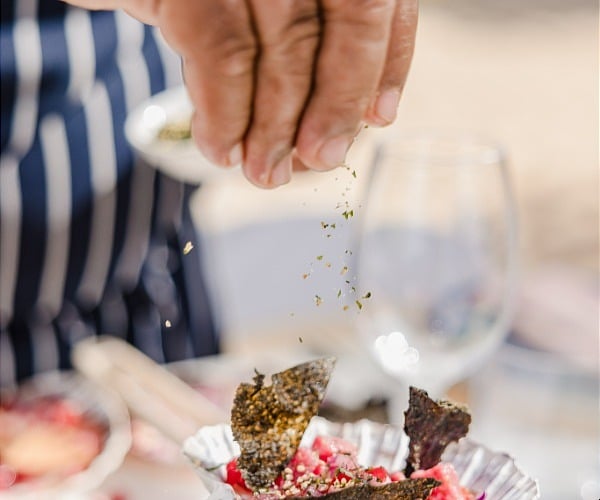 The culinary journey continues with a grey goose vodka sorbet to refresh the palate before the final triumphant chocolate and bitter orange dessert.
Disclosure: Our stay was sponsored by ÀNI Private Resorts.