Review: Brook Meadow, Leicestershire, UK
Brook Meadow provides lakeside holidays on a working farm. An idyllic collection of luxurious lodges and exciting glamping options provide peaceful rural escapes along the Leicestershire / Northamptonshire border. Close to the village of Sibbertoft and the town of Market Harborough, the farm devotes 15 acres to holiday accommodation.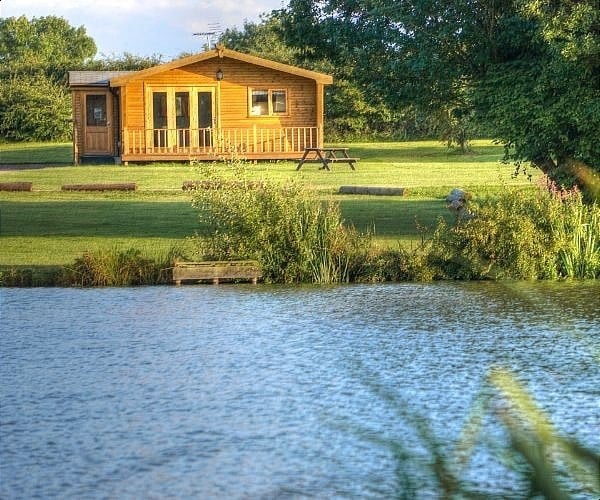 Back in 1645, the Roundheads' New Model Army gathered in a field now known as Cromwell's Corner after the battle of Naseby during the English Civil War. Now the volleys of musket-fire and swords clashing are long forgotten in today's tranquillity.
Award-winning Brook Meadows welcomes visitors all year-round. As well as the lodges dotted around a five-acre lake, Nuthatch is a compact heated cabin sleeping four.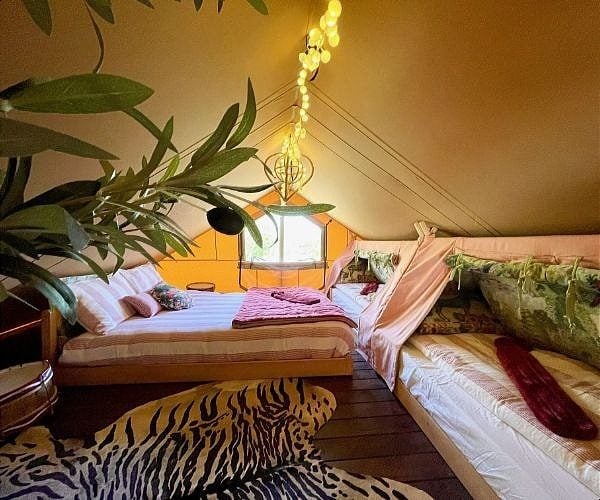 Almost a trip to the Masai Mara, Marabou captures the Out of Africa spirit of a stylish tented safari with its four-poster bed and room to sleep eight. Sunbird, a safari bell tent and a little smaller, sleeps two adults and two children.
Recently arrived is a gleaming Airstream Caravan. As the website says, the Steve McQueen of caravans, where you can "live the stream."
The welcome
Entering the farm, reception and shop, are on the left, to collect keys.
The lodge
A striking green sofa picks up the Woodpecker theme of the pine-timbered lodge with spacious decking overlooking the lake.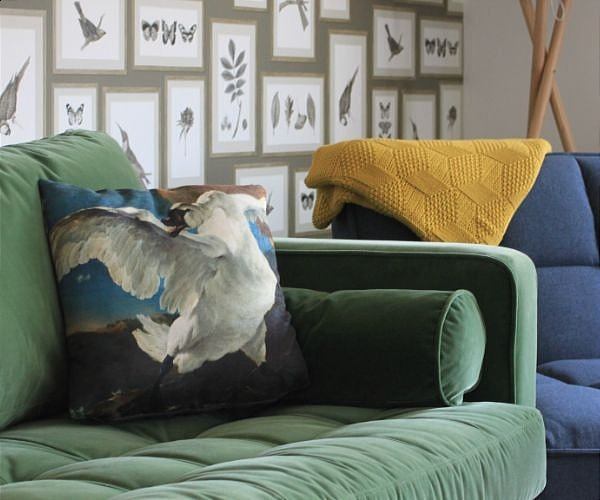 Claire Hart's interior design flair brings rural charm to the two-bedroom lodge with botanical and ornithological themed wallpapers and cosy rugs. Even the lights in the lounge are shaped like birds in flight.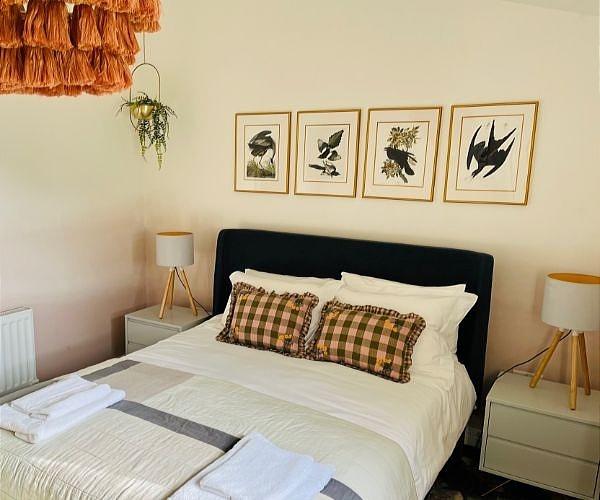 Featuring a dishwasher, fridge/freezer, oven and microwave, a well-equipped kitchen flows around a kitchen table that seats eight.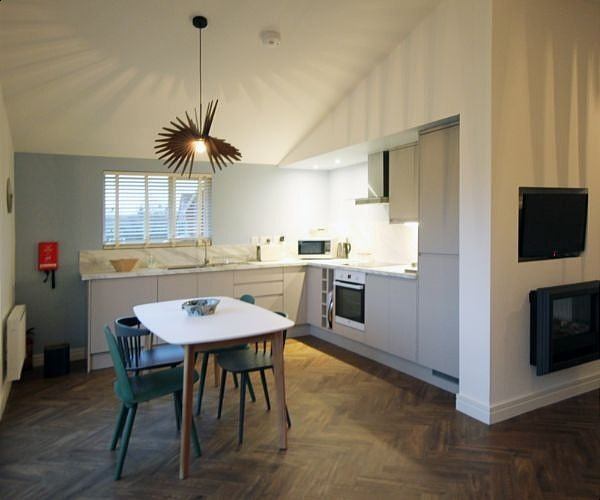 Bedrooms, one with a king size bed and the other with twin beds, have plenty of storage. Both have blinds and curtains to muffle the birds' dawn chorus.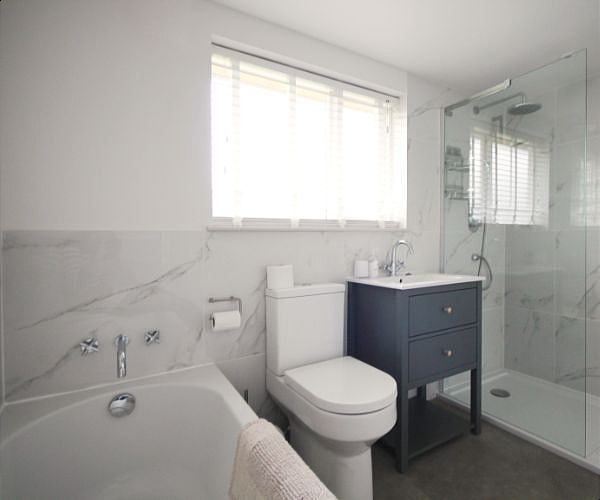 A chic bright bathroom has a full-size bath and a walk-in shower.
The facilities
The on-site shop is convenient for groceries, ice-cream and a range of greeting cards designed by Mary Hart, the resident textile artist. It is also the place to stock-up on marshmallows for toasting over fire pits that can be hired.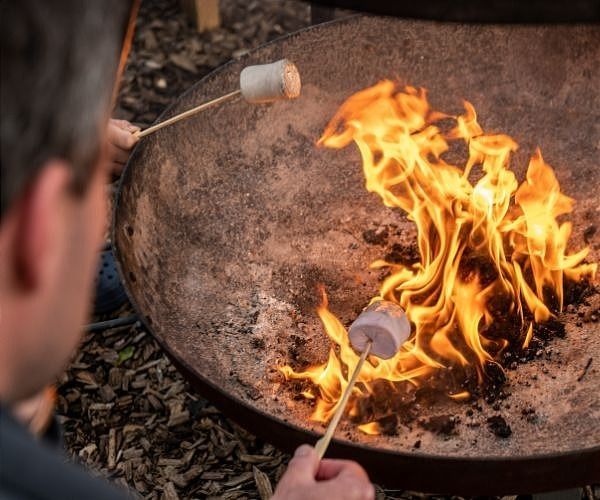 Brook Meadow is renowned for its family friendly thinking and children love the organic playground. Plus there's an area where canine members of the family can run around off lead.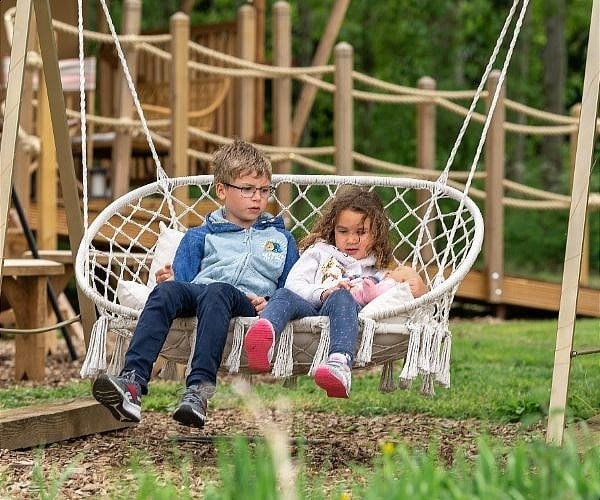 During Spring, Summer and Autumn the Cowshed Cinema, with straw bale seating shows "moo-vies" on a Saturday night. Literally until the cows come home. Once it gets too cold in the fields the cows want their shed back. A gourmet food truck provides wood-fired pizza for cinema-goers.
Hampers, from La Fete Fleurie, can be ordered in advance to enhance the luxury. English breakfast comes in a wicker basket including bacon, eggs, sausages and tomatoes. Alternatively, there is a bakery basket.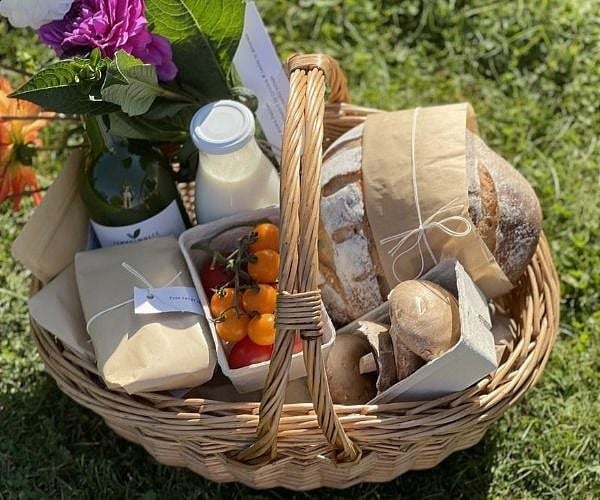 Or you opt for a continental breakfast hamper of granola, yogurt, compote, bread, croissants, cheeses, charcuterie, honey, butter, milk and coffee. Order a Cream Tea for the afternoons.
For a completely indulgent evening arrange for a chef to come to your lodge or Marabou to cook for you. Pierre Gouramand or the husband and wife team of Omotenashi Private Dining will help to design your ultimate dinner.
The location
Explore the area with the recommended country trails, including a walk through to Foxton Locks, for a pub and a tea shop at a junction of locks.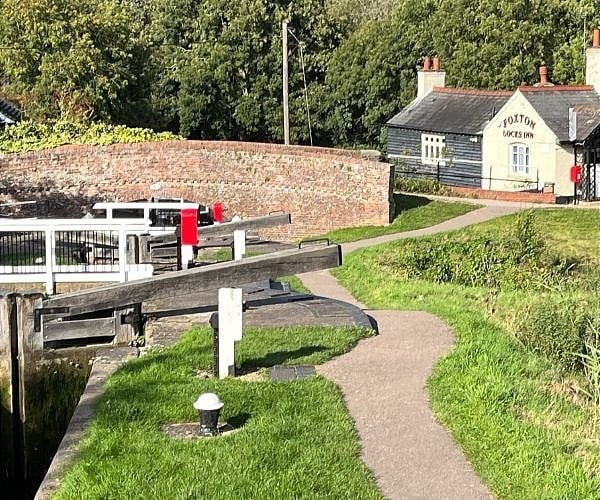 Other walks take in the Jurassic Way, the Hemploe Hills or a stroll to The Red Lion pub in the nearby village of Sibbertoft.
If you can't make one of the Battlefield Tours run by the Naseby Battlefield Project, their website sums up what they claim are "Arguably the two most important hours in English history … Breakfast Followed By War. Lunch Followed By Democracy." Perfect preparation for a visit to the nearby Naseby memorials.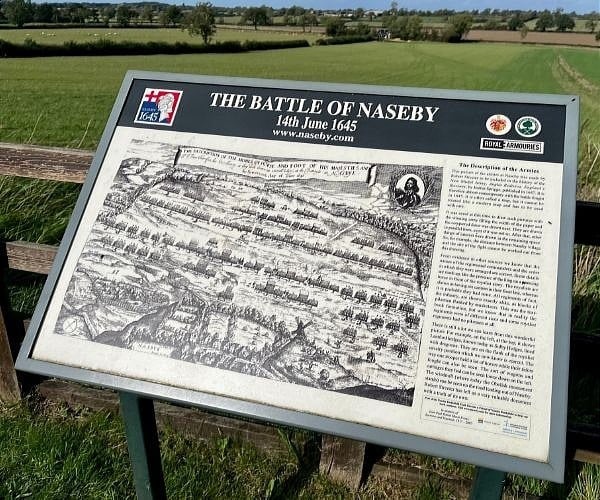 This is historic battle territory. Many historians argue that 1485's Battle of Bosworth Field, where Henry Vll's Lancastrians defeated Richard lll's Yorkists, was the beginning of modern times. Decide for yourself on the battle's significance at the Bosworth Battlefield Heritage Centre.
Other nice touches
Children can collect eggs from the hens with Mary, the farmer's wife. Or you can buy free range eggs from the shop. Locally, Mary is known as the Hen Whisperer.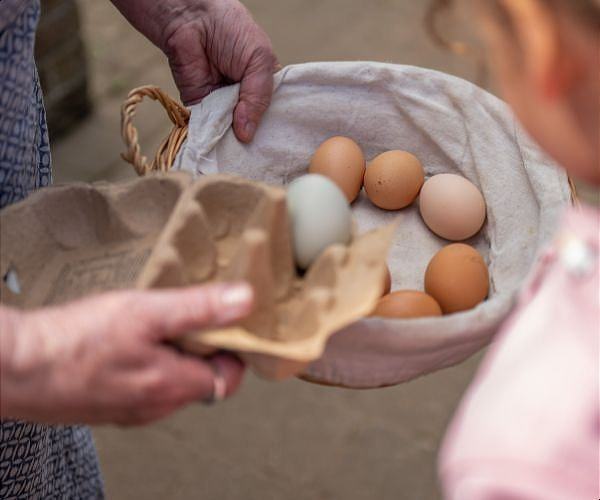 The farm has been owned by the Hart family since 1913 and Jasper is proud to give visitors a guided tour of the farm estate in his vintage 4 x 4.
Anglers should bring their fishing tackle as the lake is well-stocked with carp, perch and tench.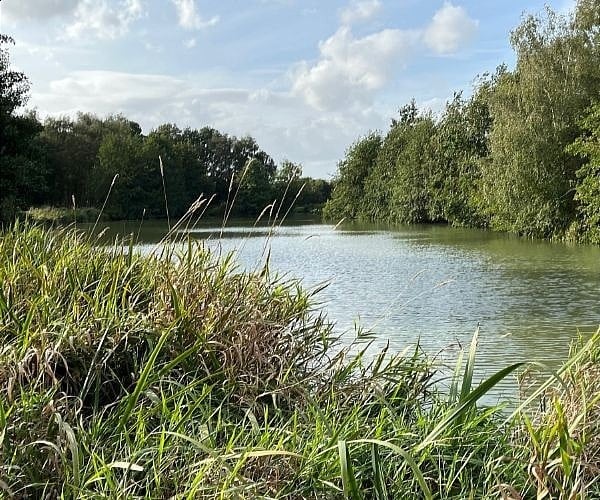 Access arrangements are excellent. There is ramped or level access to the properties and reception, plus wide doors for wheelchair access.
The cost
A four-night midweek stay in a lakeside lodge at Brook Meadow, sleeping up to four, costs from £110 per night based on two people sharing. Add £15 per night for each additional person.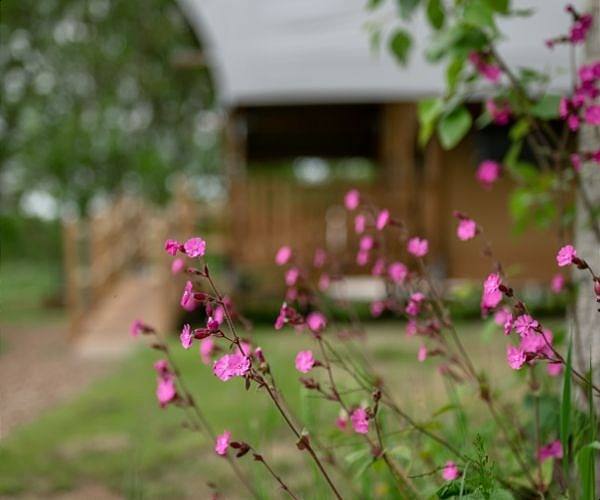 Or a four-night self-catering midweek stay in Marabou, sleeping up to eight, costs from £145 per night based on two people sharing. Add £15 per night for each additional person.
A Celebration of Christmas Retreat of floristry and entertaining workshops, plus a visit to Chatsworth House, runs from 27th to 30th November 2023. Costing £150 for the course, accommodation at the lodges starts from £110 per lodge per night based on up to four sharing on a self-catering basis.
The best bit
There is plenty to keep families and adventurous souls occupied on and around the farm. For some adrenaline-fuelled Top Gear moments, Avalanche Adventure, adjoining Brook Meadow, offer quad bike or Land Rover safaris. Off-road racing buggies slip and slide along dirt tracks.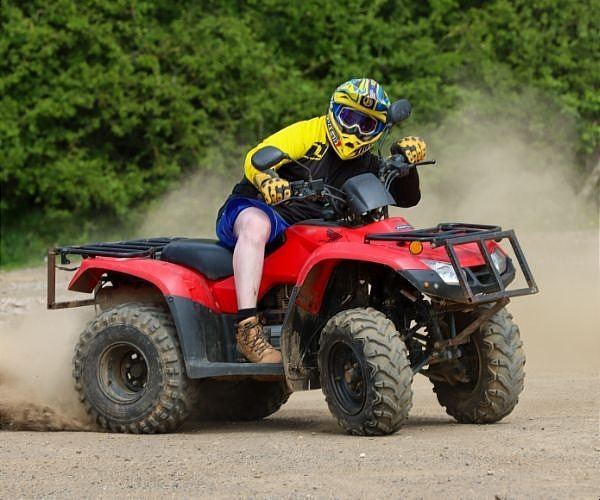 Driving amphibious vehicles over land and water seems relatively simple compared to the potential mayhem of the hand-eye coordination challenge of reverse-steered buggies.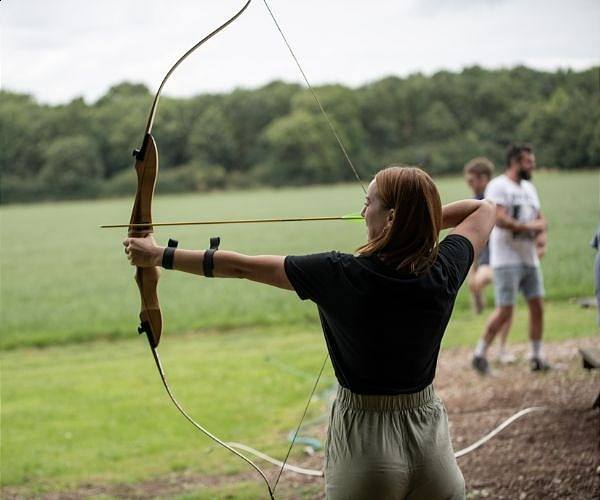 Stepping back to medieval skills, channelling your inner Robin Hood, visitors can try their hand at archery or axe-throwing. Clay-pigeon shooting and air rifles provide more contemporary experiences.
The final verdict
The Hart family provide a warm welcome to lakeside breaks in the heart of stunningly beautiful countryside. Brook Meadow leads the way in blending peaceful rural escapes with action-packed days.
Disclosure: Our stay was sponsored by Brook Meadow.
Did you enjoy this article?
Receive similar content direct to your inbox.