Top 10 beachfront hotels and lodges for a memorable experience on the Brazilian coast
When traveling along the extensive Brazilian coastline, about 7,491 kilometers (4,657 miles), from north to south, visitors will encounter a wide variety of stunning landscapes and have the opportunity to immerse themselves in different cultures and traditions. But it's not just about being by the sea. Whichever destination you choose, the real experience is waking up surrounded by lush nature and feeling the sand beneath your feet when you step outside. This is the kind of adventure that hotels and lounges situated on Brazil's most breathtaking beaches offer to those who wish to savor the natural beauty of the coastline and the privilege of having the ocean virtually at their doorstep. Here are 10 tips to discover the charms of a beachfront destination with plenty of comfort, excellent service, and delicious cuisine.
Northeast
Bahia
Known as the "Land of Happiness", Bahia boasts the longest coastline in Brazil, stretching 1,100 km (683 miles), with warm Atlantic waters lapping at its sandy shores and endless coconut groves. Its religious, ethnic, and cultural diversity gives a unique flavor to the local cuisine and is reflected in popular and artistic manifestations, with a year-round calendar filled with attractions, especially in Salvador, the country's first capital.
Maraú Peninsula, Casa Arandis
Welcome to the Maraú Peninsula, the third-largest bay in Brazil, located on the southern coast of Bahia and still relatively undiscovered. In this lush setting, you'll find Casa dos Arandis, a small and exclusive boutique hotel charmingly built among coconut palms in an environmentally sustainable manner using reclaimed wood and tiles, seamlessly blending rusticity with comfort and modernity.
The Maraú Peninsula is located between the Dendê (Oil Palm) Coast and the Cocoa Coast, with the main nearby cities being Ilhéus and Salvador. It offers a wide variety of landscapes of rare beauty, including numerous islands, rivers, 40 kilometers (24.8 miles) of semi-deserted golden sandy beaches, such as Taipu de Fora, considered one of Brazil's most beautiful, with coral pools, freshwater lagoons, forests, mangroves, and vast coconut groves. The landscape undergoes significant changes throughout the year due to lunar and tidal variations, allowing you to enjoy various types of natural pools that form during low tide.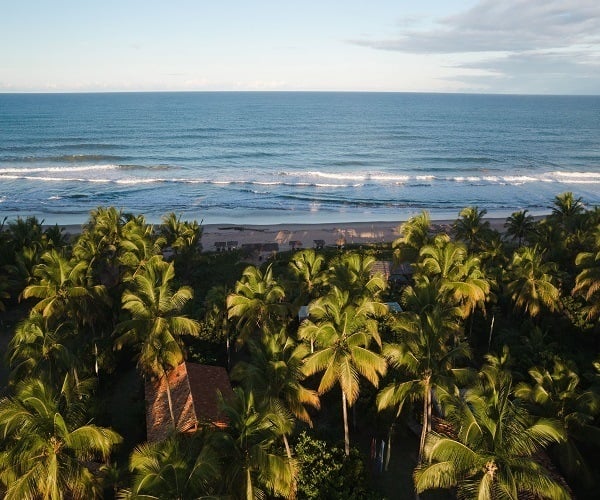 To explore the region, consider renting a boat departing from Porto do Jobel, about 6 kilometers (3.7 miles) away, sailing through the islands of Goió, Sapinho, and Pedra Furada, and stopping at a seafood restaurant to watch the sunset. Casa dos Arandis features a bromeliad garden, six reclaimed wood bungalows and the Caju brick suite, a restaurant, a bar, a mini spa, as well as massage and yoga rooms. The outdoor common areas offer moments of pure relaxation: a massage pool (spa) and lounge, sauna, and yoga/fitness/massage rooms, all surrounded by lush greenery and a constant sea breeze.
Santo André, Campo Bahia Hotel, Villas & Spa
Located in a picturesque bay in the village of Santo André, Santa Cruz Cabrália, southern Bahia, Campo Bahia Hotel, Villas & Spa offers a unique experience right from the moment you travel from Porto Seguro Airport to the village: 27 kilometers (16.8 miles) of tropical scenery that will captivate anyone. The set of villas is graced with the beach sand touching its entrance and is completely surrounded by native flora.
The area around Santo André is part of the Corumbau Marine Extractive Reserve and is environmentally protected, helping to preserve untouched nature and abundant marine life. The region is a paradise for birdwatchers and nature lovers. You can spot various bird species, sea turtles, and even humpback whales during the migration season. To reach Santo André, visitors usually take a ferry from Santa Cruz Cabrália. Access is relatively easy, but the sense of isolation and tranquility is preserved.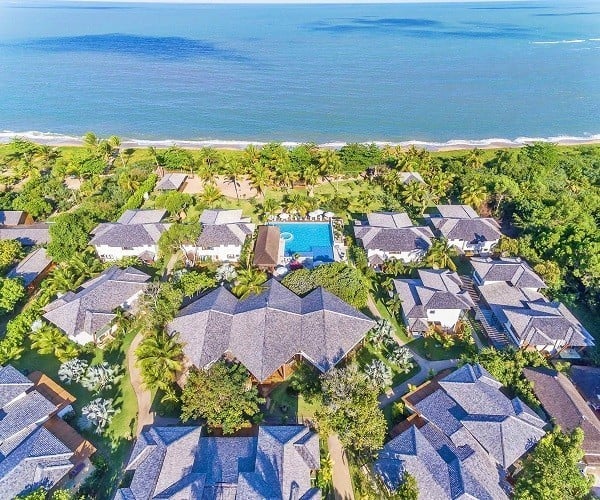 At the hotel, breakfast is served in the midst of a tropical garden. This retreat blends elegance with the natural riches of the region, providing unique moments of reconnection in true barefoot luxury style. In addition to sophisticated accommodations and exceptional service, the hotel also offers a variety of leisure activities, such as beach tennis, bike rides, kayaking, stand-up paddle boarding, and air-conditioned gym.
Expect relaxing days with beachside activities at this hotel, which gained fame for hosting the German national team during the 2014 FIFA World Cup.
Trancoso, Pousada Estrela d'Água
An iconic establishment on Nativos Beach, in Trancoso, Pousada Estrela D'Água perfectly embodies the "beachfront" concept. This oceanfront retreat offers a unique stay experience, masterfully harmonizing comfort, sophistication, and exclusive service. Its strategic location, just 600 meters (0.37 miles) from the iconic Quadrado in Trancoso (home to bars, restaurants, and boutiques), makes it even more special, as it is close to both the traditional colorful village houses and on the edge of a cliff that provides a breathtaking view of the ocean and the many natural pools with crystal-clear waters that form along the coastline.
The property includes 28 charming rooms bathed by an emerald ocean and surrounded by an abundant Atlantic Forest. All of them have a rustic-chic style with balconies overlooking the sea and the gardens and, of course, with sand at your feet.
Experiences offered in this paradise include the following: whale watching, pottery classes, bike tours through the Southern Bahia Coastal Forest, and quad biking for those who seek adrenaline and adventurous activities. Its two restaurants round out the experience with typical Bahian cuisine with a touch of sophistication.
Pousada Tutabel – Trancoso, Bahia
An ideal destination to enjoy the best of summer in Trancoso, Pousada Tutabel is just 15 minutes from the famous Quadrado and offers amenities and exclusive experiences for guests at this beachfront property located right on Itapororoca Beach. Here, guests are greeted by a landscape where lush vegetation intertwines with an extensive, pristine, and soft cream-colored sandy shoreline, perfect for those who want to enjoy barefoot walks and the gentle caress of the sand under their feet. This beach is truly a paradise and stands out as one of the most breathtaking in the region. In addition to Itapororoca, other must-visit beaches include Coqueiros, Nativos, Rio da Barra, Rio Verde, and Ponta de Itaquena.
Highlights among the activities offered include kayaking, biking, and stand-up paddle boarding. A must-do tour takes you to Espelho Beach, which is less than an hour's drive from the lodge and is an incredible destination to explore, even for those who choose to get there by bike.
Txai Resort Itacaré – Itacaré, Bahia
Renowned for providing unique experiences amidst nature, Txai Resort Itacaré, located in southern Bahia, is certified by the exclusive luxury hostel Relais & Châteaux and offers 38 accommodations in true sanctuaries of the Brazilian coastline, including spacious apartments and bungalows built on a suspended wooden deck overlooking the Atlantic Forest and ocean.
Itacaré is embraced by a dense, lush Atlantic Forest, providing a unique experience of immersion in nature. The region offers an intricate network of trails leading to some of the region's most stunning beaches. One of the most famous is the Four Beaches Trail, which provides access to the idyllic beaches of Engenhoca, Havaizinho, Gamboa, and Itacarezinho. Another unmissable option is the Prainha Trail, which takes visitors to the picturesque Prainha and the stunning São José Beach. These trails not only reveal breathtaking landscapes but also provide an intimate connection to the rich biodiversity of the Atlantic Forest.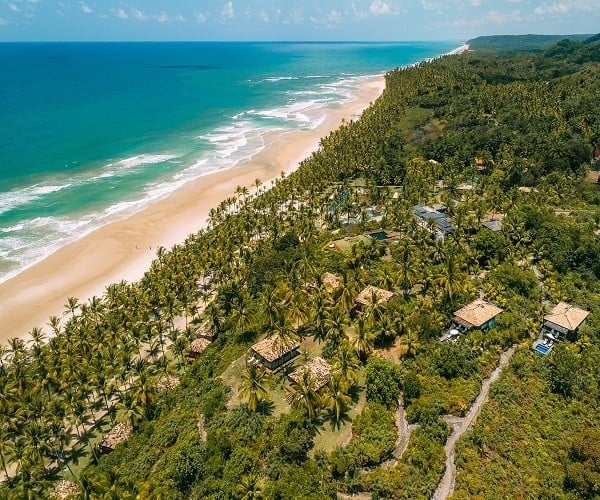 This oasis is also known for maintaining sustainable and special programs with several relaxation alternatives for guests, as well as entertainment programs in idyllic settings, and wellness and cultural experiences for families, children, couples, and groups of friends.
Alagoas
The second-smallest Brazilian state, Alagoas, with beaches full of natural pools and reefs, is known as the Brazilian Caribbean, attracting visitors practically all year round due to its natural beauty. Its name means "lagoons" due to the numerous lagoons that make the scenery even more special.
Porto de Pedras, Casa Brasileira – Hotel Galeria and Pedras do Patacho Boutique Hotel
The nearly untouched Patacho Beach, in the municipality of Porto de Pedras, in the heart of the Coral Coast in northern Alagoas, is home to two remarkable properties: Casa Brasileira – Hotel Galeria and Pedras do Patacho Boutique Hotel. What sets them apart in their accommodations, design, and experience, they share in the privilege of being located in a setting of rare beauty that is considered the Brazilian Caribbean.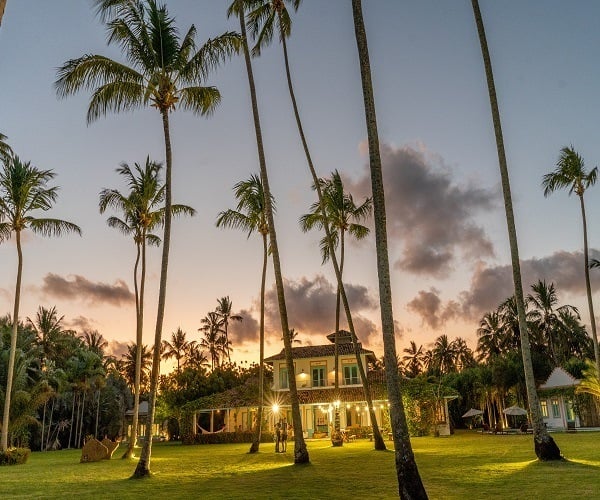 A perfect destination for nature enthusiasts seeking peace and well-being. Its warm and crystal-clear waters and extensive stretch of pristine white sandy beach surrounded by coconut trees make it the ideal place to enjoy summer days in comfort and tranquility. It is impossible not to be impressed by the natural pools in shades of turquoise and emerald green that form at low tide or by the colors of the sunset on a ride along the Tatuamunha River at dusk.
For lovers, the moonlight steals the show and promises a spectacle worthy of a romantic beachfront dinner, even better if it's a full moon night. Nobody knows why, but the moon seems to shine brighter in Patacho.
A buggy, horse, bike or raft ride, alone or accompanied, is perfect for exploring the beach, which in 2022 received the Blue Flag certification for the second consecutive year, confirming sustainable and safe tourism. In addition, the beach is part of the world's second-largest coral reef system and offers a building-free landscape preserved in its original state.
Barra de São Miguel, Kenoa Exclusive Beach Spa & Resort
Just 30 kilometers (18.6 miles) from Maceió, the capital of Alagoas State, Kenoa Exclusive Beach Spa & Resort is located in Barra de São Miguel, one of the most beautiful and peaceful paradises in northeastern Brazil, and is known for being a true 'beachfront hotel' and an eco-chic design resort surrounded by luxury and natural beauty. This retreat is considered a private sanctuary, with virtually no access for other visitors, and is surrounded by dozens of acres of virgin forest and framed by a beach where the waters almost lap the doorstep of the accommodations.
To explore the surroundings and immerse yourself in this scenery, a speedboat ride takes you to nearby beaches and natural reefs. You can also take a surfing lesson, practice scuba diving, and go by buggy to the São Francisco River's mouth and admire the beauty of this natural reserve.
Southeast
With about 1,500 kilometers (930 miles), the coastline of the Southeast region is the most rugged and varied in Brazil. From Espírito Santo to São Paulo, passing through Rio de Janeiro, this stretch of the Brazilian coast is framed by one of the last preserved remnants of the Atlantic Forest, sandbanks dotted with lagoons, and beaches adjacent to numerous waterfalls. In the State of São Paulo, the slopes of the Serra do Mar accompany the entire coastline and serve as a natural refuge for pristine beaches and native fishing villages.
Angra dos Reis, Fasano Angra dos Reis
Located on the shores of a lush region in the State of Rio de Janeiro, Hotel Fasano Angra dos Reis is an exclusive luxury retreat for visitors from all over the world. The region known as the Costa Verde (Green Coast), which encompasses four distinct municipalities, is an irresistible attraction for visitors thanks to its idyllic islands, stunning beaches, and picturesque coves. One of these municipalities, Angra dos Reis, has been honored with the prestigious title of World Heritage Site by the United Nations, recognizing its extraordinary combination of cultural and natural values. With a remarkable 85% of its native vegetation preserved, this area is home to the second-largest forest remnant in the Atlantic Forest biome, contributing to the preservation of this important ecosystem.
Fasano's architecture and décor are deeply influenced by the stunning nature of Angra dos Reis, incorporating a palette of colors and materials inspired by the region. Internationally recognized as synonymous with impeccable quality and service, the hotel offers suites with ocean views. For dining, two restaurants with distinct concepts cater to different demands: Praia and Fasano are located next to the hotel's private pool. At the Crudo restaurant, under the guidance of Chef Pedro Franco, guests can enjoy an exquisite dining experience that emphasizes seafood, such as scallops, shrimp, and seasonal fish.
Insólito Boutique Hotel & Spa – Armação dos Búzios, Rio de Janeiro
On Ferradura Beach, in Armação dos Búzios, just two hours from Rio de Janeiro, Insólito Boutique Hotel & Spa offers a unique experience of Brazilian culture. Armação dos Búzios is a peninsula that is surrounded by several tropical islands, some of them as high as 120 meters (393 feet), providing spectacular views. Within its limits, you will find more than 25 beaches and coves of all types and characteristics: from beaches with cold and warm waters to those with powerful waves and exceptionally calm tides. They are separated from each other by rock formations and cliffs.
The predominant vegetation is typical of the Atlantic Forest, hosting a wide variety of bromeliads, orchids, and flowers that exhibit a myriad of colors, in addition to attracting butterflies and various bird species. In the waters of Búzios' sea, you can find an impressive wealth of corals and a great diversity of fish, crustaceans, mollusks, and seabirds. In addition, Búzios is frequently visited by dolphins and whales, making the experience even more enchanting.
The hotel's environments are carefully planned and inspired by works of renowned artists, such as "Abaporu" by Tarsila do Amaral, and seamlessly integrate with the landscaping and lighting project. Beachfront privacy makes the scenery even more dazzling.
On the hotel's private beach, you can enjoy an exclusive picnic while watching the sunset, and guests can indulge in the pampering of a Sisley spa located in a lush green area, perfect for unwinding amidst nature.
Simone Scorsato is Executive Director of Brazilian Luxury Travel Association. BLTA's main objective is to promote and strengthen Brazil as a travel destination to the global luxury market.
If you would like to be a guest blogger on A Luxury Travel Blog in order to raise your profile, please contact us.
Did you enjoy this article?
Receive similar content direct to your inbox.