Review: Gal Oya Lodge, Galgamuwa, Sri Lanka
Three hours south-east of Kandy, Gal Oya Lodge is the gateway to a National Park that includes Sri Lanka's largest lake, Senanayake Samudraya. It is the only place in Sri Lanka where you can take a boat safari to see elephants swimming between some of the lake's 47 islands.
Beyond mobile phone reception, beyond wi-fi and certainly beyond television, Gal Oya Lodge has one foot in the past. You can walk with a Veddha Chief learning how his tribe lived in bygone millennia. Yet, Gal Oya's environmentally responsible tourism also has one enlightened foot in the future.
Elephants are everywhere. Printed on cushion covers. Carved into tap heads. Threaded through the bed throw. Embossed on the napkin holders and wild elephants amble through the Lodge's 20 acres. Even the restaurant menus are printed on elephant poo paper.
The welcome
A cool flannel and a glass of lime juice welcomes travellers whist luggage is whisked away to their bungalow.
The bungalow
Within the rooms there are hand-drawn maps of the Gal Oya Lodge's 20 acres and also the park as a whole.
Around a dozen polished teak tree trunks support a roof thatched with illuk grass to create a charmingly rustic suite.
Craftsmen worked with locally sourced materials to create a grandly spacious suite. A slab of a tree trunk serves as a coffee table in front of a built in L-shaped sofa, large enough to seat a gathering of village elders. Gal Oya is strong on sustainability.
Beneath a whirling ceiling fan, a wide and netted four-poster is the visual centre piece of a simple bedroom. And what could be more appropriate for the bathroom than a rainfall shower?
Two chairs on a patio look out into the luxuriant bush where the cicada chorals never ceases, where the frog orchestra frequently competes.
Facilities
Cooling breezes blow through the open sided A – framed timber building that is home to reception, bar and restaurant.

A small nook of a mezzanine floor hosts the library and a selection of board games. Guide books on birds, butterflies, flowers and wildlife help identify sightings.
With guests coming and going throughout the day, the restaurant is flexible: early breakfasts, late lunches and late dinners are all cheerfully catered for.

A breakfast glass of ginger, tamarind, bees honey and turmeric captures the tropical feel-good mood. Hoppers, a Sri Lankan tradition, top the breakfast menu though an English breakfast is an option too. Lunch might be river fish or a chicken Caesar salad or a pork curry.

Remember that this is Sri Lanka, where people eat curry and rice thrice a day. Every night there's an opportunity to sample a classic curry served with rice, dahl, vegetables and poppadoms alongside fish, pasta and vegetarian options.
A swimming pool framed by flourishing buffalo grass has views towards towering craggy Monkey Mountain.
Location
Take a walk with a naturalist from the Jim Edwards Research Centre to explore the Lodge's acres where camera traps are set to capture wildlife images.
Recently 20 leopard have been caught on film as well as many elephant, peacock, porcupine and a solitary sighting of an exceptionally rare pangolin.
The resident naturalists also lead bike rides through the forest savannah before taking guests on after-dark wildlife-spotting missions. Whilst the super fit attempt to scale Monkey Mountain.
The local Veddha Chief leads a walk through the forest explaining how his hunter-gatherer tribe thrived for millennia with their intimate knowledge of available food and plants' medicinal properties. Their animist beliefs and respect for the natural world forbid them from even picking a single leaf unless they have a use for it.
Other nice touches
An evening turndown services pulls the net curtains around the four poster bed and freshens up the bathroom.
Gal Oya Lodge offers a cookery course, in an outdoor kitchen, run by a locals. They pick their fruit and veg on the walk through to the Lodge, using their knowledge to create curries and other local favourites.

Don't miss the informal and remarkable exhibition of intricate birds' nests at the Research Centre. Tailorbirds use fine grass to sew two leaves together and then install cobweb bedding for their hatchlings.
The best bit
As dawn breaks, a safari jeep departs for Senanayake Samudraya, Sri Lanka's largest lake, named after the teardrop island's first president. Back in 1947 he ordered the creation of the lake as part of an irrigation and energy programme.
Only four boats have a license to serenely cruise through the lake. This safari may include elephants swimming with their trunks raised snorkel-like above the water, hugger-mugger crocodiles and whole islands colonised by birds as their maternity wards. White-bellied eagles, grey heron and comorants scan the lake for their next meal.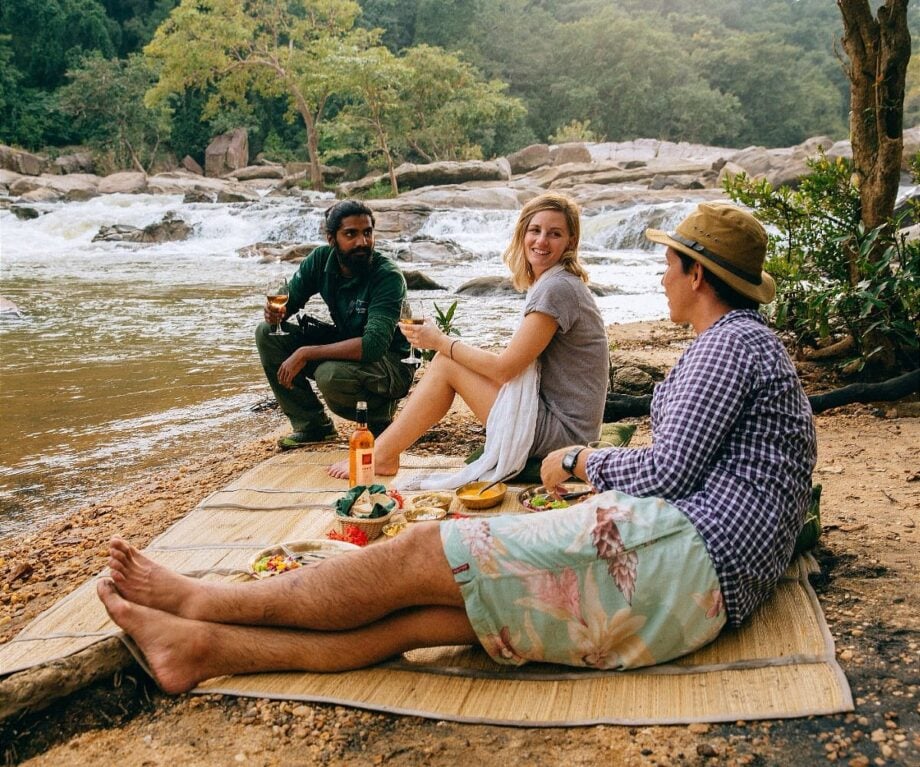 Then the boat moors up for an idyllic breakfast or lunch unpacked from an Indian tiffin container.
The cost
Double rooms, including breakfast, begin from US$ 290. This rate includes taxes and service charge.
The final verdict
Far from Sri Lanka's chaotic towns and cities, Gal Oya is Sri Lanka's seventh largest park but the least visited. A place of tranquil beauty.
Combining with the Jim Edwards Research Centre, the Gal Oya Lodge has naturalists on hand to provide Attenborough moments as guests explore the park.
Disclosure: Our stay was sponsored by Gal Oya Lodge.
Did you enjoy this article?
Receive similar content direct to your inbox.