Home > Travel Guides > Tanzania > Zanzibar Travel Guide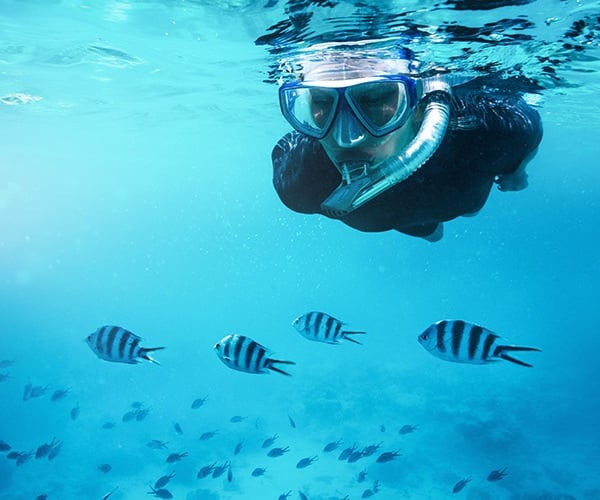 LUXURY TRAVEL
Zanzibar Travel Guide
Zanzibar epitomises the Indian Ocean ideal. Colourful boutique hotels line white sands which stretch into glistening turquoise waters. The variety of hotels on Zanzibar means every budget is met with characterful charm; from private islands off the coast, to barefoot luxury beach shack chic, there is something for everyone. It would be a shame to go on a Tanzania safari without bookending your trip on this fabulous island.
Introduction to Zanzibar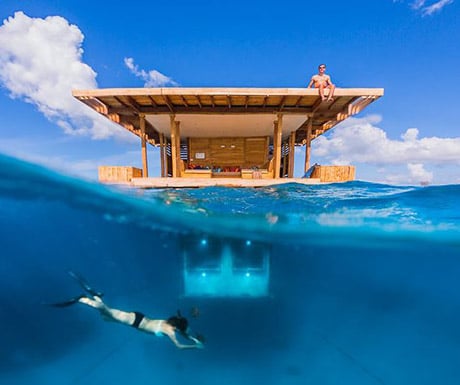 A short 30 minute flight from mainland Tanzania through Dar es Salaam airport sits an Indian Ocean haven. Accessible from any safari region in Tanzania, usually within a matter of hours visitors can be relaxing on one of Zanzibar's white sand beaches with a cocktail in hand.
Tanzania and Zanzibar is the most popular safari and beach combination in the whole of Africa. It is so easy to combine the two as the flights are short and inexpensive compared to flying out to Mauritius, The Maldives or The Seychelles. Zanzibar truly has everything luxury beach travellers need but with a lot less hassle, and for a lot less money.
Although backpackers also love Zanzibar for its various inexpensive hostels, because the best boutique hotels on the island are fairly self-contained, luxury travellers can still enjoy their own little slice of paradise. Variety in hotel size, price and style ensures every visitor is catered for in true Zanzibar style.
Zanzibar Island offers a wide range of hotel styles and beautiful beaches on the north and east coasts. From the pristine beaches and quirky boutique hotels to the friendly locals and the hustle and bustle of Stone Town, the island oozes with charm. Most visitors enjoy lounging around in their beach hotel or exploring the depths of the Indian Ocean, but there is more to the island than just a pretty strip of beach. Zanzibar has history, a rich Swahili coastal culture and an indescribable atmosphere which attracts tourists year after year.
Whilst the main attraction is Zanzibar Island itself, other islands in the archipelago are also well worth a visit for those with ample time.
Pemba Island offers a rare glimpse into untouched island life. The Indian Ocean activities are endless and the diving beautiful, however, the beaches are not as good as Zanzibar Island's north and east coast. But for an off the beaten track authentic island experience, it is fabulous.
Similarly, Mafia Island is known for particularly scenic dives. It is most famous for being home to the biggest fish in the sea; the mighty whale shark. Travellers can snorkel with these unbelievable whales from Mafia Island, making it a sought after destination for underwater explorers. Like Pemba, the beaches are not amazing, so it is definitely not a place for those seeking sun, sand and relaxation, but for more adventurous travellers.
Perhaps the most spoiling beach experience the Indian Ocean has to offer can be found just off Zanzibar Island in the luxurious and exclusive Mnemba Private Island. With only one lodge on the whole island, guests can enjoy the best of the archipelago's bright white beaches all to themselves. It is not a plush 5* hotel experience, but an elegant beach lodge for those who enjoy luxury at its most personalised and authentic.
Zanzibar's beaches
Quirky authenticity to elegant luxury; along the east coast of Zanzibar, there really is the perfect beach lodge for everyone. Perhaps home to Zanzibar's most idyllic beach spots, the northern tip of the island is as good as Indian Ocean beaches get. Nungwi is the hub of hotels in this region, the best of which is the colourful Zuri Zanzibar. Although a bigger hotel than some of the boutique options scattered up the east coast, it is heaven. The beaches stretch for miles; white, powdery and pristine, only interrupted by the lazy lapping of turquoise waters.
Travellers must be careful about which hotel they pick, as some beaches on Zanzibar can be tidal. But in pockets along the east coast and on the northern tip, Zanzibar showcases the Indian Ocean beach experience at its best.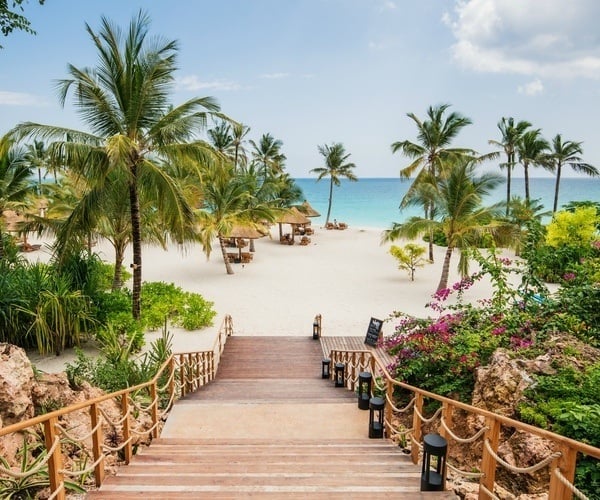 Stone Town
Zanzibar's quaint capital, Stone Town, is well worth a visit. Some travellers choose to stay a night or two in this chaotic yet charming hive of Swahili coastal activity. However, any longer, and it can become a little bit of a sensory overload. The bustle of Stone Town creates an indescribable atmosphere; bartering locals intermingle with curious tourists selling coconuts and Zanzibar trinkets whilst shops overflow with colourful memorabilia. Do not stay in Stone Town for a beach experience, but for a glimpse into Zanzibar's Arabic infused island life.
History of Zanzibar
Originally home to the Bantu, by 700AD the first Muslims settled on Zanzibar's shores as Arabs sailed in from the gulf for trade. These people formed the basis of Zanzibar's Swahili culture as we know it today.
Throughout 200 years of Portuguese control in the 15th century, Zanzibar's culture remained strong. Then, under the Sultans of Oman, an elite Arab class who ruled Zanzibar from the end of the 17th century, Zanzibar's trades for ivory and spices flourished. It was at this time Zanzibar also became established as a main trading port for the East African slave trade. The ugly history of the slave trade is visible today in a museum, and various monuments scattered around Stone Town.
Gradually, Zanzibar came under British control and became a protectorate in 1890. "Puppet" governors were put in place to rule Zanzibar, and did so until a sultan was appointed which was deemed unsuitable by the British, leading to the Anglo-Zanzibar War, also known as "The Shortest War in History". For 38 minutes on 17th August 1896, the British destroyed the Beit al Hukum palace before a quick ceasefire.
The island gained independence from Britain in 1963 which was followed closely by the Zanzibar Revolution where thousands were killed. The aftermath was the formation of the Republic of Zanzibar and Pemba, though shortly after they were linked to the mainland, Tanganyika (now known as Tanzania). Now, Zanzibar is a semi-autonomous region of Tanzania.
Today, traces of centuries of curious tradesmen and cultures can be found in Stone Town's rustic walls. It is worth hiring a tour guide for the day to take you through Zanzibar's dramatic history in the museums and the former Sultan's palace whilst in Stone Town. In more recent history, Freddie Mercury's childhood home can be found in Stone Town. Although visitors cannot enter the building, seeing it from the outside and exploring the surrounding town offers a glimpse into the global rockstar's early life.
Where to stay in Zanzibar
There are great places to stay almost everywhere around Zanzibar's coast, except for in the west, which is mostly rocky with little beaches.
Starting from the north, the main areas are Kenwda and Nungwi, a hive of pleasant bustle and phenomenal beaches. These are undoubtedly the most enviable beaches on the island. Just to its east sits Matemwe, a little quieter than the northern tip and with slightly more tidal beaches, it is excellent value. When the tides are right Matemwe provides a dreamy beach experience for a great price.
Next down the east coast is Pongwe beach. With a fabulous little boutique hotel on its shores, Pongwe is a favourite for an inexpensive yet charming stay. Lining a concave break in Zanzibar's east coast, Pongwe beach also avoids the tides making it a little haven of Indian Ocean paradise.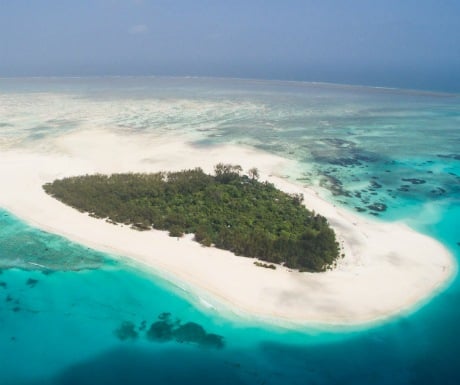 Next are Dongwe and Paje. Both are exceptional beach spots with a huge array of characterful intimate hotels. In fact, the best hotels on the island can be found here. Options span from luxurious private villas, to cheap and cheerful family hotels with a splash of luxury. The beaches can be tidal, but it would be a mistake to pass up these wonderful hotels.
Further south and around to the west, the beaches are not so inspiring. However, in the centre of the east coast sits Stone Town, which is a lovely bustling contrast to lazy seaside life for either a day visit, or a night or two.
All in all, the best beaches are in the north and the east. However, whilst a lovely seaside spot is important, selecting the right hotel could be even more so. There are a lot of options on Zanzibar it can feel overwhelming, but there are some exceptional hotels if you know where to look.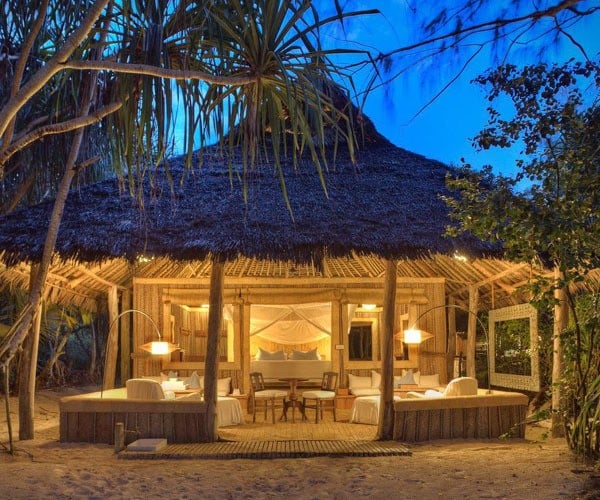 Accommodation in Zanzibar
Accommodation is hugely varied on Zanzibar. Visitors can expect authentic beach lodges to 5* hotels and everything in between. For a small island, there is a huge number of accommodation options and it can be confusing to know where to start. For each budget, there will be a perfect hotel somewhere on Zanzibar's shores.
The best and most luxurious Zanzibar accommodation can be found in Mnemba Private Island. With only a handful of elegant bandas on one of the Indian Ocean's most pristine beaches, this private island is simply stunning. Do not expect the mod-cons of a 5* hotel, but authentic luxury for an unparalleled castaway experience. At around USD $1,800 per person per night, it is certainly not cheap though.
On Zanzibar Island itself, nowhere is more spoiling than the beautiful 12 Xanadu Private Villas, which cosy up against a white stretch of beach in amongst tropical trees. Each villa has a private pool (one even has two!), a spacious two floor villa and comes with your very own private butler. You can choose to dine on your Michelin standard meals in your villa or the main area. This is a honeymooner's heaven. Prices start at around USD $800 per person per night.
Another luxury option which appeals to honeymooners and couples is Zawadi; a chic, pristine beach lodge on the east coast. It is not far from Xanadu, and offers a serene stay. From its white interiors and perfectly situated glass fronted rooms with a little plunge pool for added luxury, Zawadi is all about "zen".
Of the bigger hotels on the island Zuri Zanzibar is undoubtedly the best. With 50+ rooms, guests can opt for all-inclusive beach house luxury, or the cheapest "garden bungalows" which begin from around USD$350 per person per night. Whichever you choose, Zuri's unbelievable location on Zanzibar's best beach is its main selling point with powdery white sands and glittering transparent waters. The lodge itself is fun, with fantastic food and a great atmosphere, not like a stuffy 5* hotel but rather a boutique hotel, just with more rooms.
At the barefoot luxury end of the scale sits Pongwe Beach Hotel, a fabulous characterful boutique lodge in a fantastic location on the east coast. With no superfluous luxury but quirky rooms and a fun atmosphere, at prices starting from USD$180 per person per night, Pongwe is a steal.
Places to visit in Zanzibar
Stone Town is always on the agenda for a day trip whilst staying in Zanzibar. Wander through the centre, rustling through trinkets and soaking in the island's bustle. It is also a good idea to get a tour guide for the day to learn about Stone Town's fascinating Sultan history, and its harrowing slave trade past.
Jozani Forest is another nice day trip. Although it cannot compare to a Tanzania mainland safari, watching the famed Colobus and Sykes' monkeys leap around the canopies and listening to the 40 species of birds twitter is always a joy.
As a spice island, a trip to Zanzibar would be incomplete without a spice tour. A guide will take you around the spice garden, and you can smell and see a huge array of exotic spices. It is very interesting to see spices growing, from plant to product. Tours finish with a meal, using all the spices you have just learnt about and seen in action. For foodies, or those mildly interested in food, it is well worth a visit.
As its name suggests, Prison Island was formerly a jail. Just off the coast of Zanzibar, it is now home to giant tortoises which scuttle along its shores. A short boat ride from Stone Town allows travellers to explore this tiny island on a day trip. It is not essential viewing, but an interesting excursion for those who have ample time.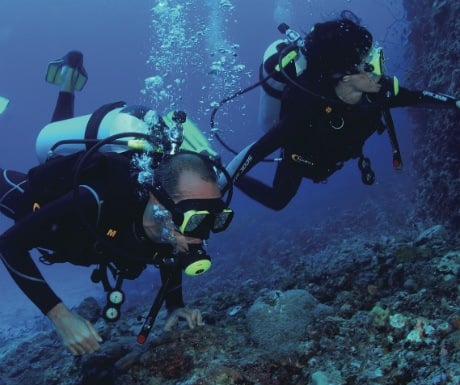 Things to do in Zanzibar
Most travellers visit Zanzibar to simply relax on a beautiful white beach. However, there are lots of underwater activities for those who are so inclined.
Whatever water activity travellers want to experience, talk to your hotel on arrival and they can point you in the right direction or book activities for you.
Diving and snorkelling around Mnemba Island is an unforgettable experience. Swim amongst a colourful array of fish and marine life, marvelling at the exotic world beneath Zanzibar's turquoise shores.
Fishing is an enjoyable day out for honeymooners and families alike. The joy of your line revealing a colourful fish from underneath is always exciting. Mostly on Zanzibar, it is catch and release. However, the process is hugely gratifying for most guests. It is not a place for extremely keen fishermen or women, but one for travellers looking for a bit of fun. For fishing fanatics, Mnemba Island offers a more sophisticate set up.
For those who prefer adrenaline-filled days, Zanzibar offers fantastic parasailing. There is nothing like a bird's eye view of the vibrant shoreline. Or, for those who would rather their feet to be firmly on the water, waterskiing is also a fabulous option for a Zanzibar activity.
Many travellers simply enjoy relaxing by their pool, reading a book whilst soaking in the East African rays in between taking a dip. Every good hotel on Zanzibar is equipped with a fantastic spa, and they are usually pretty busy, as massages on Zanzibar are particularly good.
All in all, although there are many activities to be enjoyed on Zanzibar, most guests simply go to relax after a busy week on safari. If travellers have their sights set mainly on Zanzibar, it could be a good idea to hop over to the Selous Game Reserve – just a 30 minute flight away – for a few nights on safari. It would be a shame to travel all the way to Tanzania without heading into the bush.
Food in Zanzibar
Food in Zanzibar is varied and always interesting. For those seeking the ultimate fine dining experience, the only place to stay is Xanadu; home to an ex-Michelin star chef, breakfast, lunch and dinner are always an occasion.
At any good beach hotel, the seafood is naturally amazing. Fresh prawns, octopus, tuna, crab and every salty delicacy you can imagine is available on the island. Aside from this, home comforts like pizza are also available for the less adventurous foodies.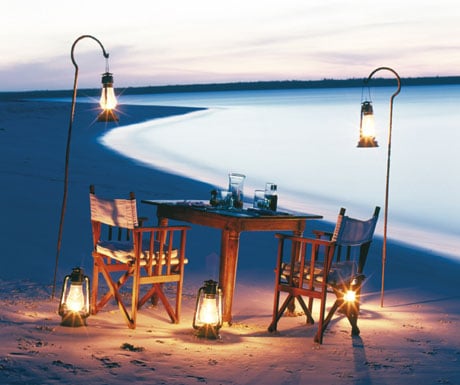 Zanzibar is not really a place for eating out at restaurants. Most meals are eaten within beach hotels; the menus change daily and are always delicious. However, "The Rock", a restaurant perched on a tiny island just off Zanzibar's east coast, has curious guests booking dinner year after year. It is wholly "instagrammable" and offers dining with a twist; on a rock, in the middle of the sea.
In Stone Town, there are some marvellous food experiences to be had. Wandering through the sea front stalls and drinking coconut milk straight from the fruit is a very Zanzibar activity. For less casual consumption, a fantastic dinner plan is to head over to Emmerson's Roof Top Cafe. At dinner time its atmosphere is fantastic. Set on the rooftop of a rustic hotel is this enchanting restaurant, draped in Persian rugs, vibrant cushions and little tables. The food here is extremely good, but it is more the spirit of Zanzibar which oozes from this little hidden rooftop gem that makes it such a special dining experience.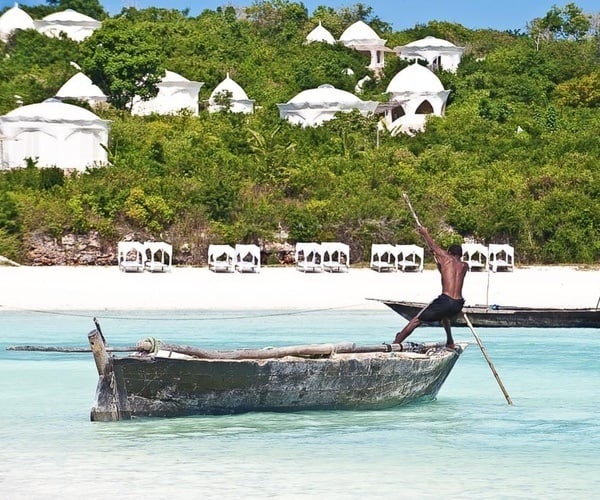 Getting around Zanzibar
Zanzibar is not very big. From north to south it is a two hour drive. Taxis are available, but to get the best service it is advisable for travellers to book excursions through their beach hotel, and airport transfers through a tour operator.
If guests are looking to combine a stay on Zanzibar Island with another island in the archipelago, then internal flights are quick and easy. Coastal Aviation is the main internal flight supplier in Tanzania, and hopping from one island to the next can take less than 20 minutes. They are 12 seater Cessna planes and give travellers marvellous views of the beaches below.
For combining Zanzibar with a safari, the same applies. The sophisticated internal flight network ensures guests can travel from beach to safari or vice versa efficiently. The timetables attempt to reduce the need for overnight stays in Dar es Salaam or Arusha and they work like clockwork. Because the planes are so small, travellers must book well in advance to ensure there is space, so chat to your tour operator about the best flight for you, and they will book it along with your accommodation.
When to visit Zanzibar
The best time of year to visit Zanzibar is in Tanzania's dry season which comes in two waves; the first is from December to March, and the second from July to October. In these months, temperatures tend to be around 30 – 33 degrees Celsius. Of these two windows when it tends not to rain in Tanzania, the months of December to March are the most humid, as the country explodes into rain in April and May for the long rainy season.
It is not advisable to travel to Zanzibar in the rainy season of April and May as it might be just little bit miserable. The "short rains" fall in November, although these are less predictable than they used to be and can come at any point between October and December. However, mostly, Zanzibar remains sunny with only a few afternoon showers in November and travellers benefit from excellent low season rates.
That being said, most opt for the safe bet of high season sunshine. It is worth noting that although the dry season sees very little rainfall, it has been known to rain in these months, so whenever you travel uninterrupted sunshine is never 100% guaranteed.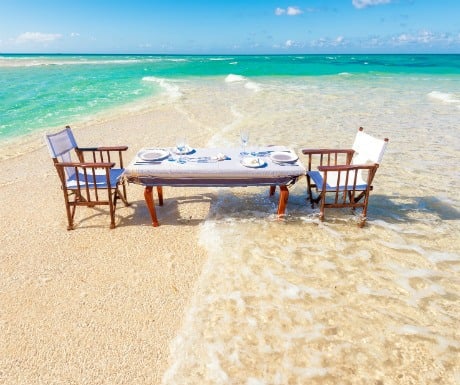 If you are combining a trip to Zanzibar with a safari, the same seasons apply. On safari, when the parks are dry the animals congregate and are easier to spot, and when it rains they disperse. However, many people find some great deals in shoulder season months such as June and October, where the wildlife and weather is on the whole excellent, but lodge rates are slashed. When to go therefore depends entirely on your budget and priorities for your trip.
Events in Zanzibar
Here is a comprehensive list of events in Tanzania.
January
The Great Migration are arriving at Ndutu, southern Serengeti.
February
Calving season for the Great Migration in Ndutu, southern Serengeti.
March
The end of calving season for the Great Migration. Travel early. inthe month for best chances of catching them.
April
Rainy season in Tanzania and low season rates. Southern Tanzania closed.

May
Rainy season in Tanzania and low season rates. Southern Tanzania closed.
June
Shoulder season in Tanzania. Expect excellent rates and great wildlife.
Great Migration move north. Stay in central Serengeti (Seronera) and western Serengeti (Grumeti) for best chances of seeing them.
July
High season
Great Migration arrives in the northern Serengeti (Kogatende and Lamai) and begin crossing the Mara River. Visit in second half of the month incase they arrive late.
Zanzibar International Film festival
August
High season
The Great Migration cross the Mara River back and forth in the northern Serengeti.
September
Mostly still high season rates, but lots of special offers with free night deals
The Great Migration are still crossing the Mara River in the northern Serengeti.

October
Shoulder season. Excellent free night deals, reduced rates in many camps and exceptional wildlife viewing.
Great Migration still lingering around the northern Serengeti, though some may have began their descent south.
November
"Short rainy season" in Tanzania. However, showers usually only in the afternoon if at all and wildlife viewing especially in northern Tanzania is still exceptional.
Excellent reduced nightly rates.
The Great Migration can usually still be found in the northern Serengeti, though many will be heading south. Still base yourself in the north for the best chance of seeing them.

December
In early December good deals and reduced rates can be found, but over Christmas and New Year prices rocket.
Transitional month for the Great migration as they quickly head south for calving season. Hard to predict their location in December.
Luxury travel tips
It can be tempting when looking at beach options to book a five star hotel. However, Zanzibar's speciality is characterful boutique hotels. Sometimes owned by safari companies, these hotels know how to make their guests feel special. They offer the personalisation of safari, but in a tropical beach paradise. The best boutique hotels on Zanzibar are the luxurious private Xanadu Villas, Zawadi and of course, the ultimate private island experience: Mnemba Island.
Make the most of your beach hotel by opting for an all-inclusive stay. Usually associated with mediocre buffets and big brash hotels, all-inclusive in a little boutique Zanzibar hotel is quite the opposite. It means a personalised cocktail at any time of day and delicious canapés to nibble on in the afternoon sun. It can not be stressed enough that going to the smaller hotels, although they may not have all the mod-cons, can be more luxurious than the bigger hotels with air-con, multiple swimming pools and room service. As with anywhere in Africa – safari or beach – luxury is found in the personalisation of your stay, which your trip linger in your memory for years to come.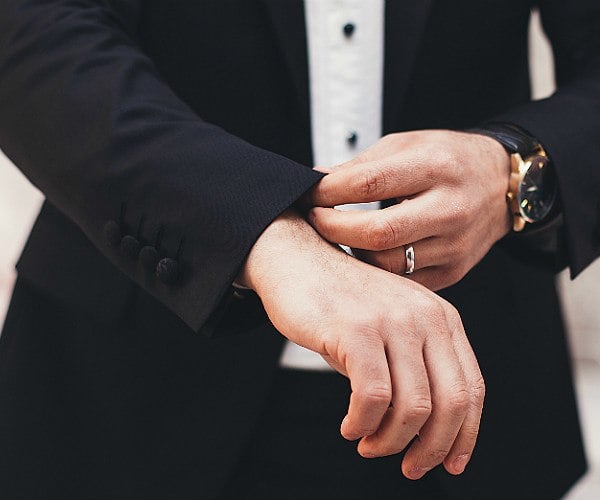 If you are seeking exclusivity, then opt for the private island Mnemba experience, or Xanadu Private Villas. These are the ultimate luxurious stays Zanzibar archipelago has to offer. However, beach hotels on Zanzibar island tend to be quite self contained, so luxury can be found everywhere. It all just depends on budget as to how much exclusivity you can have.
Make sure you mention on booking whether this is a special trip; maybe a birthday, anniversary or honeymoon and your beach stay will be peppered with little luxuries. Just like on safari, Zanzibar's beach hotels know the importance of personalisation and excellent attention to detail. You may even get allocated the best room in the hotel with an added luxury like an outdoor shower, or extra space, especially if you are on a honeymoon.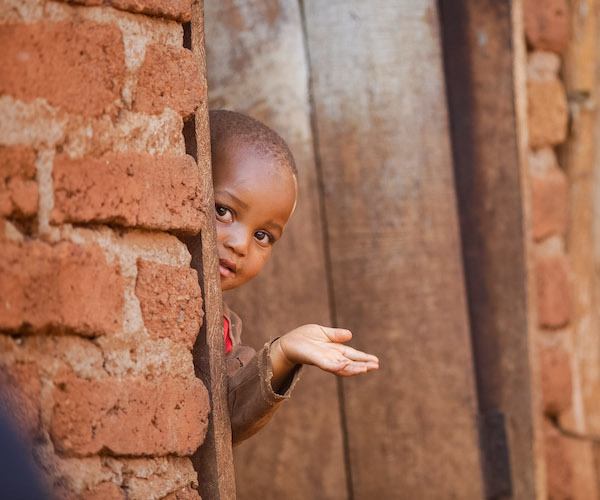 Language and culture
Like much of East Africa, in Tanzania the main language is Swahili. However, staff in beach hotels and safari lodges are also excellent at English. Even so, learning a few Swahili words is appreciated and often provides a fun task for visitors to Tanzania.
Arabic influences are clear in Dar es Salaam and Zanzibar. In these regions there is a big Muslin population, marked by morning and evening calls to prayer which can be heard in Stone Town and Dar es Salaam. It is advisable for visitors to respect this culture, and dress appropriately when outside your beach hotel.
The Swahili way of life is tangible on Zanzibar. It is an island with a rich and proud culture and one which travellers revel in year after year. From backpackers to luxury seekers, everyone has a place here and all are welcome.
Useful phrases
Jambo – Hello
Asante – Thank you
Asante sana – Thank you very much
Habari gani – How are you?
Baadaye – See you later
Kwa heri – Goodbye
Lala salama– Goodnight
Nafurahi kukuona – Nice to meet you
Ndiyo – Yes
Napana – No
Tafadhali – Please
Sawa – Okay
Jina laku nani – What is your name?
Jina langu ni – My name is
Rafiki – Friend
Maji – Water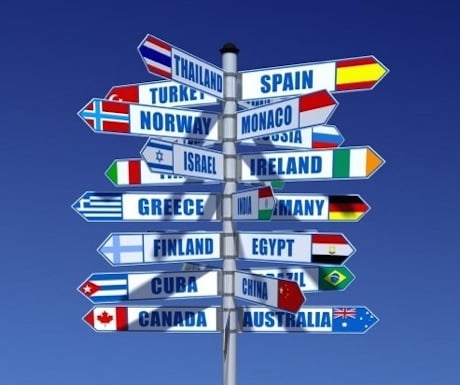 Weather in Zanzibar
Visiting Zanzibar soon? See below for the latest weather forecast for Zanzibar.
ZANZIBAR WEATHER
Useful information
Currency
Tanzanian shillings are common in towns and can be used in camps and beach hotels. However, US dollar is more commonly used for in-camp transactions and tipping. See www.xe.com for current exchange rates with the British Pound and the American Dollar.
Power
Camps all have some form of electricity. In the Serengeti's mobile camps, guests may only be able to charge electronics in the main area. No converter is necessary, as most will take the standard British plugs. In other camps, charging is easy in your room. Electricity on the beach is easy with plugs in your rooms.
Telecommunications
It is unlikely you will get mobile signal on safari and if you do it will probably cost a lot. It is better to wait until you get back to your beach hotel or safari lodge and make your calls and messages from the provided free WiFi.
Timezone
GMT + 3 hours
The beauty of visiting Tanzania from the UK is that there is no jet lag, so you can begin your safari refreshed and rested.
Tipping
Tipping is expected on safari and in beach hotels. Roughly, you should tip your safari guide or transfer drive $10 per person per day, and the same should go in the staff tip box at the end of your trip.
WiFi
Free WiFi can be found in most safari camps, however, sometimes it may only be accessible in either your room or the main area. On the beach, most hotels have free WiFi throughout, but some of the more barefoot luxury options may only have access in main areas.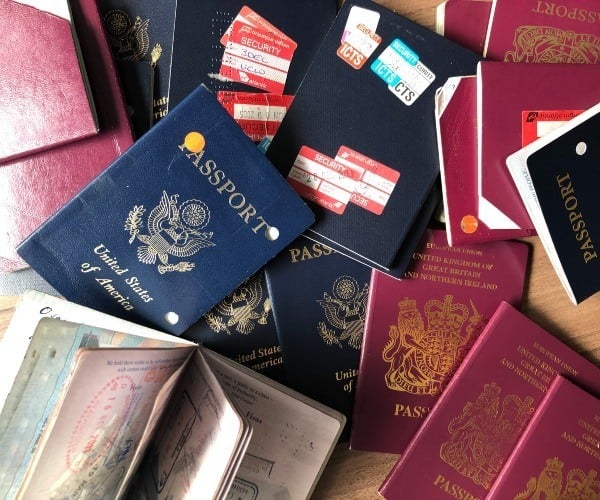 Want to contribute to our travel guides? Please contact us for details…