So you've just experienced a safari of a lifetime, ticked off the big beasts of the African bush, gained an appreciation for the lesser-known creatures, become far too used to your morning wake-up calls with coffee and cookies, and it's now time for some rest and relaxation on Zanzibar… only you can't help but feel that you're leaving a little bit of the adventure behind. Well, just because there's no open-sided game-viewer insight doesn't mean that the adventure's ended.
The Indian Ocean houses some of the world's most beautiful and diverse dive sites. Whether you're a seasoned diver or fancy just trying it out for the first time (prepare for an expensive hobby), Zanzibar's Archipelago is going to offer you something spectacular:
South coast of Zanzibar
Specifically within an area known as Kizimkazi, the south coast of Zanzibar is best known for its dolphin population. There are also some excellent shark sightings down here, and if you're really lucky there's a small chance of manta rays too. The dive sites are predominantly wall dives with some beautifully flat and coral-filled shallow spots. In terms of your accommodation, Unguja Lodge is a great choice with its own dive centre and secret dive spots where no other company ventures out to.
Central coast of Zanzibar
Moving up the coast slightly, there's a long stretch of coastline encompassing the villages of Paje, Bwejuu and Dongwe. There's an enormous array of stunning dive spots along this whole stretch, such as lagoon areas inside the reef providing gentle, calm and shallow conditions for those just starting out, and outer reef sites with sloping coral gardens and deep wall dives, often with fun currents for those wishing for a bit more of an adrenalin kick. Here it's common to spot sea horses, ribbon eel, harlequin shrimp, leaf fish, octopus, and even the Indian Ocean walkman among other species such as groupers, lobsters and trigger fish. This area is perfect for those wanting to enjoy quite a few dives with lots of diversity – the night dives here are great too. There's lots of different accommodation options, including Breezes Beach Club, Baraza Resort & Spa, Zawadi Hotel and Matlai Boutique Hotel to name just a few, all of which cater to different styles and budgets.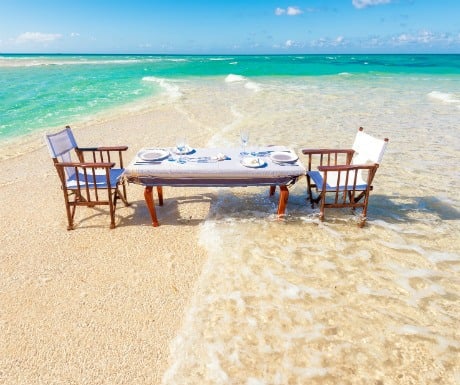 Mafia Island
Mafia Island is a remote and laidback little spot offering some sensational diving with whale sharks virtually guaranteed from October to February. Most of the island's best dive sites are less than 30 metres deep, and the reefs here offer an insanely beautiful and varied display of marine life. Mafia Island's Marine Park was the first of its kind in Tanzania and boasts some of the most vibrant coral imaginable. When it comes to where to stay on the island, you are somewhat limited. However, a favourite is Pole Pole, a superb boutique beach lodge that has excellent standards of service, food and hospitality, and offers a great range of activities besides the phenomenal diving.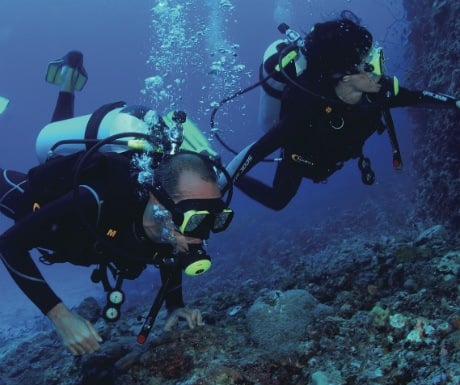 Pemba Island
Pemba Island is definitely worth considering. In all honesty the marine life here isn't comparable to the likes of Mafia, but the underwater topography is some of the most beautiful in the entire archipelago. With epic drop-offs, beautiful walls and stunning coral gardens, this is a region that would appeal to experienced divers looking for deeper dives with some exciting currents. Fundu Lagoon is one of the best properties the island has to offer, with Manta Resort also being worthy of a mention.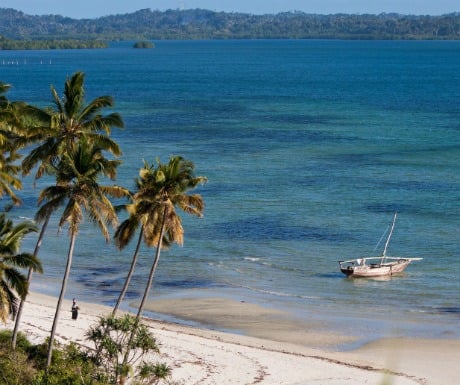 Mnemba
This list would be incomplete without a mention of Mnemba Atoll, a protected marine reserve on the north-east of Zanzibar's main Unguja Island. With one of the only 'no fish' zones, the dive sites here are brimming with life. An area excellent for dolphin, turtles, sharks, frog fish, leaf fish and enormous schools of many more, Mnemba has rightly earned its name for having the most impressive diving on the island. Mnemba Island is the most exclusive lodge on Zanzibar, offering barefoot luxury at its finest, a private island location to die for and a price tag to match.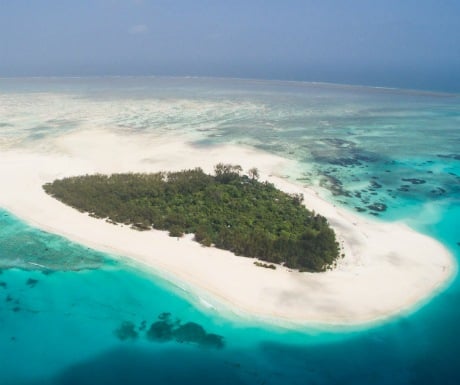 Julian Carter-Manning is a Co-founder and MD at Yellow Zebra Safaris.
If you would like to be a guest blogger on A Luxury Travel Blog in order to raise your profile, please contact us.