Suite name:  Beachfront Villa
Resort: Kiana Resorts at Playa Dominical, Costa Rica
Size of accommodation:  1,500 sq ft
Cost per night: $630  (soft opening rate of $475)
Who's stayed there? Nobody yet since it's brand new, but several celebrities including Jamie Foxx, Sharon Stone, Christian Slater, Barry Manilow, Paris Hilton and many more were gifted a certificate to visit at the the 2006 American Music Awards.
What makes it special? What makes Kiana resorts special is the combination of its breathtaking, remote location and luxurious amenities that appeal to the adventurous, luxury traveler.
Kiana Resorts presents top-notch villa accommodations appointed with the finest furnishings. The living and entertainment spaces have a "Tropical Modern" theme, combining elements of Southeast Asian and Latin design for rustic simplicity and understated elegance. The open floor plans embrace full kitchens along with decks and covered terraces to ensure that guests can appreciate the outdoors while enjoying a comfortable indoor retreat. Luxurious bathrooms feature large bathtubs and indoor/outdoor showers, while guest beds are adorned with imported Egyptian cotton sheets, feather or synthetic pillows and large, comfortable mattresses. Each villa comes equipped with a 29-inch TV and an iPod speaker base.
The resort, which sits amidst more than 2,000 acres of mountainous rainforest, is an intimate escape comprised of just 26 exquisitely furnished, 1,500-square-foot beachfront villas grouped into four "village clusters." It features a full service spa, an oceanfront gourmet restaurant, four pools and a fitness gym, all surrounded by a nature preserve filled with chattering monkeys and other exotic wildlife.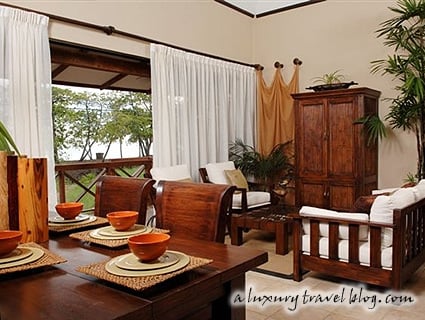 Kiana guests will be able to stroll out their door to nearly empty beaches or explore the jungle and all the wonders it holds. Here, shopping malls and golf courses are no where to be found. Instead this unique setting will lure outdoor enthusiasts with activities including surfing, horseback rides through the jungle, canopy tours, sunning on the beach, and trips to the Osa Peninsula, which National Geographic called "the most bio-diverse place on earth".