London's top 3 quirky luxury restaurants
The 'Big Smoke' is packed with all kinds of eateries from bargain market stalls to top-end restaurants with waiting lists as long as your arm. Fine dining is easy, but what about finding a place for dinner that's just that little bit different? Let's take a look at our top 3 recommendations for eating delicious food and sampling excellent wine somewhere just a bit different.
Sketch is many Londoners 'go to' spot for cool architecture and interior design combined with great food. Light, bright and airy, this Conduit Street hangout fuses modern art with modern cuisine is a winning combination.
Dine in the middle of an art piece in the Gastro-Brasserie, designed by Turner prize-winning artist Martin Creed. The menu in the Lecture Room and Library is two Michelin star rated, offering tasting menus and a la carte options in slightly more conventional surroundings. Afternoon tea in The Glade is also a top choice, with paper-thin macaroons, caviar and quail eggs.
Despite the brilliance of its food, you can never be sure exactly what to expect at Sketch.
Smack bang in the centre of Soho, you'd almost miss La Bodega Negra behind its fake sex shop exterior – just part of what makes this such an unusual place to dine. It's London's trendiest restaurant at the moment and welcomes diners from lunchtime until late.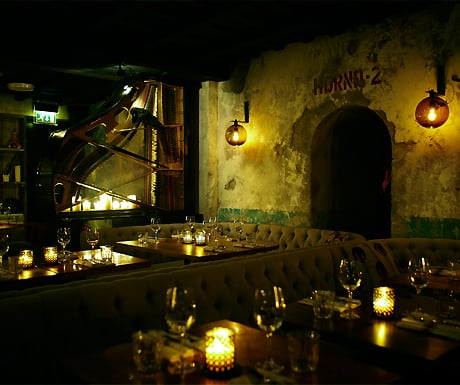 The tequila-based cocktails are worth a trip in themselves, as are the non-alcoholic concoctions of exotic juices. It's Mexican, but it's not your standard 'Tex-Mex' fare. Tacos and quesadillas feature heavily, but it's a more sophisticated blend of ingredients that set La Bodega Negra apart.
The décor makes this a dining experience, rather than just a meal. It's got a dark, moody vibe and the basement restaurant is more elaborately decorated with more Latin American references. Here, the more upmarket menu is served with bigger dishes such as steaks and indulgent stews. The alcoves are decorated with masked Mexican wrestlers and ornaments from the country's Dia de Muertos (Day of the Dead).
Brand new this summer to the London dining scene is the undoubtedly quirky Bubbledogs. And what do you get at Bubbledogs? Well, bubbles and hotdogs of course!
As you might imagine, the owners believe in taste combinations that break the mould – they believe that our tastes need to evolve. Coming from Per Se in New York, where they mixed caviar with sake and dessert wine with stilton. And if salty, oily caviar traditionally goes so well with dry, refreshing champagne, then why shouldn't oily, salty hotdogs mix perfectly with it too?
So, there is only hotdogs on the menu, but there's a big range, made with 100% British beef, pork or a vegetarian version. Why not try a breakfast version with fried egg, tomato relish and black pudding squeezed in between the dog and the bap? The champagnes are selected from small, hard-working wineries and come with menu descriptions that include 'ripe fruit bowl' and 'a lick of chalk and stones'.
Recently opened on hip and happening Charlotte Street in central London, Bubbledogs occupies a spot that's an easy walk from Regent's Park, Tottenham Court Road and Goodge Street tube station.
Stuart Leckie is Director of Sales & Marketing at St. Ermin's Hotel.
If you would like to be a guest blogger on A Luxury Travel Blog in order to raise your profile, please contact us.
Did you enjoy this article?
Receive similar content direct to your inbox.