By
Paul Jones
on Dec 10, 2012 in
Accommodation
,
Adventure Travel
,
Attractions
,
Cruises & Boat Travel
,
Featured
,
Going Out
,
Hotels
,
Leisure Travel
,
Peru
,
South America
,
Speciality Travel
If you are tempted by luxury travel in South America, have you considered a trip to Peru? Most luxury travellers to South America associate the continent with attractions like the elegant city of Buenos Aires, the wine regions of central Chile or perhaps the picture postcard settings of Rio de Janeiro. Of course these are all great destinations in their own right, but if you are looking for an authentic experience, a country brimming with culture and traditions, a destination with heaps of allure and incredible archaeological sites – then Peru might just be for you.
Peru is a large country, in-fact the third largest in South America. There are many great things to see and do, but what are the best luxury travel experiences? Here are our top 3 luxury Peru vacations ideas.
Luxury Amazon river cruises & Machu Picchu
In the north of Peru, which is easily accessible by air, is the fascinating Jungle city of Iquitos. It's from here that Aqua Expeditions, a leading Peruvian tour operator offers several weekly cruise departures along the mighty Amazon River.
Founder and CEO Francesco Galli Zugaro who previously worked with a cruise operator in the Galapagos brought his years of experience to Peru, and created unique travel experience on their two custom built luxury river boats; the M/V Aqua and the M/V Aria. Each river boat was carefully designed to offer the ultimate luxury experience, including oversized cabins, queen and king beds, comfortable relaxation areas, indoor and outdoor lounge bars, gourmet restaurants and even exercise rooms! Aqua Expeditions offer a selection of 4, 5 & 7 night cruise itineraries, all which feature Peru's biodiverse Pacaya-Samiria National Reserve and a visit to birth place of the Amazon River.  Southern Peru and the region of Cusco are connected by 2 short flights via the capital Lima. From Cusco you have the flexibility to visit all of the best Inca archaeological sites, and the choice of many of Peru's best hotels: the Monasterio, La Casona, the J.W. Marriott, Casa Cartegena, the Libertador and Palacio Nazarenas to name a few.
The Sacred Valley, Machu Picchu and Cusco
This southern circuit, which incorporates all the very best Inca archaeological sites in the region, is also where most of Peru's finest luxury hotels are located. After arriving into Cusco at an altitude of 3,200 meters (10,500 feet), you travel straight to the Sacred Valley, to take advantage of the lower altitudes and to help ease the acclimatisation process. The Sacred Valley's new Tambo del Inka Spa & Resort not only offers sublime accommodations in relaxing and beautiful surroundings, but also has its own train station and service directly to Machu Picchu.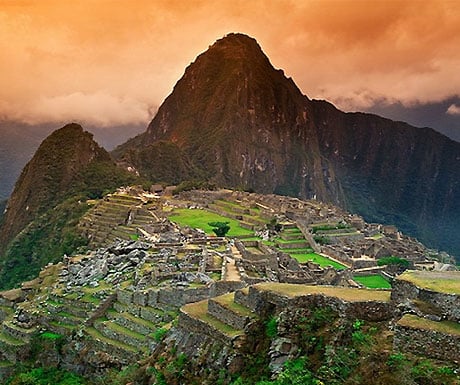 From your base in the Sacred Valley, you can easily visit the famous indigenous market at Pisac, the Inca experimental terraces at Moray and the impressive mountainside fortress at Ollantaytambo. Access to Machu Picchu is just 2 hours from the Sacred Valley, and a ride aboard the exclusive luxury Hiram Bingham train is the best way to get there. After taking a few days to explore Machu Picchu, you travel in a full loop back to where you started to visit the ancient Andean City of Cusco, famed for its unique mix of Inca and colonial style architecture. Enjoy the best in Peruvian hospitality with a few nights in Cusco's Monesterio Hotel, whilst exploring all that this busy, yet quirky city has to offer.
Lake Titicaca & Machu Picchu
Of-course Peru isn't just all about Inca culture. Further south on Lake Titicaca, the world's highest navigable lake, are ancient cultures preceding the Incas.
The floating islands of the Uros Indians and the fixed island of Taquile provide a unique opportunity to experience a completely different side of Peru. The Uros Islands are a series of floating islands made from tortora reed, a plant found in abundance on the shores of the lake. The purpose of the island settlements was originally defensive, and if a threat arose they could be easily moved. Nowadays, visitors to the islands get a wonderful insight into Uros life and a lesson on how the islands, complete with houses, schools and churches are constructed. Taquile, a small Quechua speaking island, is a place which couldn't be further from reality. Resembling a world which was left behind by time, Taquile, surrounded by deep azure waters is an island of agricultural terraces, a quaint central plaza and several small Inca ruins. On Taquile, the men of the island are well-known for their intricate hand-woven textiles, considered some of the finest in Peru. A full day ride aboard the luxury Andean Explorer train effortlessly connects southern Peru to the region of Cusco further north. From your base in Cusco, trips to all the best Inca archaeological attractions including the Sacred Valley and Machu Picchu are a straight-forward and simple affair.
Paul Jones is Managing Director of Totally Latin America.
If you would like to be a guest blogger on A Luxury Travel Blog in order to raise your profile, please contact us.