A little luxury in Colombo, Sri Lanka
"Walk down the stairs, it's good for you"; commands the late Cyril Gardiner with refreshing disparity directed at the modern (albeit fairly antiquated, in relative terms), golden escalator cage. From an alternative placard a frank (but fair), exchange continues; with Cyril's tart taunts against tobacco: "the ashes we find may well be yours". A temperamental old sod, the former custodian of Colombo's Galle Face Hotel, Mr Gardiner Esq, was my favourite kind of eccentric.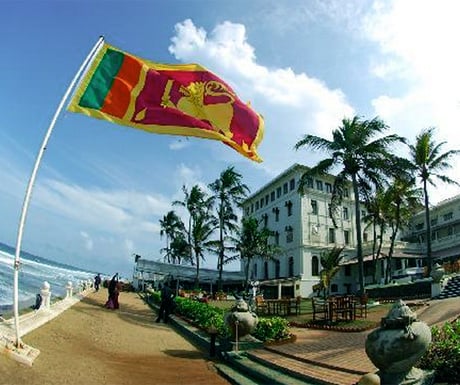 I was rather in awe of the Galle Face Hotel, the heart-achingly nostalgic, luxurious and colonial stalwart – dominating the shoreline of Sri Lanka's metropolis, Colombo. After 20 minutes at the hotel, I was increasingly fond of Cyril, and never more so than when proud, capitalised italics (information well-earned on a leisurely descent), boasted that the GFH was preserved in honour of "yesterday's charm and tomorrow's comfort", Cyril's ardent sense of history and heritage pleased me greatly.
I am rather possessive when it comes to the architectural vestiges of the Far Eastern Empires. Simultaneously stricken by imperial legacies of inextricable political conflict, my imagination tends to run riot when opportunities for nostalgia abound.  Andy understands this well, and was sweet enough not to raise his telephonic eyebrow when I spoke to him a week before, espousing typical enthusiastic and gesticulating exclaims. "It is a true bastion of historical soul", I announced with earnest melodrama, missing him hugely from my remote tree-top abode in Sigiriya's wilderness. Ever so excited about his imminent arrival (and a brief respite from jungle life), this initial sojourn in Colombo was planned for a long-awaited reunion.
Built in 1864, the Galle Face Hotel is the oldest hotel east of the Suez Canal, a significant designation amidst the evocative echoes of Portuguese, Dutch and British conquests. Beyond the imperial, she has stood her ground in the context of bitter, racial conflict, nationalist fanfares and sudden tsunamis; bearing witness to the dramatic changing political panoramas of Ceylon and modern Lanka. A solitary neighbouring watchtower now observes the chequered cocktail deck and saline swimming pool (another of Cyril's quirks), a constant reminder of recalcitrant LTTE vigilance and murky, contemporary, political regimes. It is upon this watchtower that a young member of the National Guard balances in earnest, enjoying his lookout over the leggy lovelies in the Hotel pool. We were presented with a chilling, albeit amusing, insight into two juxtaposed visions of Sri Lanka.
Standing on the seafront boulevard, mesmerised by the frontier of a torrid Indian Ocean; a huge sense of history overwhelmed us. Andy squeezed my hand. As the sun set over the adjacent Galle Face Green, the world was filled with flying kites, frantic tuk-tuks, children's chatter and sizzling patties. Sri Lanka's rehabilitation has begun, and with sincere, enduring and emblematic quality; what better vantage point for such transition.
We returned to our suite, which was bedecked with rattan furniture, squeaky bed and postcards from a yesteryear. Ascending the stairs with dogmatic Cyrilian commitment, we both started to giggle. Exhausted by analysis of sweeping, long-term landscapes, we settled for short-term and much more selfish sentiments: it was probably about time for that beer.
The Galle Face Hotel, is Sri Lanka's oldest hotel, located on the Galle Face Green in Colombo. Worthy of a sojourn, dalliance, or simple gin and tonic, this is a face of Sri Lanka which cannot be missed. Surprisingly affordable.
Did you enjoy this article?
Receive similar content direct to your inbox.