New Zealand's #1 ski destination
Sitting down for breakfast you look out the window at the breath-taking landscape. A beautiful blue Lake Wanaka contrasted with snow-capped mountain peaks. Sunshine is streaming through the glass heating your body as you eat your breakfast. Locally sourced organics eggs, toast and freshly squeezed juice. It's hard to believe its winter outside. Today is going to be a great day.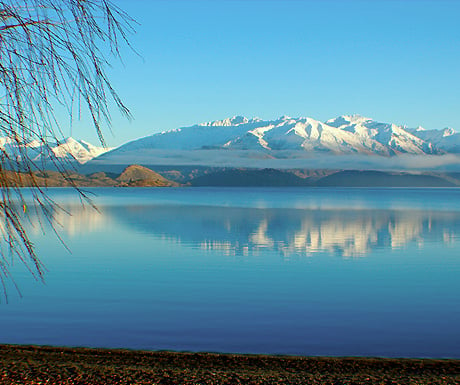 There is just something about the moment you put on your ski pants that gives you this exciting feeling inside. Checking you have everything, you do a quick head-to-toe check, goggles, gloves, and hat. You're ready. As you step outside, you breathe in the crisp, fresh, clean air. Then you hear it, the unmistakable 'thudding' sound of helicopter blades. Your ride is here. You step out onto the snow and the chopper flies off. Blue clear skies, just a light wind, and mountain peaks that seem to stretch forever are all you can comprehend. Your guide's voice slowly draws your attention, its time to ski.
It feels as if you are floating on the untouched powder snow, turns are made effortlessly as you make your way down the mountain. It's not a dream – it's real. You know this when your legs start to fatigue as the day draws to an end. Amazing snow and epic views have created an incredible day heli-skiing. Lake Wanaka is the perfect ski vacation destination and heli-skiing is the ideal compliment to your ski holiday. With five commercial ski resorts in the Southern Lakes region and several heli-skiing companies, it makes Lake Wanaka the ultimate place to base yourself. Stunning vistas, great New Zealand food and wine, world-class ski schools, awarding winning local ice-cream, and impeccable service. You won't be disappointed, it will be quite the opposite; you're never going to want leave.
Angela Schrider is Director at NZ Snow Tours.
If you would like to be a guest blogger on A Luxury Travel Blog in order to raise your profile, please contact us.
Did you enjoy this article?
Receive similar content direct to your inbox.