Vienna has a great deal to offer the luxury traveller and the Austrian capital comes into its own in January and February. The New Year marks the start of the magical ball season for which the city is famous and, as a further antidote to the January blues, the square in front of the neo-Gothic city hall transforms into a fairytale ice rink in late January. But those in search of a little more warmth and Gemütlichkeit need look no further than the nearest coffee house. At no other time of year do Vienna's cosy cafés offer quite such welcome refuge from the freezing temperatures outside. The unhurried atmosphere within might just encourage you to stay a while (and have that second slice of Apfelstrudel…).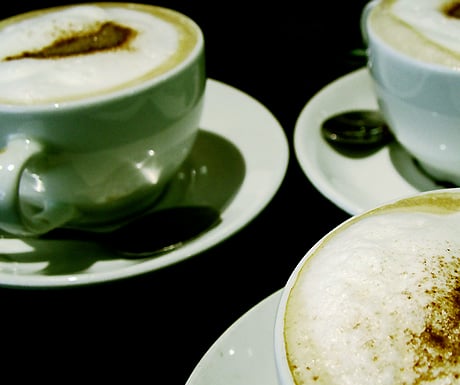 When it comes to coffee and cake, there really is no better destination. So put the kettle on, put your feet up and enjoy our top tips for where to go and what to order in Vienna.
The Einspänner
This quintessentially Viennese coffee is a real treat. It consists of piping hot black coffee topped with an alarming amount of cold whipped cream. This drink should not be stirred; the hot coffee should be drunk through the cream. The Einspänner is apparently so called because of the one-horse carriages of the same name: the carriage drivers used to hold on to the reins with one hand while nursing their coffee in the other. The layer of thick cream ensured that their coffee stayed warmer for longer.
Melange
The Melange is very popular with the locals and consists of one part coffee and one part milk and is crowned with a layer of frothed milk. As is the case with most coffees in Vienna, it is served on a small tablet with a glass of water.
Black or 'brown' coffee
If you have a hankering for a black coffee, order a kleiner (small) or a großer (large) Schwarzer. Those who prefer their coffee white should opt for a kleiner or großer Brauner. The latter usually comes with the milk or cream on the side, so it can be added according to taste.
Verlängerter
Similar to an Americano, the Verlängerter is a black coffee made with a shot of espresso and then topped up with hot water to make a longer drink.
Sachertorte
This delicate chocolate cake with its contrasting apricot marmalade filling simply has to be tried during any visit to Vienna. Enjoy with a generous helping of cream. Both Café Sacher and Demel claim to have created the 'original' Sachertorte. Why not try it in both coffee houses and decide for yourself which one you prefer? See below for more information on both.
Apfelstrudel
Apfelstrudel is the perfect accompaniment to any coffee. The apple filling also contains raisins and a hint of cinnamon. Strudel is usually served with a dusting of icing sugar.
Esterházy Schnitte
This cream cake was developed in Budapest at the beginning of the 20th Century and is named after Paul III Anton, Prince Esterházy, a member of the Hungarian nobility. It remains hugely popular in both Austria and Hungary. The Esterházy slice is made up of layers of sponge and butter cream and topped with white icing.
Kaiserschmarrn
Reputedly named after Emperor (Kaiser) Francis Joseph I, this typically Austrian dessert is made of thick pancake that has been shredded into small pieces. It is best served with icing sugar and Apfelmus (puréed apple sauce).
Coffee houses

This is a list of our favourite Kaffeehäuser, but cafés can be found on almost every street in Vienna and wherever you go, you are unlikely to be disappointed. We have also included information on the nearest underground station for each coffee house, to make it a bit easier for you to find them.
Café Sacher, Philharmonikerstr. 4 (Karlsplatz U1/U2/U4)
Demel, Kohlmarkt 14 (Herrengasse U3)
Café Central, Herrengasse / Strauchgasse (Herrengasse U3)
Café Landtmann, Universitätsring 4 (Schottentor U2)
Aïda – this chain of charming coffee houses now boasts more than 25 cafés in and around Vienna. Our favourite is on the corner of Währinger Straße and Kolingasse, opposite the stunning Votivkirche (Schottentor U2).
William Forshaw is Managing Director at Maxwell Scott.
If you would like to be a guest blogger on A Luxury Travel Blog in order to raise your profile, please contact us.