By
Dan Balchin
on Jan 21, 2013 in
Accommodation
,
Europe
,
Featured
,
France
,
Hotels
,
Leisure Travel
,
Regions
,
Speciality Travel
,
Switzerland
,
Vacation Rentals
,
Western Europe
Skiing can be a pretty glamorous experience from the outset (if you ignore the pulled muscles and slushy boots of course), but if you're heading out to the slopes this season and want to go the extra mile when it comes to accommodation, then you may be in need of some inspiration. Whether you're looking for opulent furnishings, enormous chalets, private hot tubs, your own ice rink, or some of the most spectacular mountain views in Europe; there's luxurious ski accommodation to be found.
Read on for a selection of some of our favourite ski cabins in the world.
Chalet Grace, Zermatt
If your idea of a great ski chalet is one with its own cinema, wellness space, sauna and games room, then Chalet Grace may well be the option for you. This luxuriously decorated pad is decked out with everything from antique furniture to roaring fires and fabulous views of the Matterhorn. Of course, accommodation of this standard doesn't come cheap but with room for a party of ten, at least you can share the £65,000 a week fee between more of you.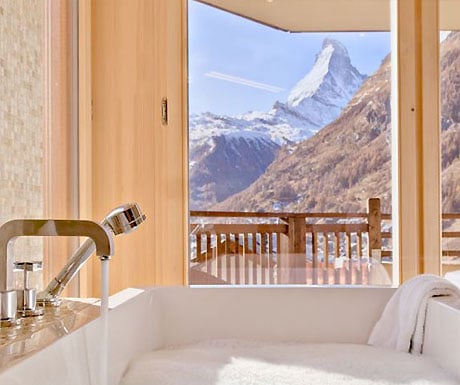 Chesetta, St Moritz
For those who like their chalets with a townhouse interior, the Chesetta in Switzerland is the perfect choice. Elegant furnishings complete with priceless oil paintings, numerous antiques (maybe not the place to have a drunken après ski party…) and its own sauna and steam room make this a pretty attractive crash-pad. Of course the Chesetta also has its own team of staff ready to wait on you hand and foot and it's this that makes the experience particularly luxurious. A week here will set you back a mere £69,000.
Val d'Isere is an area that is renowned for its incredible après ski and so it makes sense that the chalets here would be geared up for a party. The incredibly opulent Marco Polo is exactly the right place to book if you're looking to put on a show, as it comes with a dedicated party area that's ready equipped with lasers, smoke machine and a comprehensive entertainment system. Then there's the outdoor heated kitchen – perfect for those who have a habit of burning the toast – and the gold leaf clad swimming pool. All this luxury can be secured at a fee of £71,430 a week.
The Lodge, Verbier
£94,000 in Verbier will buy you seven days at The Lodge; a rather plush chalet that just happens to be Richard Branson's latest property. If you're determined to have your own mini ice rink, 12-person hot tub, games room and cinema, as well as a dance floor area complete with glitter-balls, then this is the one for you. Bearded billionaire not included.
Aurelio Clubhouse, Lech
Whilst the usual prerequisite for preparing for your ski holiday & securing your accommodation might be to pay a deposit or hand over the money to a friend who's booking on your behalf, if you want to stay at Aurelio Clubhouse then you're going to need to be personally approved by the owner. If you pass the approval test then you can expect a 'no expenses spared holiday in the Austrian Alps,' complete with massage room, heated pool and an extensive team of staff. Of course, as well as passing the approval test you will need to have £117,085 to spare…
These luxurious ski cabins are some of the most unusual and decadent in the world. Whether you're looking for your own mini-club or somewhere with the benefit of peace and quiet and uninterrupted views – as long as you've got the funds to pay for it, it's bound to be available.
Dan Balchin is Director at Insure & Away.
If you would like to be a guest blogger on A Luxury Travel Blog in order to raise your profile, please contact us.