Biking is, hands down, the best way to travel. It allows you to go at your own pace, engage your surroundings with all your senses, and become fully immersed in the minutiae that define a place. But where to ride when you get there can be a challenge, particularly in a place so consistently beautiful as Tuscany. Fortunately, after more than 17 years of cycling here, we've found the best the region has to offer, no matter what type of cyclist you are.
Montalcino
While many already know the town Montalcino for its prestigious Brunello wines and its vintners who regularly score high in 90's on Wine Spectator, cyclists seeking routes through Tuscany often overlook this gem. But it is not to be missed. Montalcino rests atop a gradual eight-kilometer climb that features stunning views of the valley floor below. As you snake up toward the stunning city, it peaks into and out of view, beckoning you to reach it. From the top, there are a number of exhilarating descents to choose from, leading to cities like Buonconvento, Torrenieri, and Castelnuovo dell'Abate.
En route to Montalcino you'll pass esteemed vineyards like Casanuova dei Neri and Biondi Santi. These vineyards turn to wheat-covered plains as you descend from Montalcino, and in any direction you choose to travel you are in for a treat. Head north in the direction of Siena and the Crete Senesi, or south towards Monte Amiata and the Val d'Orcia.
Pienza and the Val d'Orcia
A wondrous Renaissance city designed by Pope Pius II and now a UNESCO World Heritage site, Pienza is one of the most prized cities in Tuscany. It is a living museum whose walls prominently display their history. Stroll its central piazza, where you'll spot a variety of different architectural styles from the Renaissance, as well as bullet holes left during WWII.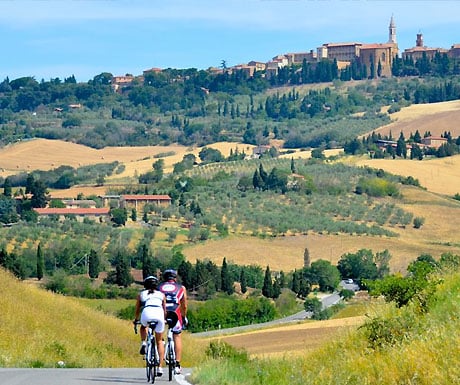 For the foodies among us, Pienza is worth the visit for its famed pecorino cheese shops alone. But the views, history, architecture, and wines are all equally worth the trip. Cycling in this area is outrageously good, as you can easily visit Montepulciano to sample some Vino Nobile or head over to Petroio to sample its award-winning olive oil. If you're looking for a challenge, the soaring Monte Amiata, the highest peak in Tuscany, and its 27 kilometers of climbing beckon to you from across the Val d'Orcia. The wide range of cycling terrain available from Pienza makes this town a great place to visit for cyclists of every ability level.
Siena and the Crete Senesi
Close your eyes and imagine Tuscany? What is the first thing you see? Open them up, and it is probably this: the Crete Senesi. Some of the most picturesque riding in all of Italy, the ridges to the south of Siena are well known within the cycling community, frequented by avid, casual, and professional cyclists alike. The landscape constantly changes with the seasons, making it a unique experience throughout the year. A stair-stepping 12-kilometer ascent from the small town of Asciano lands you on top of the ridgeline, from which the view is simply breathtaking. Cascading off to either side are clay fields and, depending on the season, tall, sandy-colored crops of hay or pastures of deep green.
Descend down to the town of Arbia, where you can continue your ride up into the city of Siena, through the iconic Porta Romana and into the central piazza for a well-deserved espresso. If you decide to spend a few days in Siena, there is superlative cycling to the west of the city. Head toward Casciano and Monticiano, stopping along the way to visit the Abbey of San Galgano, a roofless abbey that now hosts wonderful operas and concerts when the weather permits. The return route features a stunning descent to the town of Rosia before climbing back up to Siena. At night, visit the Osteria del Gato near Porto San Marco.
Chianti
This sub-region of Tuscany is known for its rolling hills, dense forests, and, most famously, its signature red wines, the Chianti Classico. Chianti offers a wide range of terrain for cyclists to take advantage of, and its roads are well maintained and as smooth as any in the world. The major towns of Radda, Greve, and Castellina in Chianti are interconnected by a series of pristine cycling routes, making it easy to experience the very best of the Chianti Classico region.
For oenophiles, San Felice is the perfect stop for a delectable wine tasting. The vineyard's estate is also a luxurious hotel perched right amongst the vineyards, the consummate Tuscan experience. For a more challenging ride in the area, the 12-kilometer Monteluco awaits, a difficult ascent that offers stunning panoramas from the top of the ridge. Ascend either from San Felice by way of San Gusme or from Gaiole. Lengthen the ride with a descent all the way to Montevarchi before climbing back up to Radda or Gaiole in Chianti.
Lucca and the Apuane Mountains
Isolated from southern Tuscany by the Apuane Mountains, Lucca is cycling paradise. While much of Tuscany is characterized by rolling hills, wheat fields, and cypress pines, Lucca is marked by steep climbs, high peaks, and quiet valleys. It is barely frequented by tourists, but cyclists abound. It is not uncommon to see many pro riders sharing the otherwise quiet roads with you, unbothered by the traffic of visitors driving from one destination to the next.
Lucca is the ideal destination in which to base your stay, as there are a myriad of options for outrageously satisfying food and exceptional lodging right within the city, and even more options for exploration outside of its walls. The city walls themselves offer a beautiful promenade from which to admire the city below. Setting out through the gates on bike, explore the surrounding hillside villages or ride along the valley floor for a more leisurely experience. Either way, the cycling here is unrivaled.
Andy Levine is the President/Founder of DuVine Cycling + Adventure Co.
If you would like to be a guest blogger on A Luxury Travel Blog in order to raise your profile, please contact us.