By
Paul Johnson
on Jan 24, 2013 in
Accessories
,
Clothing
,
Europe
,
Featured
,
Gadgets
,
Italy
,
Luggage
,
Regions
,
Road Travel
,
Speciality Travel
,
Travel Equipment
,
United Kingdom
,
Western Europe
,
Worldwide
Our top 10 Christmas round-up of gift ideas proved to be such a huge success that we thought we'd run with something similar for Valentine's Day. Whether you are buying for him or for her, we hope you'll find something here to give you inspiration. And so, without further ado, here are 10 luxurious ideas to spoil your travel-obsessed loved one.
Say it with flowers with iflorist
Flowers always go down well and sending flowers globally has never been easier than with iflorist, delivering flowers to over 140 countries. Whether you're staying in a hotel or you're just at home planning your next trip, their range includes a rose and lily bouquet from under £20 through to a stunning mass of 48 large red roses for £350 (search for 'Juliet') which is sure to leave any recipient in awe.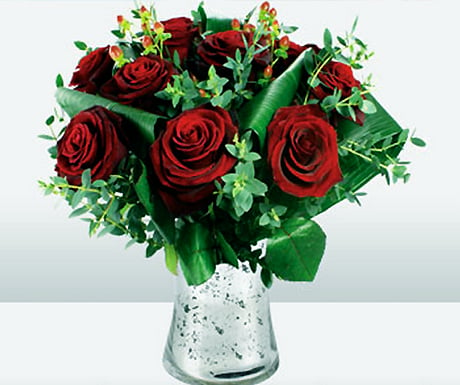 iflorist also have an extensive range of wines, Champagne, balloons, chocolates and hampers.
Ladies' Calatrava Travel Time from Patek Philippe
This beautiful watch from Patek Philippe is not just a pretty face. It's also a stylish travel accessory with a second time zone indicated by the skeleton hour hand with a 24 hour sub-dial which allows you to tell whether the second time zone is in AM or PM. It comes in a 36mm 18K yellow gold case, with a sapphire crystal back, a manual winding caliber 215 PS FUS 24H movement and approximately 44 hours of power reserve. This lovely piece is water resistant to 30 metres and costs $27,400.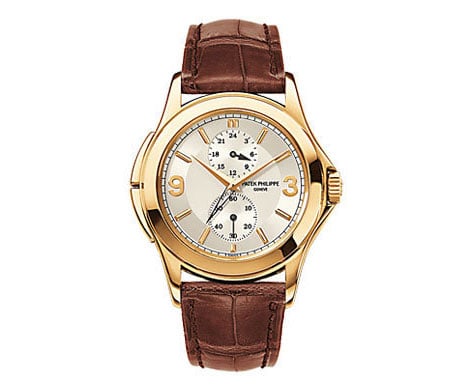 Persephone silver chain mail necklace from Corazon Latino
When it comes to Valentine's Day, nothing says "I love you" like jewellery, and nothing says "I really love you" like a piece of handmade silver jewellery from Corazon Latino. Chic and contemporary, the Persephone silver chain mail necklace has to be one of the most versatile pieces of jewellery you'll find. A stunning, knitted length of silver mesh, it can be tied in any style to suit any neckline. You can even wrap round a wrist or bicep or use it to decorate an elaborate chignon. Each necklace is handmade in Northern Thailand and available exclusively online from Corazon Latino. Available in 2 lengths (88cm and a massive 100cm) from £425 it is a piece of jewellery she will never forget.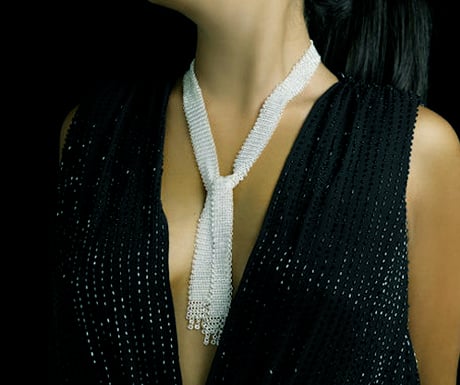 Cordeliyah Kimono from Agent Provocateur
Tranform your Valentine into a midnight goddess in luxurious layers of feminine navy silk and the softest navy and gold French leavers lace, delicately finished with gold detailing. The Cordeliyah Kimono costs £1,950 from Agent Provocateur and is the perfect combination of lingerie and nightwear – revealing enough for true seduction.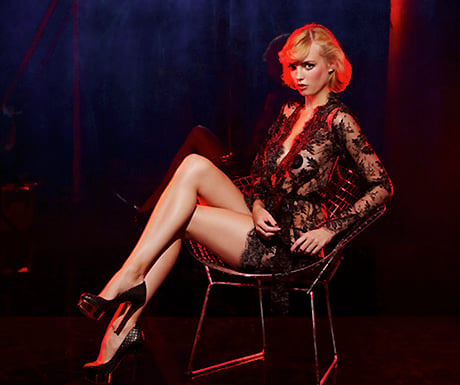 Claudia handbag from Maxwell Scott
Maxwell Scott's 'Claudia' handbag is the perfect Valentine's Day gift for the stylish lady in your life. Made in Italy, this stunning leather bag has been handcrafted from the finest vegetable-tanned hides. A leather bag of this quality is a real investment piece as the leather will improve with age, becoming softer in texture and richer in colour. It will also develop its own unique patina over the years. Thanks to its strength and durability, the 'Claudia' lends itself to day-to-day use, but really comes into its own as an evening accessory. It is the attention to detail that sets this handbag apart from the rest: from the attractive postman's lock on the front of the bag to the organiser panel for phone and pens in the inner lining, this bag has it all. The 'Claudia' is available in chestnut tan, deep chocolate brown and black, and costs £299.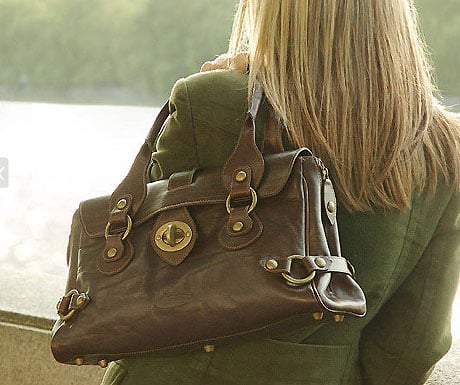 Mumbai tassel bandeau bikini by Heidi Klein
Red is the hottest shade for Valentine's Day and perfect for fuelling the fire for a winter sun getaway. Warm up your skin with rays of sunshine and bursts of colour, with the scorching hot heidi klein Mumbai collection. The Mumbai bandeau tassel bikini is an elegant and stylish piece ideal for blazing exotic destinations, and can be yours for £180.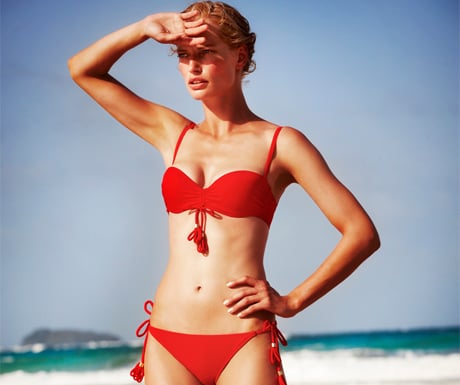 The tassel details add a playful element to classic style, while the red chilli hues are not to be missed this February 14th. The Mumbai collection is versatile and chic so choose from fiery styles to suit you, from skimpy tie sides to D-G wonders. Add a flowing maxi dress to your holiday suitcase for day to evening vibrance.
And don't forget him!
Après-ski socks from Marko John's
Marko John's socks are made in England, by a family-run business that's been making the finest British socks since 1895. They are hand-linked, for a seamless toe. Worn in the city, the country, and in chalets around the world, Marko John's have created three beautiful après-ski designs inspired by iconic ski resorts: Whistler, Chamonix and Kitzbühel. With their seamless toe Marko John's (often referred to by fans as "MJs") are perfect for tired feet after a hard day's skiing.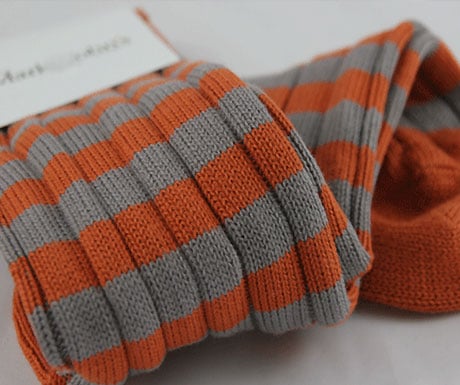 Whether it's Chamonix MJs' classic ski knit red and cream, Whistler MJs' contemporary mix of grey and orange, or Kitzbühel's greys and greens, these MJs are all ideally matched with chalets, sofas and aperitifs! Chamonix, Whistler and Kitzbühel are available individually for £12 per pair, including first class postage in the UK.  If you're heading off on a week's ski holiday try an MJ's gift box loaded with 7 pairs of the finest hand-linked British socks. A wonderful Valentine's gift, to ensure the special person in your life doesn't get cold feet!
An experience on the James Bond Sunseeker with Diplomat Cruises
This Valentine's Day give the gift of an experience on board a private yacht cruise on the River Thames. Diplomat Cruises offers the Romantic Thames Cruise – a two and a half hour bespoke cruise on board Shaken Not Stirred, the actual Sunseeker Superhawk from the speedboat chase sequence in the James Bond film 'The World is Not Enough'. She was also a featured boat in the Queen's Diamond Jubilee River Pageant 2012. Complimentary Champagne, canapés, chocolates, a bespoke music selection, bespoke itinerary and planning, a dedicated hostess to keep the bubbly flowing and a highly experienced captain (who incidentally, is also the Waterman to the Queen) are also included in this experience. To book your private Romantic Thames Cruise, visit Diplomat Cruises. A 2.5 hour exclusive charter cruise costs £849 and includes a bottle of Champagne, canapés and chocolate, all served by the on-board hostess, plus a historical commentary from the captain.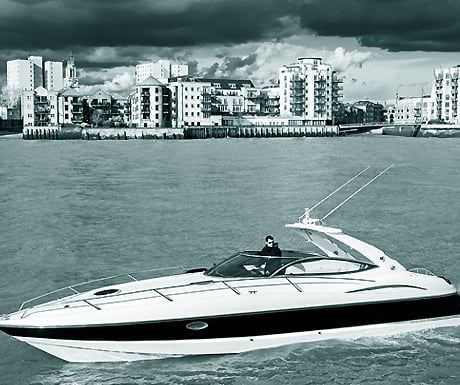 Toiletries from Scaramouche & Fandango
Designed with the modern man in mind, Scaramouche and Fandango products are made to fit in with this lifestyle. Specifically formulated to tackle stress full lives, Scaramouche and Fandango products counteract these effects, as well as reduce signs of fatigue. So whether you are recovering from jet lag or just putting up with an early start from the night before, you'll still feel and look fresh for your Valentine.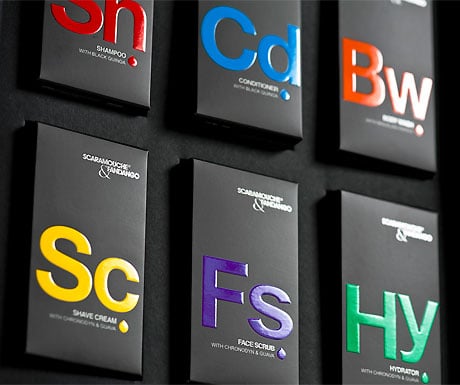 The bottles are specifically chosen to be rigid and durable, whilst being malleable enough to get that last drop of product out of the bottle. That said, you shouldn't ever have to reach that stage, the subscriptions service can resend products regularly to ensure it never runs out. Furthermore, are all 100ml, so can be taken in hand luggage, and are perfectly shaped to fit through letterboxes, your favourite products waiting on the doorstep. That's Scaramouche and Fandango Simplicity.
Self-drive tours of Italy by Ferrari or Maserati by Bridgewater Travel
Bridgewater Idyllic Italy is offering supercar tours of Italy by Ferrari, Maserati, Lamborghini or Alfa Romeo. Put yourself at the wheel or choose to be chauffeured in style. This is a new definition of luxury for the most discerning of travellers! The tour can begin from the hilltop towns of Pienza and Montepulciano, from the shores of Lake Como or amid the cityscapes of Siena, Florence or Rome. Bridgewater's unique self-driving tour packages are in conjunction with Red Travel who are officially recognised by Ferrari and because of this they can often organise tours of the factory!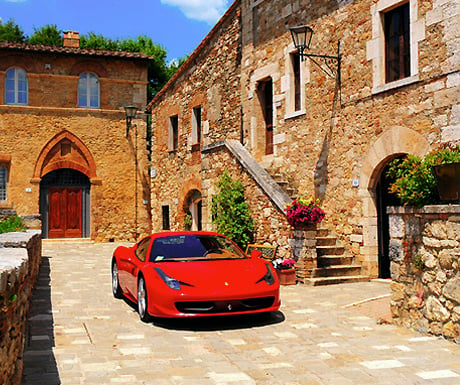 The Ferrari Tour of Italy is a unique journey, individually created for you to fully experience the Italian Way of Life. Each Ferrari trip in Italy is a subtle blend of art, gastronomy, fashion, architecture, and spectacular scenery. It's ideal for couples in search of the ultimate romantic getaway. The perfect valentines gift for the man who has everything!
The journeys are available in 1- to 8-day packages (priced from £3,800 and £24,550 for 2 people, respectively) and can be tailored to your requirements, possibly including yachting, golfing, hot-air ballooning, transfers by private jet as well as visits to most exclusive locations (wine estates, castles, etc.).