More than ever, nature-loving travellers are seeking spectacular get-away destinations that offer outdoor adventures and breathtaking scenery, as well as luxurious accommodation and great food plus those special extras that make for a truly memorable experience.
With this trend gaining momentum for some time now, some of the most picturesque locations around the world and in Australia are experiencing growing demand that I had to see for myself what the hype is all about.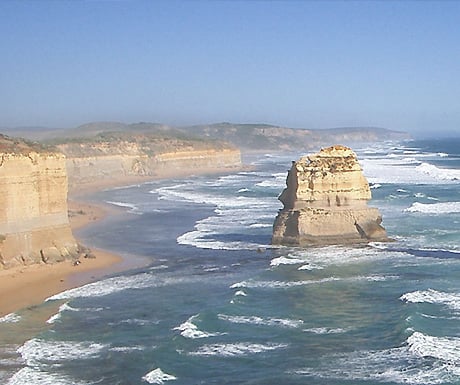 One location that has been attracting countless visitors from the world over is Otway's Great Ocean Walk on the iconic southern coastline of Victoria along the Great Ocean Road, Australia. Being a nature lover at heart with a thing for the finer things in life, I dusted off my hiking boots and paid a visit.
Brought to international acclaim by the 2010 National Geographic documentary The Art of Walking featuring John Francis, 'The Planet Walker', and companions former German Olympic figure skater Katarina Witt, and Australian Paralympic skier Michael Milton, the Great Ocean Walk has become one of the most sought after destinations in Australia for nature-loving and walking enthusiasts alike.
And, since the area offers some pretty unique luxury accommodation, I was up for the challenge…
The 104 km long Great Ocean Walk winds itself along some of Australia's most rugged and spectacular coastline from Apollo Bay (2 hours south of Melbourne) to the world renowned Twelve Apostles, offering nature lovers and walkers of all levels a truly unforgettable and awe-inspiring experience.
Passionate walker Andrew Reynolds and founder of Australian Walking Tours, one of Victoria's leading eco-certified walking tour operators, describes the Great Ocean Walk as "one of the best in the world". Having walked most tracks Down-Under he still considers the Great Ocean Walk the "Jewel in the Crown."
I found 'Luxury Walking' who offer Great Ocean Walk adventures in style, combining the very best in accommodation and culinary indulgence with personally guided walks to meet the demand from discerning travellers (like myself) wanting to experience the Great Ocean Walk with a touch of luxury.
Staying at the unique 'Moonlight Escape' luxury accommodation designed by Pfizer award-winning Australian architect Glenn Murcutt sure was the luxury highlight of the adventure. Murcutt co-designed the private luxury lodges (3) to blend into the natural landscape, while integrating passive solar design principles and energy-efficiency standards, yet creating unusually bold spaces of clean lines and simplicity featuring ultra-modern elements such as floor-mood-lighting. The lodge was sparsely filled with a tasteful selection of European designer furniture a massive big fire place and the very best in high-tech entertainment systems.
And, we were personally catered for and indulged in scrumptious three-course dinners sourced from regional organic produce and prepared by our very own personal chef, accompanied by local artisan cheeses, wine and craft beer which we sipped away in front of the roaring fire. Combine this with personally tailored walking trips that led us along selected highlights of the Great Ocean Walk, from the simple pathways to reach awe inspiring lookouts, to demanding climbs over rugged tracks to get right down to the beaches, it all proofed to be the right mix of nature and nurture.
Total relaxation was assured as I gazed at the stars from the oversized free-standing bath tub after a good day of walking and woke to the sunrise in one of the only Savoir beds to be found 'Down Under'. Add to that the delight of spotting some of Australia's unique wildlife such as Koalas and Wallabies right from my super-comfy bed, and I knew why it is called 'Luxury Walking'.
Their motto 'It's all about You' means that the packages are totally tailored to suit your group or family – from when you stay and for how long, to how much you walk, to your choice of wine and culinary delights. I love nature and don't mind a walk, but the food and wine were really what completed this experience for me.
I had booked in with an eclectic bunch of good friends that varied greatly in their passion for nature, good wine and simply relaxing in luxury – and we all got our share. So, whether you are coming with the family or as a couple, are a keen walker or more into food and wine, Moonlight Escape will be a great spot to stay and explore the Great Ocean Walk from.
Luxury Walking packages range from one to three nights (4-8 people) with pricing starting from $795 per person. Only a picturesque 2 hour drive from Melbourne International Airport, 'Moonlight Escape' plays host even if you want to skip the walking, although the coast line sure is worth a look… especially the Twelve Apostles – one of nature's (still standing) wonders.