Rio de Janeiro, Brazil has long been celebrated for its natural beauty and as the home to the most spectacular of all Carnival celebrations. As you can imagine, Rio locals (known as Cariocas to their friends) are a lively bunch who like nothing better than to gather with friends at the end of the day, drink a cold Chopp (draught beer) munch on a Pasteis (A crescent moon shaped pastry filled with prawns, cheese or meat) and discuss the latest football results. Bar culture is huge in Rio, which means there is a bar to suite almost every mood and occasion.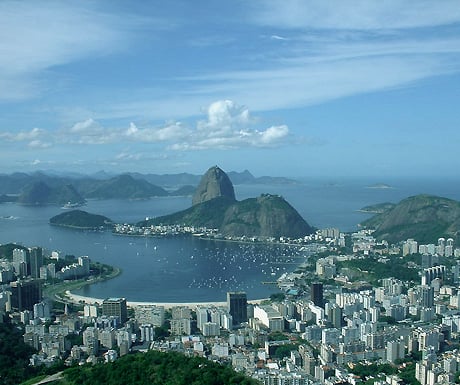 Here are our suggestions of where to go when the mood strikes:
Sipping at sunset?
Head to one of the beach side tables at Azul Marinho for chilled white wine and delicious seafood snacks. Situated on a pedestrian walkway right next to the rocks at Arpoador, the Carioca's favorite sunset spot. Here you have an unspoilt view of the sunset and the length of Ipanema beach. For an even more relaxed approach to sunset drinking, head to Arpoador and buy a beer or a caipirinha from one of the beach side vendors, a short walk up onto the rocks and you can take your place, perched among the locals who gather daily to watch the surfers and the sun go down.
Hiked up Sugar Loaf and need an afternoon pick me up?
Rest your feet at charming Bar Urca. Overlooking the Urca marina, this traditional bar with a relaxed vibe serves cold beer and great caipirinhas alongside a beautiful view of the sea and Sugar Loaf. Most patrons sit on the long stone wall of the marina opposite the bar and catch up on the days events with friends. Make sure you try one of the bars famous Pasteis.
Stickler for tradition?
Bar do Gomez dominates a small crossroad in cobbled Santa Teresa. Beyond doubt, it is among the best of the traditional botecos in Rio and the perfect stop-off point while exploring the area. Founded at the start of the 19th Century as a grocery store the bar maintains its old wooden store fittings. Choose a table in the corner or stand on the street to better take in the antics of the mainly local crowd. Best for beer and traditional bar snacks, but also has a pretty good wine list.
Experimental cocktails more your thing?
If you have had just about enough of the traditional caipirinha, chic Londra, in the basement of the Fasano hotel is a good nightclub/lounge in which to get your Martini fix, as well as a host of traditional cocktails with a masterful Rio twist. For good service and pre-dinner cocktails, Astor next door serves wonderful Brazilian cocktails employing a range of exotic fruits and is a grand master at the old favorites too. Try the vodka and caju juice cocktail a surprising delight.
5am and you're still thirsty?
No problem. Rio has an answer to most problems. Head to Jobi in Leblon for mindblowing (quite literally) caipirinhas and cool chopp served until the last people leave, well after sunrise…
When only Champagne will do…
Due to the climate – both literal and economic – good Champagne is harder to get your hands on than you would think in Rio. The Copacabana Palace Hotel has a luxurious poolside bar which serves the bubbly stuff but for a more local experience head to Champanharia Ovelha Negra in Botofogo (week nights only) for a large selection of Champagne and sparkling wine. The best place to raise a glass has to be the Verve Cliquot poolside bar at The Santa Teresa Hotel, with views over the city and Guanabara bay and sounds from the Tijuca forest surrounding you.
Emma Walsh-Knutson is the Marketing and Communications Director at WhereInRio Luxury Real Estate.
If you would like to be a guest blogger on A Luxury Travel Blog in order to raise your profile, please contact us.