By
Tom Marchant
on Feb 05, 2013 in
Accommodation
,
Africa
,
Asia
,
Australia
,
Bahamas
,
British Virgin Islands
,
Caribbean
,
Europe
,
Fiji
,
Indonesia
,
Maldives
,
Oceania
,
Pacific Islands
,
Regions
,
Resorts
,
Seychelles
,
Spain
,
Western Europe
,
Worldwide
Privacy and exclusivity often rank high on a luxury traveller's list of priorities. For those looking for something truly indulgent, discrete and filled with luxury, we have compiled a list of the most extravagant private island resorts in the world. These islands offer the ultimate in privacy and exclusivity. Beginning at a paltry £100,000 and quickly soaring to incredible heights, this list is so exclusive that Richard Branson's fabled Necker Island barely managed to crack the top five.
(Prices are approximate and fluctuate dependent on season and number of guests. Stated prices are for a 7-night stay and include the cost of exclusive use of the island.)
1. North Island, Seychelles (starting from £340,000)
Making headlines in 2011 as the Duke and Duchess of Cambridge's Royal honeymoon destination, North Island has developed a reputation as the most luxurious in the Indian Ocean with a price tag to match.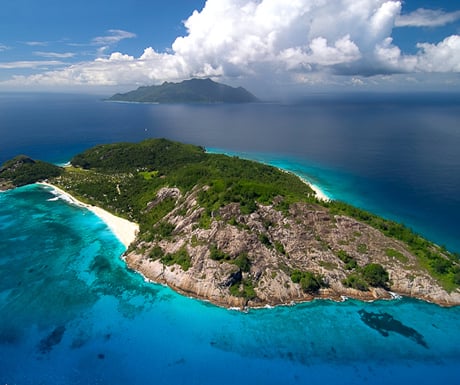 Renting out the entire island grants you exclusive access to 11 villas, all boasting giant terraces with panoramic ocean views, a private butler and island buggy, with the piece de resistance being Villa 11, the 8,000 square foot, and completely isolated villa with an oversized bath made for two and the best views on the island, pure extravagance. Powdery, white-sand beaches line the east and west side of the island while a library, spa, gym, helipad and activity centre are all at your disposal. The island has a no menu policy; instead the chef meets with guest and creates meals based on their tastes and preferences. North Island offers high-end extravagance in a uniquely desert island environment – a true definition of barefoot luxury.
2. Motu Tane, French Polynesia (starting from £238,000)
If a luxury resort in Bora Bora doesn't quite meet your standards of exclusivity, a 10-minute boat ride from the main island, across the most beautiful lagoon in French Polynesia, brings you to the private island resort of Motu Tane.
The tiny three-acre island is covered mostly in tropical forest and surrounded completely by pristine white-sand beaches. Motu Tane is exclusively rented out to one group at a time which allows for accommodations of up to 26 people in a mix of impeccably designed thatched roofed master and guest suites. Island rental includes exclusive use of the hotel's 36ft boat for exploring local islands, snorkelling the crystal clear waters and scuba diving through the pristine reefs of Bora Bora. Preparing all meals is your own private chef ready to arrange beach barbecues, torch-lit dinners and Tahitian feasts at your request.
3. Turtle Island, Fiji (starting from £210,000)
500-acres and 14 beaches make up Turtle Island just 30 minutes by floatplane from the main island of Fiji. Each of Turtle Island's 14 cottages or 'bures' including the Brooke bure (named after former guest Brooke Shields) is managed by a bure Mama who acts as a personal assistant and caretaker for guests.
The luxury cottages overlook the tranquil waters of the island's blue lagoon, a perfect natural cove for swimming. The resort provides guests with horses and mountain bikes to explore the vast landscape and diverse flora and fauna found on the island. Private meals on secluded beaches or family style dinners with your entire group are just some of your dining options, while a mountaintop dinner overlooking the entire island at sunset will have you feeling like the king/queen of your very own island nation.
4. Necker Island, British Virgin Islands (starting from £204,500)
One of the largest of the British Virgin Islands, Necker Island is only available for hire during specially selected weeks of the year. The island's 74 acres of pure white sand is topped by a tropical forest of emerald green palms. Renting out the entire island ensures access to Temple House, Sir Branson's very own private home where you can drift in the huge freshwater infinity pool and enjoy the gorgeous sea view from your free-standing marble bath.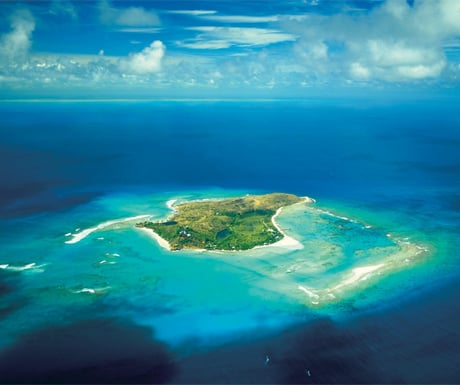 The island even has its own 3-person submarine which you can take for a spin in the impossibly clear Caribbean waters. Michelin-trained chefs are at your beck and call, ready to provide gourmet dinners or champagne breakfasts anywhere, anytime.
5. Tagomago Island, Spain (starting from £185,000)
Private islands are a rarity in the Mediterranean, but truly unique is a private island offering unparalleled peace and privacy just ten minutes from Ibiza. Tagomago Island, measuring just 1.5km by 0.87km and surrounded by breathtakingly turquoise waters is highlighted by a single, contemporary and spacious villa equipped to house no more than ten guests.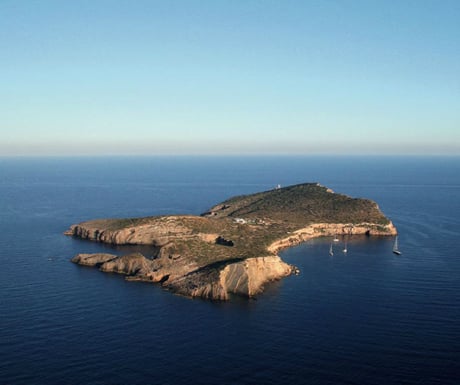 The island is covered by an unspoiled nature and bird reserve with a landscape of rocky cliffs and wild pine trees. A pathway to the west side of the small island leads to a completely isolated beach perfect for swimming, snorkelling and all forms of water activities. The island's private helipad and port make getting on and off the island uncomplicated. Spend nights taking in the legendary night life of Ibiza all the while knowing that your own private sanctuary is just a 10 minute boat ride away.
6. Musha Cay, The Bahamas (starting from £182,000)
Owned by world-renowned illusionist David Copperfield, Musha Cay is one of eleven islands located on the aptly titled Copperfield Bay. A 45-minute chartered flight from Nassau brings you directly to this secluded area of the Caribbean and onto the island's own private runway. The island's five guest houses accommodate up to 24 guests.
Perched atop the island's highest point is the 10,000-square foot Highview guest house which features panoramic views of Musha Cay and the surrounding uninhabited islands that dot the impossibly blue waters of Copperfield Bay. You can't miss the prepared picnic lunch on the picturesque sandbar. Located minutes from the island, the thin strip of white sand appears only at low tide. At night, the outdoor theatre billed as 'Dave's Drive-in' allows guests to enjoy films right on the beach, underneath the stars.
7. Coco Prive Kuda Hithi Island, Maldives (starting from £157,500)
Coco Prive is an intimate 13,000-square foot island offering complete privacy amongst tropical flora, soaring palms, white sand beach and turquoise waters. 10-minutes by seaplane from Malé International Airport in the Maldives, the island's master residence and five guest residences can accommodate up to 12 guests. The two-level master residence houses a spacious open bedroom, a large master bath and an even larger open deck with Jacuzzi overlooking the Indian Ocean.
The island's infinity pool runs the whole length of the beach and a separate pool area is partially covered by an overhead hanging garden which is highlighted by a roaring fire in the centre. Dining options are limitless with a chef and staff ready to prepare any dish at the guest's request. The on-site sommelier will ensure the perfect wine pairings to accompany your meals. If eating on the island gets tiresome, a boat can take you to the nearby Coco Bodu Hithi for dining at one of their five fine dining restaurants – all included in the rental price.
8. Orpheus Island, Australia (starting from £145,500)
The secluded Orpheus Island on the waters of the Great Barrier Reef is home to a protected national park and surrounded by a World Heritage listed Marine Park. Renting out the resort ensures exclusive access to the island's protected land which is covered in dense forests and wildlife including echidnas, bandicoots, green tree frogs, ospreys and sea eagles. More importantly, you will have untouched sections of the Great Barrier Reef to discover right outside your lodge.
Guided scuba and snorkelling expedition to the waters and coral reefs surrounding Orpheus Island will be arranged in the resort's custom-built dive boat. All rooms, suites and villas face the beach of the serene Hazard Bay on the western-side of the island with accommodations for up to 42 guests. The executive chef prepares a fresh daily menu of contemporary, locally-sourced, and freshly caught and grown seasonal fare paired with regional wines and beers. Choose to dine in the luxurious open-air restaurant, on the island's private jetty under the stars or sail off to a secluded bay.
9. The Rania Experience, Maldives (starting from £131,000)
A walk around this tiny island paradise will last less than eight minutes but with its location in the centre lagoon of the Faafu Atoll, the calm and tranquil waters will truly make you feel as if time has stood still. A 30-minute floatplane from Malé International Airport in the Maldives brings you to the tiny private island meant for single groups of no more than 12 guests.
Upon arrival you will be welcomed with unlimited a-la-carte dining and spa treatments wherever and whenever you want. Activities include fishing with a Maldivian crew and diving with a PADI qualified Dive Master. Island rental comes with exclusive use of an 86ft yacht containing a large lounge, an outdoor whirlpool and dining areas in the cabin and on the deck. The cruiser's three spacious bedrooms allow guests to take overnight excursions to explore the neighbouring islands.
10. Amanwana, Indonesia (starting from £111,000)
Amanwana is the only resort on the protected nature and marine reserve of Moyo Island. Located just east of Bali, the 350-square kilometre island is surrounded by turquoise waters and untouched reefs making it the ideal location for diving and snorkelling with the resort's PADI certified Dive Master. Renting out the entire resort allows exclusive access to the protected park where vegetation ranges from savannah to tropical jungle and waterfalls. Fresh water pools make way for wild boar, macaque monkeys, sea eagles, osprey and the indigenous Rusa Deer.
Only 20 luxury tents make up Amanwana with a choice between beach-front ocean tents (literally steps from the ocean), or secluded jungle tents hidden deep within the jungle canopy. With 58-square metres of floor space, wooden walls incorporating large picture windows, a king-size bed and air-conditioning, your tent will offer all the luxury comforts that you would not expect in such a remote wilderness setting. Excursions to visit other islands in the Indonesian archipelago on the custom built Amanikan 32-metre luxury cruiser can be arranged to locations such as Komodo Island where you can witness the Komodo dragon in their natural habitat.
Tom Marchant is Co-founder of Black Tomato.
If you would like to be a guest blogger on A Luxury Travel Blog in order to raise your profile, please contact us.