Pudong Shangri-La, East Shanghai is redefining afternoon tea in Shanghai by launching the Champagne Afternoon Tea. Upon being seated, guests will be presented with Champagne flutes for an option to enjoy an unlimited flow of Taittinger Champagne. A ritual around creating the perfect brew is next on the agenda for guests, be it a cappuccino or a café au lait set with Narumi chinaware. Guests can also choose from the 10 types of high-quality Chinese tea hand‑picked by Shangri-La and presented on a traditional bamboo-like tea stand.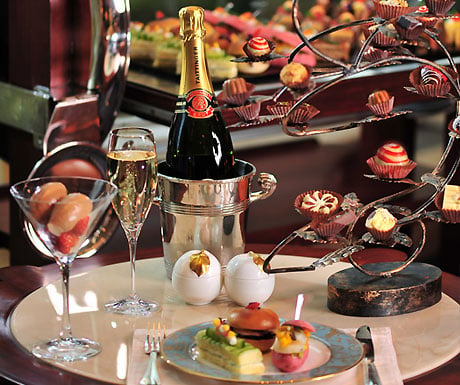 The venue's iconic Tree of Delights is then presented to guests. The tree is dotted with dim sum (Chinese snacks), traditional Chinese desserts, a modern chocolate selection and petits fours. The following servings are presented on a Christofle trolley and guests are encouraged to choose as they fancy, as portions are unlimited. The first serving starts with open‑faced sandwiches with new menu offerings such as smoked shrimp and avocado mousse in a bagel.
The second service continues with modern afternoon tea pastries that carry Pastry Chef Chen Jie's distinctive style, such as lime meringue chocolate brownie cake. The third service includes traditional afternoon tea pastries, such as rum and raisin scones with clotted cream. Lastly, guests will be presented with a selection of signature chocolate mousse desserts that include 72 per cent Peruvian dark chocolate, South American tonka bean white chocolate and creamy Venezuelan chocolate beans.
The concept of the afternoon tea owes its origins to Anna Russell, the seventh Duchess of Bedford. In the early 1800s, it was common to eat only two main meals a day, with breakfast scheduled early in the morning and dinner occurring late in the evening. Greeted by hunger pangs each day, the duchess decided to schedule time to have tea and snacks each afternoon. This ceremony first took place privately in her bedroom, but in time acquaintances joined her and the practice was perpetuated.
Available from 3 to 6 p.m. daily, the Grand Tower Champagne Afternoon Tea is priced at Rmb258 for the hot beverage option and Rmb398 for the Champagne option.