Who says luxury is always lazy? Though adventure travel is most commonly associated with roughing it on the road, it doesn't have to be that way. Here are 5 places in South America where you can get an adrenaline rush and also indulge in creature comforts… the best of both worlds!
Amazon cruise
The Amazon rainforest and basin is the largest tropical rainforest in the world. It is home to 1 of every 10 known species on the planet and together covers 2.6 million square miles—roughly 40% of all South America. Running through it is the Amazon River, the second longest river in the world and the largest in terms of water volume. The Amazon is home to rare species such as the jaguar, pink dolphins, and several types of monkeys.
Trips into the Amazon can be intense. Dealing with dense vegetation and creepy crawlers is interesting, but not for everyone. Luckily, travelers can still experience the majesty of the Amazon without getting (too) muddy. Luxury Amazon cruises depart from the Peruvian jungle town of Iquitos. And they're truly a treat: Onboard guests are fed by renowned Peruvian chefs who cook with local ingredients; rooms with an entire wall of windows give guests a jungle view from bed; and day excursions led by naturalists to give travelers a chance to spot wildlife and trek through the most impressive rainforest in the world.
Machu Picchu
Machu Picchu is one of the most iconic places in all of South America, and a must see for anyone traveling to Peru. Built during the reign of the Inca Empire, Machu Picchu is both an amazing feature of architecture and a dazzling display of cloud forest. The ancient city is built into the cliff sides of remote Andean mountains, and the true purpose for the city remains a mystery, although many believe it was a royal retreat.
Machu Picchu and its neighboring Sacred Valley contain so many adventure activity options the problem is choosing what not to do. The same problem applies when deciding where to stay. The Sacred Valley and the main city of Cuzco are flush in luxury accommodation options for such a traditional area of South America. Hiking around Machu Picchu is an adventure in itself, but visitors can also go trekking, horseback riding, and rafting through the neighboring mountains and valleys.
Many hotels and resorts around Machu Picchu focus on sustainability and natural elements to preserve the charm and beauty of the region. Spas with traditional Andean treatments are a soothing treat after a day exploring in high altitudes.
Easter Island
The most isolated inhabited island in the world sits over 2,000 miles from mainland Chile, yet is still part of South America. The tiny Easter Island is only 15 miles wide and 10 miles long, making it an easy and relaxing place to explore once you get there. The island is famous for its massive moai statues made by its original Polynesian inhabitants. Experts believe the stone figures were built to honor ancient ancestors. The real mystery is how these statues, which weight up to 80 tons, were moved from inland quarries to their now sea side locations by a civilization without wheels or pack animals.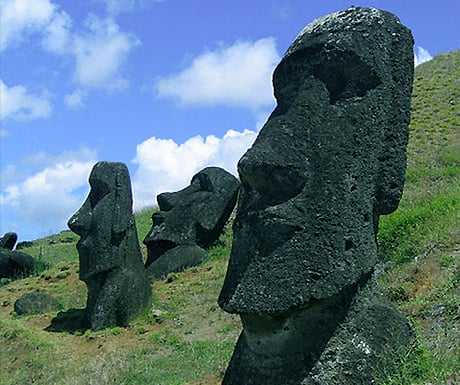 In addition to visiting the moai, there are many options for horseback riding and biking across the island, as well as scuba diving to see a sunken moai and marine wildlife. Easter Island is easily explored in four days, and leaves visitors with plenty of time to relax and enjoy the wind-swept scenery.
Laura Elise is Marketing Director of SA Luxury Expeditions.
If you would like to be a guest blogger on A Luxury Travel Blog in order to raise your profile, please contact us.