Morocco, a land of colour, contrasts and mystery. Who doesn't want a piece of this rich culture? Young King Mohammed VI has vowed a goal of attracting 20 million tourists a year to Morocco by 2020 (currently there are just under 10 million visitors a year) – I would say these are big visions for a young King. With that being said, even if such goals prove to be too ambitious, this wonderful land will undoubtedly continue to top the travel lists for many holidaymakers from around the globe.
Marrakech, known as Morocco's "Imperial City" or as it is also famously known, the "Red City", is truly a place where the past meets the present. It is a charming and magical place that guides your senses, a place filled with energy and enthusiasm that will captivate your soul. The architecture, design, and gastronomic experiences present in this beautiful culture are truly second to none.
As we look at trends in the hospitality industry today, we (as travelers ourselves) are always looking for rich and meaningful cultural experiences that will leave us with the most vivid of memories. Marrakech guarantees to provide that. In the past few years, the large luxury chains such as Four Seasons, and Sofitel are increasingly getting on the scene, while plenty of smaller, less expensive, privately owned properties are also popping up faster than you can say couscous. In Marrakech, there is truly a place to call home for everyone.
So the real question is, where to stay while in Marrakech? I would specifically like to focus on the luxury hotels this city has to offer to give you taste of how exquisite Moroccan hospitality is.
These are my top 5 picks of hotels that will give you the ultimate experience in Moroccan elegance and luxury – and will leave you wanting more.
Top dog: Royal Mansour
What gives it the extra factor – It is truly a luxury city-within-a-city where guests have their own riads rather than rooms. Michelin star French chef runs the restaurants, butlers galore, and the best part – compliments of the hotel – immaculate staff will welcome you off the plane, serve drinks while passport formalities are completed, then escort you directly into the Mercedes for the relaxing (and glamorous) drive to hotel.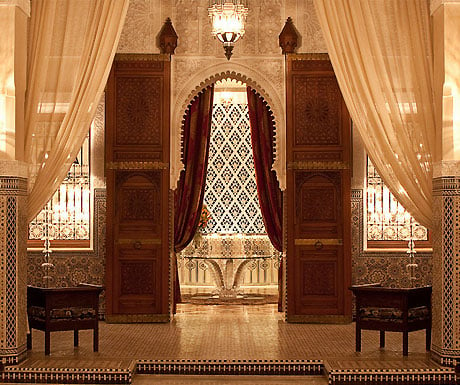 Star quality: La Mamounia
What gives it the extra factor- Hotel pick of the rich and famous, art deco at its finest. Home of "Le Menzeh Pavilion", where guest can sip Moroccan tea and sample superb pastries that fuse classic French traditions with Arabic flavours.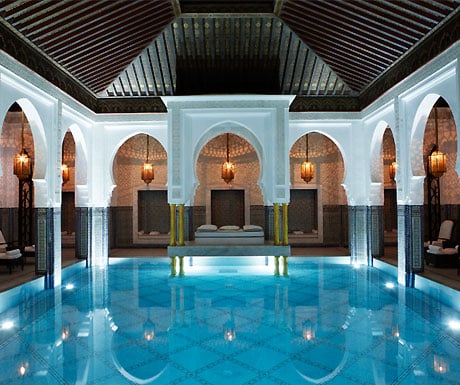 Boutique pick: Riad Joya
What gives it the extra factor – Very intimate boutique hotel, yet grand. It's refined, earthy environment is inspired by the exploration journey between east and west. Italian influences throughout its design and gastronomy makes it unlike any other hotel.
On the outskirts: Palais Namaskar
What gives it the extra factor – Known as one of the finest spa hotels in all of Morocco, with it's feng shui influences throughout. If you decide to stay in one of the pool villas, get ready to have a sprawling, manicured garden and, not one, but two heated swimming pools all to yourself.
More affordable luxury: Maison MK
What gives it the extra factor – Cozy little oasis nestled in the middle of all the medina action. They take pride in all the little details – Toiletries are imported from Paris, water comes from Norway, and coat hangers from Marseille. Equipped with a Hammam spa and service is second to none.
There is more to come for this city – Mandarin Oriental is looking at finally opening their property later this year and so is Morgans Hotel group, as they plan to open two hotels under their umbrella brands, Delano and Mondrian. King Mohammed may be on the right track with his predictions afterall…
I think it is definitely time to go to Marrakech, don't you?