Visitors to the Trentino Alto-Adige region of Italy, home to the majestic Dolomite mountains, find themselves presented with breathtaking vistas around every turn. But in spite of the mountainous terrain, it is a perfect spot for a summer bicycle tour for cyclists of all levels. While this region is home to some of the most challenging climbs in cycling lore, there are many routes very suitable for beginners. The Sudtiroler Weinstrasse, or South Tyrol Wine Road, winds it's way along the Adige River valley, through spectacular landscapes that range from apple orchards and vineyards, lakes and ponds, past stately mansions and medieval castles perched on the surrounding hillsides. All along the way, wonderful restaurants and open wine cellars offer a welcome place to stop and take a break. This is Italy's oldest wine road, and with the region's mild, dry climate and over 300 days of sunshine a year, is the perfect destination for cyclists of all levels.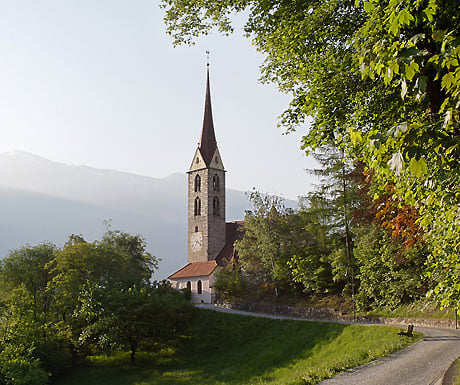 Here are 5 highlights of a tour down the Sudtiroler Weinstrasse:
1. Sampling the canederli assortment at Vongole in Bolzano
Canederli are the traditional local dumplings of the region, made with breadcrumbs and flavored with everything from speck to beets, to sugar and nougat. Start with a sampler at Ristorante Vongole in Bolzano, and try beet canederli with horseradish, mushroom canederli, and spinach with a browned butter sauce.
2. Try the wonderful local red varietals Schiava/Vernatsch and Lagrein
These are two tasty red varietal wines found exclusively in this region. If your visit is well timed, you can experience these during the WeinstrassenWochen/Vino in Festa, a month long festival in the area to celebrate the local wines. The evening events are a great opportunity to taste the areas most beloved indigenous grapes, along with a few of the local foods, including polenta, cheese, and salumi.
3. Visit a castle
Tucked high up in the hills of Trentino and Alto Adige are several imposing castles which offer both a view into the Medieval and Renaissance history of the region as well as a panorama of the beautiful surrounding landscape. From Castel Roncolo outside of Bolzano, to Castel Besano, Stinco, Thun to Castello di Buonconsiglio in downtown Trento there are many castles to explore along our way.
4. Enjoy a glass of refreshing Gewurztraminer in it's home town of Tramin
One of the many picturesque towns we can visit during a cycling tour down the Weinstrasse is Tramin an der Weinstrasse, or Termeno sulla Strada del Vino in Italian. You will usually see the German name, as over 96% of the residents of Termeno use German as their first language, reflecting the diverse mix of cultures that surrounds us during our visits here. In the wine world, Tramin's claim to fame is the grape that originated here, Gewurztraminer, or 'spicy' Tramin.
Traminer is one of the oldest grapes in the world, and recent studies have demonstrated that it is the ancestor of some of the oldest grape varieties in the world, including Cabernet Sauvignon, Riesling, Pinot Bianco, Pinot Grigio and Pinot Noir. An intensely aromatic and elegant wine, its pink to reddish grapes are naturally sweet, and produce a white wine that is usually off-dry, with a strong scent of lychee.
5. Lakeside dining at Lago di Garda
A great spot to finish a tour down the Wine Road is Lago di Garda, the largest lake in Italy. Here, you can spend a day or so enjoying the spectacular lakeside views – steep slopes that drop precipitously down into the fresh waters of the lake, as you relax on the shore, enjoying local lake fish such as shad or trout and a glass of Lugana wine. A perfect way to end a glorious week of exploration!
Kathy Bechtel is Owner of Italiaoutdoors.
If you would like to be a guest blogger on A Luxury Travel Blog in order to raise your profile, please contact us.