By
Paul Johnson
on Mar 27, 2013 in
Accommodation
,
Adventure Travel
,
Africa
,
Botswana
,
Events
,
Family Travel
,
Featured
,
Hotels
,
Kenya
,
Leisure Travel
,
Malawi
,
Morocco
,
Mozambique
,
Namibia
,
Regions
,
Resorts
,
South Africa
,
Speciality Travel
,
Tanzania
,
Travel Miscellany
Have you still not yet planned what you're doing this Easter? Easter has a social and spiritual dimension in Africa, and is a time when families love to come together. If you are looking to get away with your family this Easter – or perhaps just as a couple – then here are 10 fantastic ideas for a luxury trip away.
Located in the North of Mozambique, Azura Quilalea is a wholly private island within the pristine Quirimbas Archipelago marine sanctuary. Nine luxurious villas are kitted out in Azura's trademark subtle African elegance, with spacious bathrooms and natural furnishings. Each villa comes with a butler-host to attend to your every need, and arrange unique experiences such as dining under the stars on the beach or a treatment in the cliff-top spa.
Families will have the fantastic opportunity to see turtles hatchlings emerging and making their way to the sea – Easter eggs Mozambique style! Beginners and experts alike will enjoy the underwater world, from the house reef just off the main beach to numerous dive sites in the area. Kayaking around the island and mangroves, sailing on a traditional dhow and hopping to neighboring islands for long lazy picnics are just some of the activities on offer. With four beaches on the island, you're sure to find a secluded spot for lunch and a sunbathe. Rates at Azura Retreats start from $525 per person per night
Winchester Mansions, Cape Town, South Africa
What better place to spend Easter that at the Winchester Mansions in Cape Town, situated along the Sea Point Promenade and facing the Atlantic Ocean; this place has earned its reputation as Cape Town's iconic and leading sea front hotel among local and international guests. And Easter at the Winchester Mansions is set to be an "egg-citing" time for the whole family. Kids can partake in the Easter egg workshops with a DIY Easter egg painting kit that will showcase your darling as the "Picasso" of egg art.
For those adults who prefer to leave it to the professionals, HDeli at Winchester Mansions is selling a delicious variety of Easter treats, from salted caramel chocolate tarts to Easter themed cupcakes, red velvet cakes, macaroons, pear frangipani tarts to cheesecake pops. So if you prefer the quick and very much home-baked option, pick up some delicious ready-made goodies at the deli.
Likoma Island and the Nyika Plateau, Malawi, with Ulendo Travel Group
Still no plans for Easter and run out of destination ideas? Worry no more and look no further than an exciting, luxury getaway to Malawi… the Warm Heart of Africa. Spend your first days at the luxurious Kaya Mawa resort, located on Likoma Island in the blue waters of Lake Malawi. Candle-lit dinners on the beach have never been so good. Star-filled African skies and the sound of the lake lapping against the rocks of your lakeside room, makes this one of the most romantic settings imaginable. No wonder this resort was voted as one of the top 10 most romantic places on earth by Conde Naste Traveller magazine.
After your days on the beach – scuba diving, snorkelling, kayaking or simply doing nothing – catch a flight north into the highlands of Malawi and the Nyika Plateau. Famous not only for its wildlife (there's a chance that you could spot one of those illusive leopards that everyone brags about!), but also for its undulating mountainside, many visitors have compared this part of Malawi to the scenery of Scotland. Chelinda Lodge's alpine-style cabins, with roaring log fires for the colder evenings, will transport you to a different land not often associated with Africa. In the evenings, experience a sky so full of stars that it will take your breath away.
A lavish, Easter getaway that will make you want to come back to the Warm Heart of Africa time and time again.
Shu'mata Camp, Tanzania, with Karibu Tanzania
The stunning Shu'mata Camp is located at the foot of Kilimanjaro, deep in traditional Masai land, Amboseli National Park. Five large tents, in true Hemingway style, form a line on a hill with magnificent views in all directions. At the front, bush savannah melts into the slopes of Kilimanjaro, towering above into the blue skies of Africa, so close that on a moonlit night, details of the glaciers can be visible. Seasonally the surrounding savannah bush teams with wildlife – herds of elephant, eland, zebra, wildebeest and Oryx as well as Grants and Thompson Gazelle.
It's the perfect spot to relax outside under the open sky, with a true feeling of adventure and safari romance. Daily safaris, included in your stay at the camp, offer rich game viewing, either on foot with local Maasai warriors or in open top game drive vehicles get you within meters of Africa's largest mammals. Experience the lush savannah in the southern Amboseli at the foot of Mt. Kilimanjaro, far away from buses crowded with tourists, you may meet with zebras, wildebeest, gazelles or even cheetahs and lions.
Once you have relaxed into the camp life and enjoyed a tipple watching the stunning african sunset those with a further thirst for adventure can experience the mighty Mount Kilimanjaro. Kilimanjaro for all is a 'Kili' challenge that suits the stamina of almost everyone. Enjoy the tremendous landscapes when you take a day hike up the Shira plateau, which is one of the most fascinating and scenic areas on Kilimanjaro, stopping for a picnic lunch on top of Africa. Low season rates which are based on a 50% discount are applicable over Easter and valid from 25th March to 18th of April and 18th May to 30th June 2013.
One&Only Cape Town, South Africa
Located in the heart of the picturesque Victoria & Alfred Waterfront, One&Only Cape Town offers an unprecedented level of luxury in South Africa. This chic waterfront resort is the perfect gateway to experience the rare and enchanting adventures of the continent – an idyllic venue for life's most memorable moments.
Easter sees a special focus on the resort's resident younger guests with a jam-packed daily programme at the KidsOnly Club. On Easter Sunday, kids will enjoy an Easter egg hunt, Easter egg painting, Easter sand art and many more themed activities.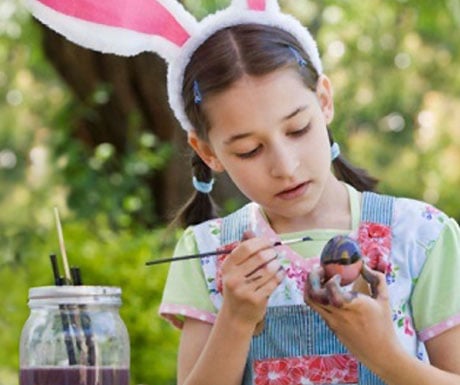 An Easter Bunny Afternoon Tea Buffet will be held on Saturday 30th, Sunday 31st March and Monday 1st April 2013 with a special Kiddies Buffet on Easter Sunday. Why not add a delectable Lindt Chocolate Fondue to your experience and dip your way through a melting pot of hot Lindt chocolate?
Indigo Bay Island Resort, Mozambique
Indigo Bay Island Resort and Spa is running a special adventure activity this Easter, where guests can now swim in the warm Indian Ocean with one of our muscular boerperd horses. Swimming with horses is a magical experience which will create lifelong memories of your special Mozambique holiday. Guests can also do an exciting ride along the beach on Bazaruto Island, and also climb the soaring sand dunes for unrivalled 360 degree views over the sparkling Indian Ocean. And what better time to travel to Bazaruto than Easter…. which is a perfect time of year as it is between the summer rains and the winter winds!
The Sanctuary Spa at Indigo Bay offers incredible ocean views and relaxing treatments. The facilities are world-class, including a Jacuzzi pool perched on the edge of the highest point on the island for spectacular sea views while you sip champagne after your treatment. We will be offering special packages and unique treatments especially for Easter!
Sand dunes and seals in Namibia, with Natural High
Namibia, with its epic desert landscapes, vast endless (and usually totally empty) roads, is an immensely fun and safe holiday for families. The sand dunes make children out of all ages and there are so many different ways to experience the desert landscapes, from dune boarding to quad-biking that you should be all duned out by the end. Boat trips from Walvis Bay are also great fun – seals close enough to touch (beware of exceptionally bad breath) and pelican aerobatics galore (beware of exceptionally large bird droppings). The camps and lodges often have family rooms or tents, or alternatively will be able to add extra beds to a double room. Natural High tends to favour the smaller lodges which can be more flexible with meal times and activities, perfect for keeping all the family happy.
Natural High offers six nights from 1st April 2013 and this costs from £10,600 for a family of four staying in private camps, including international flights.
Almanara Luxury Villas, near Mombasa, Kenya
If you are looking for a luxury paradise break this Easter, why not visit Almanara Luxury Villas? Whether you are seeking some R&R after an adventurous safari or just looking to just simply relax on the beach, Almanara is the place for you.
Almanara's 6 Executive Villas and spectacular Presidential Villa are set amist the tropical gardens and towering palms that line Diani Beach on Kenya's South Coast. Guests are greeted in their private villa by their personal chef, maid and waiter who remain with them throughout the duration of their stay. With no set menu or schedule, guests have the freedom to dine as they please, creating a truly bespoke experience.
Each of the 3 bedroom villas are decorated with locally crafted furniture and artwork. The open plan dining and living area and private rooftop terrace offers guests a host of dining options. All the mod-cons including, Air-Conditioning, Wi-Fi, dedicated satellite and DVD player, ensure a subtle sense of luxury, whilst maintaining the cultures of Africa. The 6 villas are situated around the swimming pool area where guests can also enjoy the Jacuzzi, and pool bar during their Easter break.
Motswiri Camp, Botswana, with Raw Botswana
How about doing something completely different this Easter and visiting the truly magnificent Okavango Delta in Botswana? Here is an absolute must for the riding enthusiast, Motswiri Camp is a truly unique and exclusive, 10-bedded camp situated in the northern reaches of Botswana incorporating the World Famous Okavango Delta to the West.
With 22 immaculately schooled horses based at the camp, Motswiri offers some of the most exciting and exhilarating riding in the World where you can experience riding amongst Africa's big 5 in a totally unspoilt area of some 120,000 acres of pristine wilderness. Motswiri is based some 40 minutes light aircraft flight from Maun in Northern Botswana and offers a range of safaris for both the rider and the non-rider.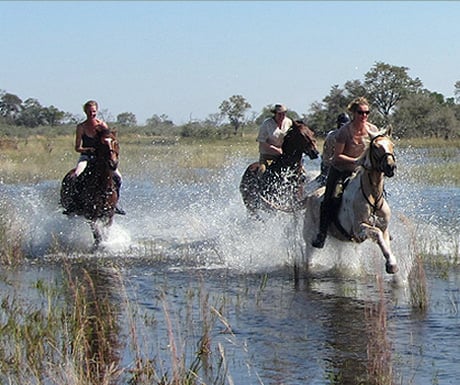 There are 2 motorised boats in camp as well as traditional dugout canoes (Mekoros) and a specially modified game drive vehicle for those wishing to view the game in a more sedentary fashion! The camp itself offers luxurious tented accommodation with spacious and comfortable en-suite shower rooms. The lounge and dining area offers some of the finest views in Southern Africa across the magnificent Selinda Spillway. There is also a swimming pool for cooling off.
Riad Farnatchi, Marrakech, Morocco
Riad Farnatchi has been created out of five small riads in the heart of the oldest part of Marrakech. Moroccan houses (riads) have stood on the site for many centuries and some of these walls go back over 400 years. The riad is located just a few minutes walk from the hustle and bustle of the world-famous Jemaâ el Fna square with its storytellers, street acts, and famous snake charmers.
Riad Farnatchi is a special place to stay in Marrakech at any time of year but during Easter families with older, more adventurous children, or a couple looking to explore, will love the new Atlas Adventures package. This three night package includes accommodation in one of the riad's individually designed superior suites, breakfast served each morning on the roof terrace and two tours. The first tour is a full day in the Atlas Mountains where a local guide will take guests up into the nearby mountain range in a 4×4 to show the diversity that Morocco has to offer. A picnic lunch will be served after a hike (tailored to your ability) deeper into the mountains, plus a visit to a Berber village before heading back to the riad for a complimentary hammam to revive weary limbs. The second tour is of the famous medina, in which Riad Farnatchi is set. A guide will show guests where to buy the very best products at the very best prices, plus offer an amusing and interesting history into the souks, their owners and the medina itself.