During April and May Villa Mangiacane, a 15th Century wine and olive grove estate in the Tuscan hills, is offering a free night for those booking four and five nights. Situated just seven miles and a 20-minute drive from the historic city centre of Florence, the Villa is both a perfect base for cultural exploring and a relaxing, luxurious retreat.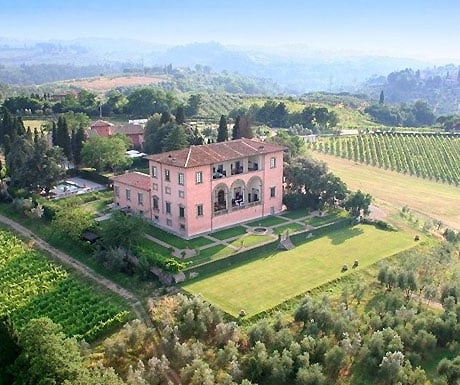 Built for the Machiavelli family from designs by Michelangelo in the 15th Century, Villa Mangiacane is set in 600 acres of vineyards and olive groves with two outside pools and 28 individually designed rooms and suites.
After hectic sight-seeing schedules, the vineyards, olive groves and pools set in tranquil gardens offer a rural escape from the city and provide perfect al fresco settings for lunches and picnics served with award-winning wines and distinctive olive oil from the estate.
Inside, the comfortable salons and the loggia with restored renaissance frescoes and arches framing a view of the Duomo, offer restful havens to contemplate the beauty of the region. Here you can also learn more about Villa Mangiacane's intriguing past and how it provided cynical diplomat Niccolo Machiavelli with the sanctuary needed to write 'The Prince' – one of the most inflammatory treatises in the history of political thought. 2013 marks the 500th anniversary of Machiavelli's arrest and incarceration.