Botswana has long been known as one of the most rewarding wildlife experiences in Africa – it's wild, remote and untouched by the destruction of the modern human hand. But there's so much more to Botswana than just a few game drives and spoiling lodges and camps. It truly gets under your skin and you leave with an undying determination to return. We're lucky enough to have experienced some astonishing experiences which we need to share with anyone and everyone who will listen.
1. Meet the habituated meerkats at Jack's Camp, San Camp or Camp Kalahari
These adorable creatures have been habituated by an expert team of guides at these three ultra luxurious camps – there are four family groups in total and guests have the pleasure of sitting with these groups morning or evening when they are either feeding or at play. Their characteristics are incredibly human and you will often be used for sentry duty if they need to get to a higher vantage point on the flat and dry salt pans they live on. Should you make a wrong move or irritate them you'll be tutted at in a way so adorable you want to smile, but so similar to your mother scolding you that you'll also want to say sorry.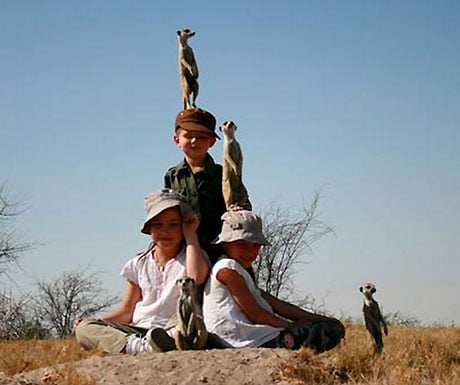 2. Have lunch in the Delta, and we mean in the Delta
The waterways here are often protected by frighteningly big crocodiles with pods of hippo around every corner – we suppose that's why having lunch in the Delta itself is such a thrill. The clear water and soft sandy bottom offers a comforting cooling system as the heat of the Delta rises and your guide knows each lagoon like the back of his hand promising that you won't actually meet any of the aforementioned crocodiles until you're safely back in your boat.
3. Sleep on an island in the Delta
On a mobile safari recently with Uncharted Africa we had already been pampered to within an inch of our lives but there was more, after a magical sunset on a luxury boat safari through the Delta's many channels small gas lamps suddenly illuminated a tiny island, like something out of Narnia we came across the most beautiful campsite complete with walk in mosquito nets and thick mattresses, and of course a local bull elephant who had also made the island his home. This evening out in the bush was indescribably memorable not least because of the Michelin star food, which came from a kitchen made simply out of a campfire.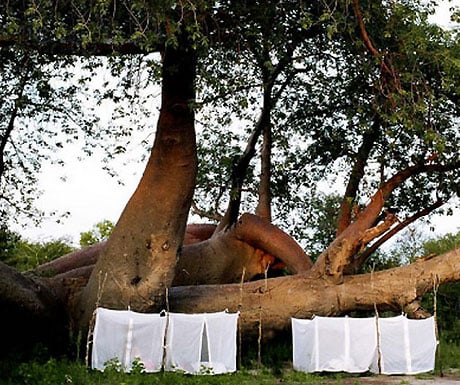 4. Go on a bushmen initiation hunt
The San bushmen are the oldest living tribe to date and these incredibly friendly and charismatic people do not let a language barrier stop them from becoming your friend. Their customs and ways are fascinating. They can look at an animal track and tell you how old it is, if it is pregnant and how fast it was going. No Botswana safari is complete without at least visiting these people in the Makgadikgadi Pans, but you can also join a Bushmen Initiation Hunt, which offers a gruelling few days with the young tribesmen as they perform traditional tasks before being fully initiated into the tribe.
5. Ride an elephant through the Delta
Abu Camp in the Okavango Delta is one of the most luxurious camps in Botswana anyway, even without the added bonus of a habituated herd of elephants calling this camp home. To interact with these gentle giants is humbling and truly inspirational. Their emotional intelligence is something that touches the heart of everyone that meets them. To see the bush from their point of view is simply extraordinary and game viewing from this high and mighty creature is something very few can say they have done.
Botswana has so much to offer as well as the best wildlife viewing in Africa, it's always nice to combine something a little bit eccentric whilst on safari, with the endless big game you'll have seen on your game drives.
Rose Hipwood is Managing Director of Africa Rose Travel Ltd.
If you would like to be a guest blogger on A Luxury Travel Blog in order to raise your profile, please contact us.