A boost for A Luxury Travel Blog
I ran a few searches on Google last night, with the intention of updating
our 'about us' page
, and was pleasantly surprised to find that our continued efforts with
A Luxury Travel Blog
are not going unnoticed.  Firstly, I came across Cision's social media index ranking the
UK
's top 10 luxury travel blogs and we have been listed #1, ahead of other highly respected brands such as
Small Luxury Hotels
,
Mr. and Mrs. Smith
and a host of other leaders in the industry.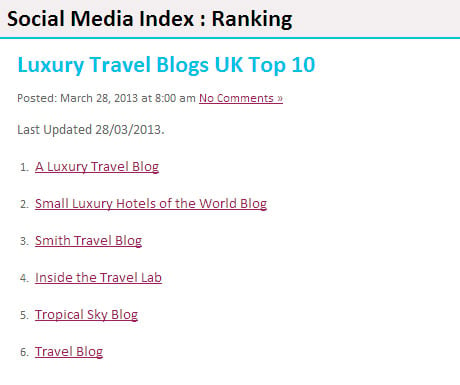 Next up, I noticed we were mentioned in The City Apartment Book's blog in 'Five of the best luxury and lifestyle bloggers' along with other fellow bloggers and friends such as Keith from
Velvet Escape
and Ana who runs
Mrs. O. Around the World
.  There we are described as "a giant in the luxury travel world". And finally, I was particularly pleased with the comments of social media strategist Christine Andres who highlighted us (again, in #1 position) in her round-up of travel influencers. Writing specifically about A Luxury Travel Blog, she says "Their visibility across Spotlight combined with their huge social following has made them the top travel blog in the UK." Naturally, I'm delighted with all this recognition and praise, so a big thank you to all concerned. Knowing your efforts are being appreciated like this (I had no knowledge of any of the articles until I just ran a few searches) certainly helps to re-assure you that your efforts are not in vain, as well as spur you on to bigger and better things. So thank you everyone, whether you're part of the team behind the blog, a regular reader or a first-time visitor.
Did you enjoy this article?
Receive similar content direct to your inbox.