If there is one thing America's Southern States are famous for, it's their hospitality. The region's frenetic cities of Memphis, Nashville and New Orleans are an explosion of colour, sound and food, culminating in a culture known the world over for its friendliness and generosity, while the area's rural regions offer a verdant and peaceful respite from these lively towns, where cotton and sugar cane plantations are a reminder of its rich history.
It seems only natural then that the Deep South is also home to a wonderful array of glorious, characterful accommodation options, and here are some of my favourites:
Monmouth Plantation Inn, Natchez
Deep in the heart of Mississippi lies the charming Monmouth Plantation Inn. What was once a grand and fine-looking building fell into disrepair after years of neglect following the American Civil War and Great Depression, but was brought back to its former glory in the 80s by a Californian developer and his family who fell in love with the property during a visit to the area.
Today the property is considered one of Mississippi's finest hotels and a stay here is like a step back in time; you can almost imagine life as it would have been in years past as you explore the beautiful and well-tended grounds via the self-guided paths. And while the property may be small compared to some, the service, standard and most importantly, welcome, are second to none: Monmouth offers you a truly unique and fascinating stay.
Grand Victorian B&B, New Orleans
By its very nature New Orleans is an overindulgent feast for the senses and a stay at the Grand Victorian B&B in the garden district offers the perfect respite from the city's famous French Quarter, only a stone's throw away.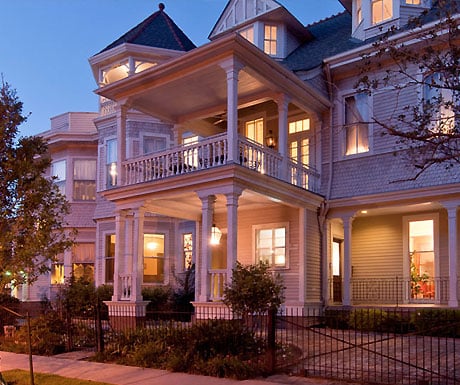 Built in 1893 by acclaimed local architect, Thomas Sully, this quaint and elegant property is currently run by New Orleans native, Bonnie Rabe, who extends a warm welcome to all who spend a night or two here. While the B&B has successfully retained much of its original charm through a sympathetic restoration, a number of modern conveniences, including air-conditioning, WiFi and TV ensure a comfortable and pleasant stay.
Kings Courtyard Inn, Charleston
The King's Courtyard Inn is one of the oldest buildings on Kings Street, Charleston's historic shopping avenue. Built in 1853, the property is family-run and exudes traditional style with each of its 41 rooms decorated with reproduction furnishings and hardwood floors.
Make the most of the inn's pretty courtyards with a cool drink at the end of a full day's sightseeing, before indulging in an evening sherry – apparently a Charleston tradition. This is a great property for families and couples alike, even offering pet-friendly rooms for those who wish to bring along their furry friends!
Azalea Inn and Gardens, Savannah
As with many places in America's Deep South, Savannah fell into decline after the Civil War and many of the city's beautiful buildings were left to crumble. Luckily for visitors to Savannah, the Azalea Inn and Gardens is one property that has stood the test of time and owners, Teresa and Michael Jacobson, have done a wonderful job creating a relaxed and friendly ambiance; with only ten rooms the Azalea Inn offers a really intimate experience with very attentive hosts.
A beautiful perennial garden, which includes a pool is one of the many highlights of a stay here, as are the intricately painted murals which adorn the walls in the breakfast room.
The Lofts at the Five and Dime, Clarksdale
Clarksdale, Mississippi, is the home of Blues music and a must for any self-confessed Blues fan. So where to stay when you visit the town? High on the list of considerations should most definitely be The Lofts at Five and Dime – centrally located apartments which offer modern conveniences in an incredible setting in the upper level of the Woolworth building, which is now listed on the country's national registry of historic places.
There is a real home away from home feel at the Lofts at Five and Dime which provide the ultimate in self-catering accommodation with each having a kitchen and living area to utilise. Individually decorated and centrally located, you can't go far wrong with a stay here.
Craig Burkinshaw is a Founder Director of Audley Travel.
If you would like to be a guest blogger on A Luxury Travel Blog in order to raise your profile, please contact us.