By
Anna Parker
on May 28, 2013 in
Accommodation
,
Attractions
,
Going Out
,
Hotels
,
Leisure Travel
,
Middle East
,
Oman
,
Regions
,
Resorts
,
Restaurants
,
Speciality Travel
7 days in Oman in November – blissful memories of 2 very different 5* hotels! I'd thought before we went that this would be a less-balanced comparison having longed to go to The Chedi since Original Travel included it in their 'Big Short Trip' book, but actually there are great positives to both.  The Chedi is part of the GHM group which seem to be consistent in delivering decadence and service excellence in mid-size hotels, just on the out-skirts of Muscat.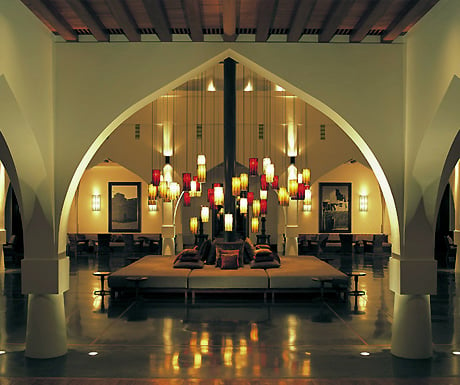 Shangri-La have a massive complex made up of 3 different hotels well away from the city in a beautifully unspoilt mountainous region.  This holiday had to be a good one – we flew BA First and so before we'd even got onto the plane were already feeling like royalty, so the hotels had a lot to live up to.
Arrival
Driving into the Shangri La gated community is very grand and the drive takes you through some of the most barren and beautiful mountain scenery.  You have a stunning view as the road comes down the  hill to the sea (also top of the road is the best spot to catch some of the sunset across the mountains). The hotel is, however, a good 40 minutes from the airport and so isn't a good base for seeing the city or for many of the day trips that all seem to need to route back through Muscat.
Driving in from the main road to The Chedi (having gone past the Camel Racing Federation offices!!) is a little disappointing and bleak – down a bit of a dirt track with wasteland on either side, partially hidden by mounds of soil.  However, the moment you sweep into the frontage you'll forget (perhaps they're trying to increase the wow impact?). Staff appear from everywhere in stunning national dress, and are there to help and welcome you, which was quite delightful!  We turned up 'fresh' from a day of dune bashing and so were looking a tad grubby.  Despite the smartness of the location, concierge didn't bat an eyelid – a guest is a guest is a guest and good service seems to come as standard!
Rooms
Al Waha is relatively sanitised – quite a standard 4-5* room set up, lots of space compared to European equivalents and certainly nothing to complain about.  Our room was near to the beach and a few floors up.  Lots of families stay here and many rooms look out on the pools and restaurants, so I imagine that some rooms would not be in such a peaceful part of the site?  Having peered through windows of the adjoining slightly more expensive part of the Shangri-La set-up (Al Bandar) the rooms don't look significantly different to Al Waha (and since you have full use of both sites when based in Al Waha, I think taking a punt on Al Waha isn't a big risk!)
Club rooms at The Chedi, a new top tip which is THE way to get the most from rooms – especially upgrading on arrival – although I will now just book into this sort of room when I see it in future.  The room was more suite-like and happily was not in the main hotel building but in amongst the beautiful water/fire gardens.  Having seen some comments on TripAdvisor about the normal 'Serai' rooms I think there is a definite benefit from picking a Club room as it certainly felt refined.  There were a fair few add-ons too – including laundry service included which of course meant having all our clothes from earlier in the week cleaned (made getting back to the UK a lot less stressful!).  As good as laundry was, the highlight was the nightly happy hour, which actually seemed to last for at least 2 hours!  There is a private Club room that serves drinks and some very lovely canapés for however many hours each evening, there is also a peaceful courtyard to enjoy this which is lit with flame beautifully and is a very peaceful place to enjoy the start of the evening.  It was such a triumph on one night we didn't then need dinner!
Daytime lounging
A real highlight of Al Waha is that there is so much choice – guests can use the facilities at both Al Waha and Al Bandar which means a massive choice of pools, beaches and restaurants and the knowledge that you will find a spot away from noise or in the sun/shade depending on what you are looking for, or if you just want a different view!  There is an enormous beach team that work for the hotel, constantly on hand for new towels or taking food and drink orders.  Not only that, as soon as you settle at your seats they bring a cool box of bottled water that they leave with you, then at intervals during the day fresh fruit is brought round and on a few occasions staff came round cleaning sunglasses!  Little thoughtful things but all put together seamlessly – it really ups the ante on service!  The site feels safe, we wondered off from our belongings a number of times and never had a problem – it is busy enough that if something was amiss someone else would notice, but  not so busy that it is crowded or cramped.  The beach is clean and very sheltered.  There is quite a lot of rocky outcrops at low tide but it is all clearly marked.  You see quite a lot of local fishing boats going past and that is a stunning sight.
The Chedi has the WOW factor everywhere you look – everything looks perfect (maybe not the beach, it is a bit unloved, but then the pools are amazing so maybe it doesn't need to).  So much so that I think if you got a spirit level out and laid it on the large patches of grass, you would find that they were completely level!  Probably not to everyone's taste, but we loved just how simple and perfect the place was.  The pools are something else – 'just' 3 but all of them must be at least 20 metres long and the 'long pool' is 100 metres long!  It is really good to be able to go for a proper swim and do some exercise, but in such pleasant surroundings.  These aren't the sort of pools that people lark around in though – it isn't that sort of hotel.  The long pool is the 'hippest' of them with funky music played quietly all day.  There is always plenty of shade (and plenty of loungers to sit and cook on) and, whilst the hotel was busy, there was always a choice of lounger if you wanted to move between pools.  What I particularly liked was that most loungers were the large double-bed sort of set up and were very comfy and had cushions to prop up on, rather than the standard wooden chairs.  There is attentive service around the pool too – chilled water with mint and lemon is provided and regularly topped up, and there is always someone passing to take a food and drinks order.  I worry what will happen to The Chedi when the new airport finally opens.  Flights do come in quite low as the hotel isn't a massive distance from the runway.  We didn't think there were enough flights currently to be disruptive, but they are noisy and a bigger airport is going to mean more flights.
Food and drink
Shangri-La has countless choices of food and we tried a fair few and were always pleased.  Al Bandar seems more authentic and better quality and the meal plan you are on at any of the hotels transfers to wherever you eat.  There are a couple of buffet style restaurants that are surprisingly good and there was a wine offer while we were there that you pay a set amount and drink us much as you can!  We also enjoyed a tapas restaurant one evening.  Lunch was as good, typically bar service brought to your lounger.  It is always easy to track down a waiter for food and drink.
The Chedi – given how impressed we were just by the canapés, that probably sets the scene for the food in general and we didn't even eat at the beachfront fish restaurant during our stay.  Plenty of choice of options at the different pools as well as the 2 main restaurants.  The food is expensive, no getting away from it, but it was very high quality.  Breakfast was a feast and happily included in the room price.  The wine list is very good – incredible compared to Shangri-La.  All prices are ++ so do bear that in mind as it helps choose!  The Club room package really does appeal at that point!
Day trips
From the Shangri-La we went with friends out to the Daymaniyat Islands for the day – this was very special and very much off the tourist trail as it is incredibly difficult to reach without a private yacht.  The islands are a few miles off the coast and the coral is stunning and the sand bright white.  There's a great initiative with getting Oman sailing and so I imagine this will become more accessible – but it must stay free of big group trips.  I think it is also popular with divers.  We also took a trip out to the sand dunes and a wadi – we didn't arrange this through the hotel but direct with the tour firm (loads of options online) as the hotel charge a tidy commission.  This was a great day out.
At The Chedi we had decided the point of staying there was to stay there, so we didn't do a great deal apart from stay there.  On one morning we took a taxi to the Grand Mosque – we went at around 8am when it was still cool, and before it got busy.  The mosque is minutes away from the hotel and has to be visited.  The decadence and beauty is astounding, but I do recommend that you visit before you have breakfast to see it empty and quiet and at its best.  The Chedi will book you taxis to go to the city or restaurants – they''ll bluntly advise you to go somewhere they approve of restaurant-wise if they don't like your suggestion – not sure if I liked that, but I did like where they sent us!
Facilities
Both have gyms – the Shangri-La one was never busy and is really well equipped.  The Chedi one is a bit random; it's set up in what looks like an old-fashioned library and has some very snazzy machines.  It didn't have a rowing machine though – just a bit random, would have been better to have been a bit more normal and useful, as lovely and fancy though it looks!  Both have spas – we didn't use them, we were chilled enough just being there!  There's a lazy river at the Shangri-La which is a hassle-free way to move between different parts of the resort and a nice shop at The Chedi with fancy things.  The surroundings at The Chedi are just stunning – real wow factor.  Water and fire gardens and everything perfectly maintained!
End of the trip
Al Waha reception is busy at a typical morning check-out time; it felt like a bit of a process and there were more people milling around waiting for cars than there were chairs.  Your typical hotel check-out experience!
The Chedi includes airport transfers in fancy cars with the Club package which is all rather nice; we checked out of our room at around midday but stayed at the hotel for the remainder of the day.   The shower rooms in the spa are as good as most hotel room showers and so you don't need to pay for a late check out.  The BA flight is very late leaving but the transfer made the final bit of the trip all very simple (shame the lounge wasn't on a par).
Would love to go back to Oman, would probably get a hire car and find something a little less westernised for part of the week and then go back to The Chedi for a couple of days of being spoilt!  It just has the edge when it comes to the full package, mainly because it is smaller, the pools and grounds are stunning and the location is good for being able to get into Muscat easily.  Time to investigate the other GHM properties!