There are endless reasons to visit Rome, but often food is not one of them, unlike, say, Bologna or, increasingly, Puglia. It is one of my favourite cities, and where I grew up, but I am the first to admit that the constant influx of tourists means that it is only too easy to eat badly here and pay too much. Diners, or shoppers, need not despair though; there are some real treats in store for the gourmet, or gourmand traveller.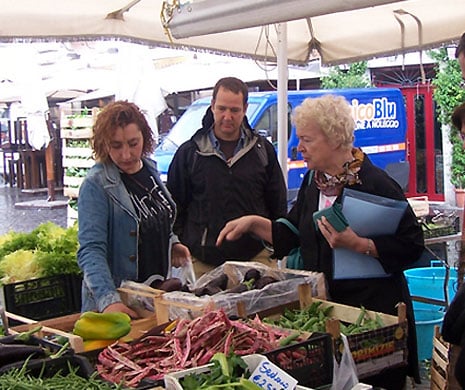 Dont miss:
Viva Voce, Via Del Gianicolo 3, in the Gran Melia Hotel Villa Agrippina
A relatively new arrival to the scene, which I was eager to try, as the fame of Michelin starred chef Alfonso Iaccarino and his charming wife Livia (owners of the legendary Don Alfonso, in Sorrento)travels before them… I wasn't disappointed. All the dishes were exquisite to look at and to taste. Even my companions starter of 'Mediterranean red shrimp marinated with mint, orange and sweet and sour ginger, with tender new spring vegetables' looked tempting and I'm allergic to shellfish! My artichoke antipasto, with the vegetable prepared every possible way, was truly delicious, and my pasta capelletti (little hats) stuffed with artichokes 'a la romana', truffle and spicy sausage, with a parmesan cream, was sublime. The chicken stuffed with thyme and lime, with a potato 'tart' and chard still makes my mouth water at the memory of it. A trio of three beautiful mini desserts, delicious petit fours with my coffee, and a selection of wines by the glass suggested by our young and very helpful waiter (who is training to be a sommelier and was thrilled to be asked) and we floated home in a rather blissful trance.
Il Tempio d'Iside, Via Labicana 50, on the corner with via Pietro Verri
The place to eat fish in Rome.. Amazing seafood including oysters and raw shellfish, Carpaccio of fish dressed with pink peppercorns and lemon, fish and seafood based pasta dishes and an interesting setting. I hadn't been before, as I live in Puglia, by the sea, so I am a bit snooty about eating fish anywhere else. Friends kept urging me to go though, so, on a recent trip to Rome, I did. I had the Carpaccio and a mixed antipasto beautifully presented, with (cooked) mussels and clams, crispy battered strips of zucchini, anchovy fillets and octopus salad. This was followed by perfectly cooked sea bass . The restaurant was very busy (I went at lunchtime) and the service got increasingly erratic, but I thoroughly enjoyed the food.
At the other end of the scale, for authentic home cooking try either of these:
La Tavernaccia Via Giovanni da Castelbolognese 63, across the river from Testaccio market, towards Trastevere
A warm homely atmosphere, the best lasagne I have ever eaten in my life, excellent bruschetta, primi and meat, typical local offal dishes for those that want them, reasonable prices and a good selection of wines – Roman home cooking at its best…
Enoteca Corsi, Via del Gesù 87/88
Italy's answer to the workmen's café, with a limited choice of daily 'specials' maybe 3 or 4 pasta dishes, main courses and desserts. Sit at one of the trestle tables, order from the blackboard, or point at what your neighbour is eating and expect tasty food and good value for money in a very central location. It is closed in the evenings and on Sundays.
Shops/markets
Often the best food shops are found near markets and, although Campo di Fiori is not what it  was (very scenic, but less good stalls than once they were, higher prices and some tourist tat) this area is no exception. With a judicious fruit purchase (the stalls at the end furthest from the flowers are the best) and a visit to the following two shops you have a perfect picnic…
The Antica Norcineria Viola, on one side of the market square, dates back to the late 19th Century and sells every pork product you can imagine, from whole hams, to salami, sausages and sliced ham in all its varieties. A selection of dried goods as well…
Il Forno sells excellent fresh bread and delicious slices of pizza rustica – perfect as a snack, cut in squares with the bottom half wrapped in paper .
Serious foodies shop at Testaccio market , rather than Campo di Fiori however (and everything costs much less) – although the old covered market has been moved to more sanitary quarters , losing perhaps some of the charm.
Volpetti Via Marmorata 47 is the place to go to buy the best cheese, oil, ham, salami, bread, pizza rustica, you name it and you can taste it, buy it and take it home to enjoy…
Last but not least if you want to learn how it is all done, take a class or a course at Diane Seed's Roman Kitchen, a cooking school in the Doria Pamphilij palace, with a fantastic view, through a round window, of the 'Wedding Cake' in Piazza Venezia and the Colisseum in the distance. Other than saying that Diane is the bestselling author of over 10 books on Italian and Mediterranean food and that she taught me everything I know about food and cooking I am reticent on the subject. She is my mother and, although we are in Italy, and nepotism rules, I am still English at heart! So I will simply let the following quotes from journalists speak for themselves:
Jill Dupleix, "The Times", UK: "The whole experience is informal, but with its continuous stream of history and anecdote stirred in, it's fantastically educational and inspriring.The lessons themselves are a cross between a seminar and a convivial lunch party where the guests arrive early to help with the preparation and stay on for a few hours to eat the results."
Victoria Hislop, "The Sunday Telegraph",UK: "Conversational cooking at its best, from a woman who loves her work."Throwing in a bit of Rome history with the salt, amd peppering the recipes with anecdotes."
Caroline Edwards is Owner of Personal Puglia.
If you would like to be a guest blogger on A Luxury Travel Blog in order to raise your profile, please contact us.