By
Anna Parker
on Jun 03, 2013 in
Africa
,
Europe
,
Food and Drink
,
Massachusetts
,
North America
,
Regions
,
Rhode Island
,
South Africa
,
Travel Miscellany
,
United Kingdom
,
USA
,
Western Europe
A few years ago South African friends of ours introduced us to some rather lovely South African wines, thankfully just before we re-visited the country for our honeymoon.  It has rather started a habit of seeking out a vineyard to visit whenever we're on holiday.  We've been nicely surprised with some UK ones too!  We were in the Alpes Maritimes last Summer and sadly couldn't find a vignoble that was open to visitors; however, I think that just means we need to visit Epernay or Bordeaux and do French Champagne houses and vineyards properly!!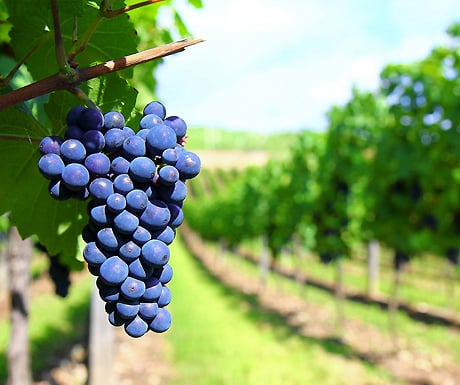 UK:
Camel Valley, Cornwall
This place is going to become as synonymous to Cornwall as Rodda's Clotted Cream and rightly should the Cornish (I'm half Cornish myself) feel proud of it.  It's rose fizz has beaten Champagnes from France to a best sparkling wine prize and the white fizz and white wines are also very enjoyable.  It isn't hard to find from the main A-road and is well signposted.  There is a lovely little shop/café area and tasting is very pleasant.  We dropped by without a booking and our hostess was very knowledgeable and friendly and we enjoyed our tasting. They also have some self-catering accommodation on site.  The location of the tasting room gives a lovely view across the valley – we were there around the harvest time but I imagine early in the Summer the vines must look lovely.  This place hasn't been over-commercialised yet – it is still very much a cottage-industry and takes its charm from that.
Three Choirs, Gloucestershire
The set-up here is much more commercial, but nice nonetheless.  We recently had a rather nice bottle of theirs from Waitrose called Annum that is a new mix we hadn't seen when we visited.  There are a few different accommodation choices – we stayed in the basic hotel block that has pleasant views across the vines – these rooms really come to life if it is a sunny day as each has a patio and table and chairs with it to take in the view.  No fridge in the room, but you can buy chilled from the shop!  There are also some more remote chalets in amongst the vines.  I was given a sponsored wine as a birthday gift which was how we heard about Three Choirs – and so we took in the tour, the tasting session and a stroll around the vines to choose my vine.  It is a very pleasant place to spend time.  In the evening we dined at their restaurant – very good food; the wine list was quite short on reds and since they don't make their own, there could have been more choice.
Wickham, Hampshire
Wickham is on our doorstep (thankfully) and is a lovely site.  It is family owned and has on-site restaurant facilities.  The restaurant recently changed  hands and last time we were there it was open as a tea room at lunch time which was has a good view and friendly service with good cake!  The small shop will do tastings as and when and they have plenty of stock for you to buy.  There is then an audio tour of the winery that is very interesting.  Work had a summer ball there in a marquee at the top of the hill on the other side of the vineyard – the setting is very remote and pretty and I can imagine a summers wedding would suit it very well.  We're fans of their wine – it is very gluggable, particularly the rose which is good since rose season is now here!
Sharphams, Devon
Here they make wine and cheese and, much like Camel Valley, it is a proudly West Country cottage business.  Tasting sessions are incredibly well-run; however they are paid for whereas when we were at Wickham and Camel Valley we didn't pay as we were clearly tasting to buy.  The setting here is very different – you can take a walk around the vineyards and this is all clearly marked with trails (my husband did this as he had walking boots on and I didn't and it was very muddy – he saw the harvest and enjoyed that).  From the tasting area you can't see the vines.  The estate the vineyard is on has a stunning view up the river to Totnes and so is pretty idyllic itself.  Their white Bacchus and cheeses were also very enjoyable.
Cape Cod and Rhode Island, USA
I wouldn't have picked the area for being a wine one, but there are a number of vineyards.  The two we visited – Sakonnet and Truro – were very different to each other.  I don't think we bought wine at either but we did enjoy the visitors experience, and it was a pleasant step away from the normal tourist attractions of the area.  Part of the tasting is to give you your tasting glasses to keep – this is actually quite a nice holiday keep-sake.  The American's know how to deliver an insightful tasting session with passion and the right level of information.
Having now been to a fair few of the wineries in the Stellenbosch area, I have a sneaky feeling that they are all amazing, but the ones we visited deserve a mention!  Thankfully there are many more to visit and enjoy in future visits!
Morgenhof
On our first trip out there we were at a wedding at Morgenhof – I think I am right in saying it has Cape Dutch architecture and it really is picture perfect with peacocks prowling around.  We returned on a rainy day when we were there on our honeymoon a few years later and enjoyed a nice bottle of red over lamb shank – quite something! Thankfully Waitrose often stock their wines.  The setting is lovely come rain or shine.
Camberley Wines
On our honeymoon we stayed for a week at the boutique Camberley Wines – a red wine specialist.  This is very quiet, very quaint and lovely.  The owners are very friendly and a wine tasting with them is an education – about wine, yes, but also about culture, politics etc. etc. – a fun afternoon!  Their wine is high alcoholic and we've a couple of bottles lying down in our wine rack for a few years time.  They do a red fizz which was quite enjoyable too.  The cottage is beautiful and a fantastic place to stay, there is a little plunge pool to use in the garden and jaw dropping views through the trees of the mountains.
Tokara
Just down the road is Tokara – this is a modern winery and their wine is often seen in the UK.  The tasting and bar area overlooks the vineyard and it is a very grand setting.  The team behind the bar were very friendly and knowledgeable.  The restaurant is on another level in terms of wow factor and there are some very pretty gardens to enjoy afterwards.  I don't think you can mooch through the vines, but I could be wrong.  I would go back here for lunch time and again.  We also visited the Wijnhaus in Stellenbosch but this knocks the socks off that (although the wine list is a little shorter).
Vergelegen and Diemersfontein are two wineries that our SA friends thankfully introduced us to before our visit.  As a result we visited them both already knowing we loved the wine.
Diemersfontein
Diemersfontein we did on a rainy day as this is quite a commercial site and not so pretty – but the wine is awesome.  We enjoyed tasting/buying the reds – especially the chocolate/coffee pinotage that sadly is now very difficult to find in the UK. The taste is astounding and very enjoyable.
Vergelegen
Vergelegen was probably our favourite venue – it is one of the oldest in the region and the grounds are stunning, sprawling and at the foot of some large mountains.  Take half a day to have a mooch here, enjoy a tasting session then have another mooch around.  It is near to Somerset West and so away from lots of the others I've mentioned.  The white wine is lovely – given a choice I'd always pick one of theirs or a Tokara – in fact our wine rack from the last visit resembles that statement (with both!).
Our final bit of tasting was with friends and took in Groot Constantia, Klein Constantia and Beutenwachtung in one swift sitting (hiccup!). All of these were free tastings (Vergelegen and Diemersfontein were not) and all were very different – both in terms of the wines, how commercial and the size and age of the sites.  All three were very enjoyable and if I ever see wine from any of these in our local bottle shop I know it is worth buying to enjoy.  The scenery at these is all lovely and I think pretty near Kirstenbosch Gardens so that is nice to mix the day up – and if short on time you don't need to head to far away from the city.
My husband has since been and done a 'bikes n wine' tour that he really enjoyed – that took in some other vineyards by bike.
There are so many wineries in Stellenbosch that I think it just pays to drive up the track from the road and see what's on offer.  A winery wouldn't survive there if it was dishing out poor wine.  Thankfully the likes of Kumala and other big brand wines found on offer frequently in UK supermarkets don't seem to have public wineries.  Don't be put off by what an untrained eye might see in the supermarket here – South African wine is where it's at!