By
Andy Levine
on Jun 05, 2013 in
Croatia
,
Eastern Europe
,
Europe
,
France
,
Ireland
,
Italy
,
Leisure Travel
,
Regions
,
Road Travel
,
Spain
,
Speciality Travel
,
Western Europe
I thought I'd take a few minutes to share some of my favorite rides that I've experienced recently. And although I may be revealing some secrets by rating these as my top 10, nothing quite compares to actually riding these routes and experiencing them yourself. So while I may be divulging the 'where' and some cursory information about the ride, I'd prefer to let you imagine
and/or explore the 'why' on your own!
Piedmont, Italy: Acqui Terme to Relais & Chateaux San Maurizio
What can I say? Just imagine cycling over the famous Langhe hills, an intimate landscape filled with vineyards, truffles, medieval towns like Montabone and Rocchetta Palafea, and stunning panoramas of an ancient landscape. As I rode along this route on a perfectly clear and sunny day this past August, the view was inarticulable…you could even see the Matterhorn in the Alps to the north! The day just kept getting better and better, we stopped for lunch along the way with our local friends, Gianni and Mina for an intimate lunch featuring small hand-made ravioli called plin, and a really special treat – a raw-milk Roccaverano goat cheese – that Gianni gets from his friend, a small producer. We continued on from this delicious lunch to our hotel for the evening, the converted monastery of San Maurizio, a luxurious Relais & Chateaux property. After a unique salt therapy treatment at the hotel's Via del Sale Spa, we dined at the Michelin-starred Ristorante Da Guido, accompanied by an assortment of fine local wines. Magical.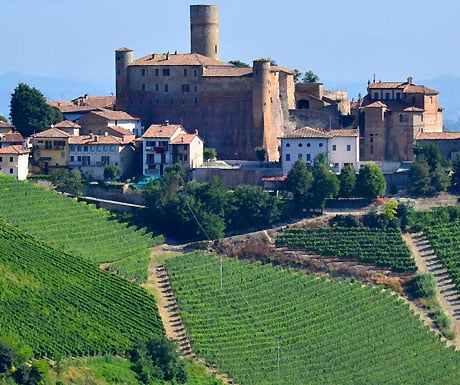 Puglia, Italy: the coastal road to Leuca
OK, let me just preface by saying this is, hands down, one of the most stunning coastal roads in the world with breathtaking views of cliffs and bays. The ride meanders through the fishing village of Santa Cesarea Terme, famous for its Moorish architecture and thermal waters, and continues along the coast passing spectacular sea caves and the town of Castro, where Virgil claims the legendary Aeneas first made landfall in Italy. Our lunch (or rather, our heavenly picnic) was a stop along the way to Leuca, in an amazingly scenic spot, suspended in the branches of an olive tree overlooking the sparkling cerulean sea. The beauty of this day is that you have the option to continue this epic day of cycling by riding back to Otranto – a 106 km roundtrip day of pure bliss.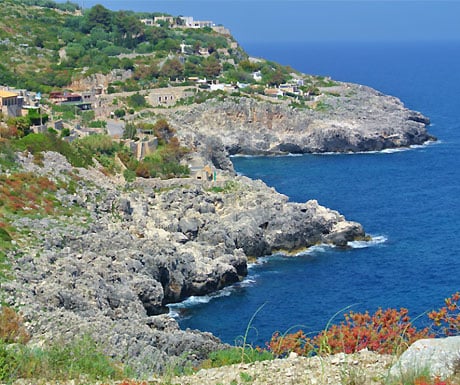 Hvar, Croatia: around Hvar Island to Paklinski Otoci
Anything is possible on this incredible island! And to be honest, it really does not get better than this! We cruised in our private yacht for an hour along the calm turquoise water, soaking up the sunshine, to reach the end of the island where our bikes (which had traveled alongside us in a zodiac) were waiting at the dock ready for us to hop on and explore. A 80km ride ensued, a challenging yet beautiful 3 hour non-stop ride through lavender fields and up rolling hills. Did I mention that every vista is spectacular? Whether you are climbing, riding along the coast or wending your way through the villages, there is certainly no want for scenery! Wow. It was absolutely picture perfect – not a cloud in the sky, warm sunshine, and a gentle breeze followed us as we rode the entire island. And, honestly, that's the only thing that followed us. And when the ride was over, our yacht was waiting with two massage therapists, gelato, and hot apple pie. Not a bad day on the road!
Tuscany, Italy: through the Crete Senesi and the back roads into Siena
Have you ever been on a ride where you exclaim "this is the most beautiful view I have ever seen" and then your climb another hill, turn a corner and declare, "ok,no, actually this the most beautiful view I have ever seen", and then you climb a little further, turn another corner and proclaim, "really, this is definitely the most beautiful view I've ever seen". Well, that's what this bicycle ride from Montalcino to Siena is like, especially the final 11k climb up these challenging hills into Siena. This route takes you along the bare ridges of the Crete Senesi through Asciano and Vescona to Arbia and then follows the timeless back roads up a series of challenging hills to enter Siena in truly evocative fashion. This is a definitely a ride worth taking!
Switzerland: Lausanne – Montreux
This ride through the scenic Swiss vineyards, into historic Vevey, and finishing up in Montreux along Lac Leman is a must on the list. Picture this: with the majestic Alps as your backdrop, you ride from lush vineyards, coasting into enchanting villages dotted with charming chalets, to a crystal-clear lake…a little bit of everything rolled into one. Talk about mountains majesty! There is nothing quite like the feeling of being surrounding by these magnificent peaks, legendary in their own right, as you ride along the lake, definitely a WOW moment, a truly breathtaking experience!
Mallorca, Spain: the ride to Cap Formentor

Prepare for some epic biking, and even more epic scenery on this Spanish ride! A warm up ride to Alaro begins your day as you pass through several quiet, rural villages before arriving in the cultural hotspot of Pollensa Port. But this day of incredible vistas and challenging climbs is just beginning, as you ascend into the distance, dramatic and rocky cliffs drop off from both sides of the road and offer sweeping views of the sea. What's even better is that your ride ends down on the Mediterranean Sea, where a well-deserved lunch awaits, as well as quality time to relax on the tranquil beach! Bike and beach, a winning combination!
Korcula, Croatia: Korcula Island
First and foremost, Korcula is an ancient Greek colony dating back to the 4th century BC and is also a seafood aficionado's dream with its endless supply of octopus, local specialty-fish stew, and the freshest of ingredients picked directly from the sea! It is, of course, another top 10 ride as well! I arrived via private boat to the town of Vela Luka on the west coast and headed out to cycle across the island to Korcula Town. Along the way, I encountered miles of vineyards – famous for their local white wines – and stopped into to taste regional specialties. After a delicious lunch at a local konobo, I arrived in Korcula Town, a fascinating fortified Venetian town that is just as irresistible to today's visitor as it was to medieval travel writers like Marco Polo, who began his life's journey here. All this makes for a gorgeous blend of ancient walled towns, the freshest seafood, and wonderful wines combined with fantastic cycling along the azure waters of the Adriatic!
The Alps, France: Tour de France stage climbs
What could be more epic than tackling some of the very same climbs as the riders of the Tour de France just hours before they race to the finish? Nothing, really. I have to admit, these were some of the best and most challenging rides of my life. Definitely on the list. What an exhilarating feeling to be able to test my body on the Col du Grand Columbier and the Col de la Croix de Fer, arrive in time to grab lunch, watch the crazy caravan go through and then be at the finish to watch the riders race up, competing for the stage victory. The atmosphere is electric and so invigorating! Even better, I didn't have to show up a day before to secure my spot and sit and wait for the Tour to arrive. I got an amazing workout, had lunch and watched the race, all in the span of 3-4 hours!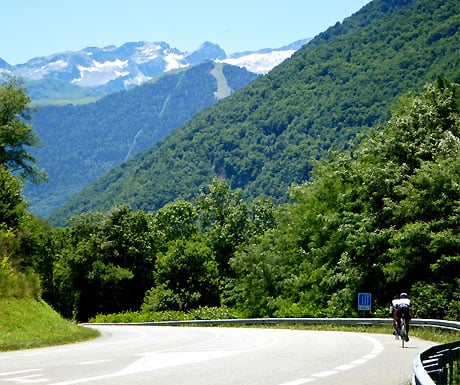 Burgundy, France: Haute Cotes du Beaune
Imagine cycling through the picturesque villages of the undisturbed French countryside. On this ride you should be prepared to be stunned by extraordinary views of the town's 13th century castle ruins. As you meander past Charolais cows and the gorgeously restored 15th century château at La Rochepot you will find yourself cruising down a leisurely downhill ride into Saint Aubin – home to a grand Romanesque church. Stop here for a true gourmand delight of a picnic at Chassagne-Montrachet and then continue cycling through Puligny Montrachet, Meursault, Volnay and Pommard before arriving back in Beaune to sip wine and chat with the locals. This is the ride to experience the French wine countryside in its purest and most scenic form!
Connemara, Ireland: Clifden and the Boglands
Bikes, bogs, Guinness beers and whiskey – that's what this epic ride in Ireland features! I remember the feeling I experienced as we followed the bog road to the quaint town of Clifden – there is nothing like witnessing the uber green Irish landscape in person. Add to that, the breathtaking views from atop the rolling hills looking down upon the Atlantic Ocean from High Sky Road, and need I forget, the ubiquitous sheep. We popped into a local pub for some fresh fish and chips with a pint of Guinness and topped the day off with an Irish whiskey tasting by the fire in the library of the Ashford Castle with Seamus. What a unique and memorable time!
Andy Levine is the President/Founder of DuVine Cycling + Adventure Co.
If you would like to be a guest blogger on A Luxury Travel Blog in order to raise your profile, please contact us.