In Ireland we have a saying, which translates into English as: "A Hundred Thousand Welcomes" – Céad Mile Fáilte! This is a saying that is an integral part of the personality of many Irish people; we love to welcome visitors, to know that you have a good time and enjoy the offerings of our small, but beautiful country. We don't expect you to know much, or even anything, about the history of our little isle, but we are truly delighted when you show appreciation for our culture and history. As a visitor to Ireland, one superb way to immerse yourself in the history and culture is to stay in a luxury romantic Irish castle. Below are 3 suggestions of wonderful Irish castle hotels.
Ashford Castle, Cong, Co. Mayo
It is when you drive down the driveway of Ashford Castle that the magic starts. Somehow you know you are in a special place, which is strikingly impressive, yet home from home at the same time. Ashford Castle offers escapism on 350 acres of woodland, set on the River Cong with Lough Corrib behind.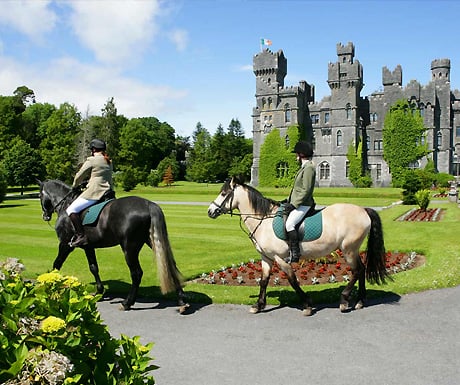 In 2013 Ashford Castle was voted the No. 1 Irish Hotel by Conde Nast Gold List, however this is just one of numerous awards and accolades, which include being featured as one of Fodor's Top Luxurious Retreats.
For the aesthetic in you, visiting Ashford Castle is sure to affect you dramatically; the contours and colours of nature envelop the magnificent castle – it is a scene of perfection.
Founded by the De Burgo family originally in 1228, today Ashford Castle offers visitors beautifully restored rooms, which include staterooms that feature original fireplaces and four poster beds.
The George V dining room is the culinary heart of the castle, whilst Cullen's at the Cottage offers a bistro style dining experience. There is no lack of activities on the estate, which include golfing on the estate's beautiful 9 hole course, falconry, traditional wooden boat tours, equestrian activities, clay shooting and archery, kayaking, fishing and lake cruising.
Dromoland Castle, Newmarket-On-Fergus, Co. Clare
A favourite way to start off a stay at Dromoland Castle is to take a pony and trap ride around the estate, whilst getting a detailed historical tour of Dromoland Castle's history. The 375 acre estate lies at Dromoland Lake, and it includes its own 18 hole golf course, which is one of the country's finest parkland courses, offering golfers an experience not to be missed.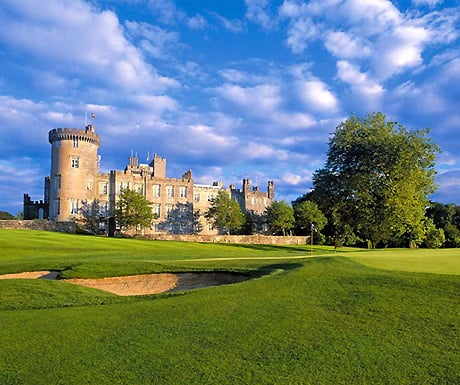 The castle was the stronghold of the O'Brien family (descendants of the High King of Ireland, Brian Boru) from as early as we hear about the castle until 1962. Some accounts say that we first hear of the castle in 1551, however the hotel's own website states that from 1014 the O'Briens controlled Dromoland.
Set in a natural amphitheatre, the castle is one of the most magical and impressive Irish castle hotels, which overwhelms with its abundant history and stature; arriving there is like walking into a fairy tale.
Dromoland Castle also gives you the chance to discover your own Irish roots. Once you have booked your room, the next step is to book this service and you will be sent a Genealogy information form. During your stay you will have a one hour session with a qualified genealogist, who will devise your own personalised plan to trace your ancestral lineage.
The rooms and suites are really impressive, as is the warm service and attention to detail. Families are made feel very welcome, with junior bathrobes, board games and children's menus. Even though the setting and treatment is naturally romantic, if you want to take it one step further you can book one of the tower guest rooms.
The culinary experience is wonderful, drawing on locally sourced ingredients when possible and cooking them to perfection. The estate has lots of great activities including golf, tennis, falconry, archery, plus it has a wonderful spa that opened its doors in 2007.
Winner of the World's Best Luxury Country Hotel for four years in a row, Lough Eske Castle lies in a secluded lake side estate close to Donegal town. The original castle was built in 1474, as the stronghold of the O'Donnell family, and today you can still see a date stone from 1621, which has remained on the property. The current castle was constructed during the 1860s, but in 1939 was destroyed by a fire. It was lovingly restored in 2007 to combine its historic past and gracefulness with contemporary luxury.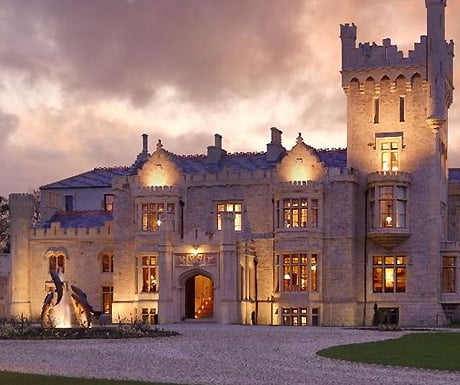 Today Lough Eske Castle is a fairy-tale luxury hotel, where you can step into an elegant world of impeccable personal service. It is very obvious that the staff delight in offering service which is truly outstanding and they love to get to know their guests.
As part of the Gathering 2013 (a year long party in Ireland), Lough Eske is offering a wonderful promotion in tune with the nature of the Gathering. For guests who have one of the top ancestral family names of Donegal, there is a 50% discount off the best price of the luxurious Garden Suites. The names are as follows:
Boyle
Campbell
Doherty/Dougherty
Gallagher
Mc Fadden/Fadden
Mc Ginley/Mc Kinley
Mc Gowan
Mc Laughlin/Laughlin
O'Donnell/Donnell
Sweeney
Activities include a Sunday Kids Club, a range of adventure activities, classic car hire, private master cookery class with the hotel's executive chef, golf, equestrian, fishing, surfing and watersports. Lough Eske Castle also offers some of the activities as activity package breaks, which include a romantic retreat, 3 nights for the price of 2 and a classic car package.
The culinary experience is tantalising, with organic selections and lots of high quality local, fresh ingredients. The Irish stews created at Lough Eske are superb, and for fish lovers, fresh catches come from Killybegs, which is Ireland's most important fishing port.
Jackie de Burca is Co-owner of Holiday Home Advice.
If you would like to be a guest blogger on A Luxury Travel Blog in order to raise your profile, please contact us.