When it comes to fine dining, South Africa definitely doesn't have to stand back for any country. With many influences from Malaysian, Indian and European cuisine, South Africa is sure to astound any foodie with it's truly unique fusion of flavours. Just to give you a bit of historic background, Jan van Riebeeck, a Dutch merchant, was appointed by the VOC (Dutch East India Company) in 1652 to establish a way-station in Cape Town for the trade route between the Netherlands and the East Indies. He was charged with building a fort and planting fruit and vegetables to ensure a fresh supply for all VOC ships passing by the Cape. This frequent passage of ships from both the East and the West is what started the unique culinary adventure that South Africa has on offer today.
There are heaps of restaurants in and around Cape Town that is worth mentioning but these are the 6 top restaurants that I would recommend to anyone who will be spending some time in the beautiful Mother City.
Situated in a beautiful cobblestoned courtyard, this restaurant gives a very good first impression as one walks into the 100-year old art deco building. There are a wide variety of food options on the menu to choose from, each as appetising as the next. With a variety of options on the menu ranging from Lamb cutlets, Asian prawn curry to Ostrich Fillet, there is bound to be something on the menu that would tickle your fancy. I personally always head back just for their incredible sushi. They have all the usual sushi favourites, some just with a bit of a twist.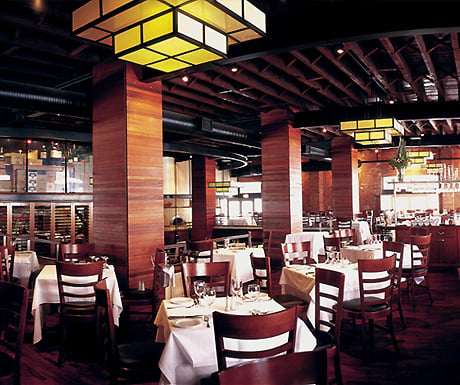 Only a short cab ride away from all the designer shops and tourist invested V&A Waterfront, you will find the tranquil Grand Café. The restaurant has its own private beach with seats, couches and tables on the sand which makes it the perfect place to meet up after a long day at work to enjoy a cocktail or two. The chic bistro style menu has many options for both lunch and dinner. This restaurant is a must-see if you are in Cape Town.
The Greenhouse at Cellars
If you are looking for an intimate and exclusive gourmet dining experience, The Greenhouse at Cellars is the perfect restaurant for you. With limited seating for only 45 people, this beautifully decorated restaurant offers cuisine that is skillfully created, and each plate resembles a piece of art. Eat Out, a South African dining Magazine, awarded The Greenhouse with the "Best Restaurant in South Africa" award in 2011. I highly recommend the Chef's Tasting Menu, which consists of 7 courses of pure heavenly indulgence.
This restaurant is just bursting with awards. In 2010 it received an impressive 12 Pellegrino 50 Best Restaurants in the World, the Acqua Panna Best Restaurant in Africa and Middle East Award and was winner of both Chef of the Year and Restaurant of the Year in the Prudential Eat Out Awards in 2008 and again in 2009. Need I really say anymore? If these awards didn't convince you to eat there, I honestly don't know what will.
If you appreciate a spectacular view whilst enjoying gourmet food, then Buitenverwachting is definitely for you. Overlooking the lush Constantiaberg Mountains and the surrounding vineyards, this restaurant is situated in a truly picturesque setting. The contemporary fine dining cuisine offered is fine dining at it's best. The food absolutely radiates with sophistication and it is no wonder that the restaurant has been considered as one of Cape Town's finest for many years. A la carte and set menus are availably for daily lunch or dinner.
Sevruga is the sister restaurant to the above mentioned Beluga. Situated at the V&A Waterfront, a very busy tourist area, this restaurant brings peace and elegance to the tired shopper. The outside seating area is the perfect place to enjoy a couple of oysters, a good South African white wine and just take in the beauty of the surroundings. The restaurant's menu offers a large variety of food items, each one as delectable as the next. What struck me the most was the huge selection of wines on offer. Each of the 200 odd wines are elaborately incorporated with the meals on the menu to ensure an array of taste sensations.